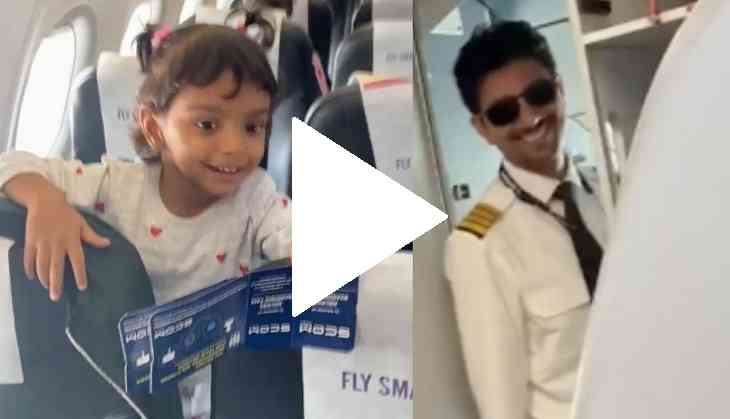 Screenshot from the viral video
An adorable video of father and daughter has surfaced on the Internet which is grabbing everyone's attention on social media.
The video was shared by an Instagram user named Shanaya Motihar on her account. In the video, a little girl, who was travelling on a GoAir flight to Delhi, was left surprised after she came to know that the pilot of her flight was no one else but her father. Her amazing reaction is winning the Internet today.
Watch Video:
In the video, the girl named Shanaya was seen so happy to see her father as the pilot of the flight. She can be seen calling out 'papa' to her father who was seen in uniform at the cockpit doorway.
Also Read: 2-year-old boy drags snake with bare hands; video will make you rub your eyes in disbelief
Her pilot father was also seen happy after seeing her daughter's reaction and also waved back at her while the other passenger continued to board the flight.
The video was shared with the caption, "My first flight with papa... He flew me to Delhi. I was very excited to see him… it was my best flight till now. Love you, Papa."
The Instagram page of little girl Shanaya is managed by her mother.
Meanwhile, the video of this father and daughter beautiful conversation has gone crazy viral on social media. The video has received over one lakh likes and it has been viewed over 1.2 million times on the gram.
Also Read: Alligator snatches little boy's fish; spine-chilling video goes viral