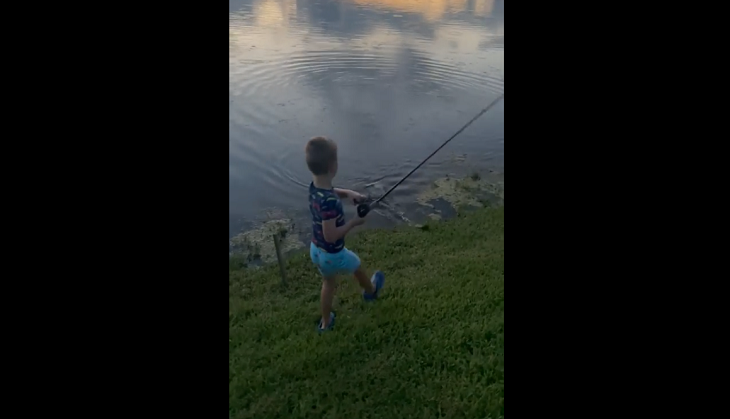 Alligator snatches little boy's fish
A horrifying video of an alligator snatching a little boy's fish has gone viral on social media. The clip is leaving netizens in shock.
The short video was shared by a Facebook user Sean McMahon. The shocking incident took place in Palm Coast, Florida.
In the video, Sean's son Dawson can be seen fishing in the pond in their backyard. As Dawson catches a fish and trying to bring the fish to the shore of the pond, an alligator lunged at the fish and snatched it from the fishing rod.
Also Read: Man finds unique way to capture alligator; video will enthrall you
Dawson screamed in shock and dropped the fishing road to save himself. While Sean can be heard saying, "Oh my God" as the alligator took away the fish captured by the boy.
"Alligator Alert! Dawson caught a bass tonight and out of nowhere an alligator came up, ate the bass, and ripped his pole into the water," Sean McMahon wrote in the caption.
Watch Video:

Meanwhile, the video has been shared widely on social media. It has garnered over 47k views and 467 likes on Facebook. The viral video is chilling down the spine of netizens.
One of the users wrote, "keep them kids away from the edge of the water. so Scary, thank god that alligator was after the fish"
Another wrote, "This could've ended very differently. Alligators love small animals, dogs, children."
What's your view about this scary video?
Also Read: Deer's mother sacrifices her life to save her child from enemy; scary video goes viral