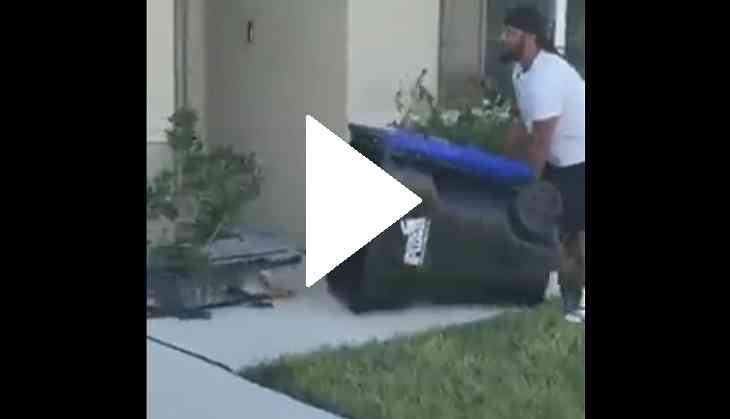 Screengrab from the viral video
How would you react if an alligator comes inside your house area? Undoubtedly, you will leave your house to save yourself from the dangerous reptile. But this man in Florida didn't leave his house rather he chose to capture the alligator.
A video of a man capturing an alligator has gone viral on social media after it was posted by a Twitter user @kerethp on his account. He also captioned the video as "This Florida Man has won the internet for the Month of September."
Netizens loved the technique used by the man to capture the alligator.
Also Read: Woman zookeeper scratches chin of alligators; see jaw-dropping video
In the viral video, the man is seen placing the trash in front of the alligator which entered his lawn.
He used empty trash to trap the animal. The man follows the giant reptile as it can be seen moving backward.
At the end of the video, the man finally captured the reptile by putting the trash on the alligator and closed its lid.
Watch video:
This Florida Man has won the internet for the Month of September pic.twitter.com/PB9dIMDkOS

— KP (@kerethp) September 29, 2021
His brave and unique act received loud cheers from people in his house.
Since the video is being posted on social media, it has garnered over 4.8 million views and over 278k likes, and 56.7k retweets on the microblogging site.
Some social media users left amazed while some got angry after watching the video of the man capturing the reptile.
A user wrote, "This is fascinating! Florida man has some serious animal catching skills. But why didn't the alligator turn and run away if it was scared of the trash bin?"
Another commented, "This may seem ingenious, and I applaud his bravery, and ingenuity, what he did is actually illegal. He could be fined heavily, and if the judge is a gator lover, given jail time. We have trained personnel who respond quickly, and remove gators safely."
What's your opinion after watching the video?
Also Read: Horrifying! Alligator grabs woman zookeeper's hand during birthday party; know what happens next