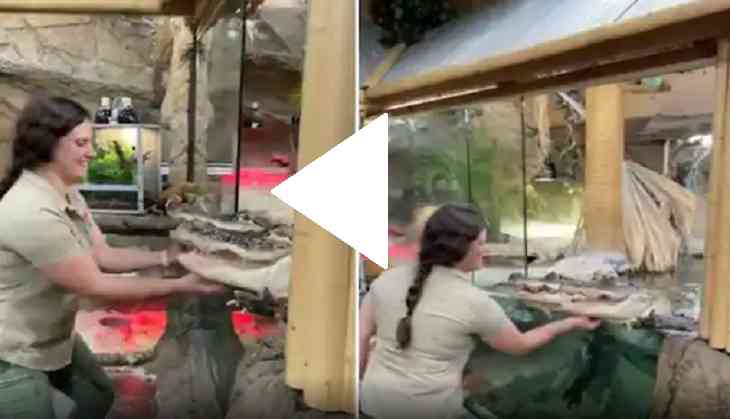 Screengrab of woman playing with alligators
A spine-chilling video of a zookeeper is doing the round on social media in which she can be seen scratching the chin of two alligators.
Isn't scary? You will be surprised to know that the Zoo has over 100 exotic species of reptiles, amphibians, and arachnids where the woman works.
The video is said to be from California's Reptile Zoo. In the viral video, the brave woman zookeeper is seen giving comfort to the two young alligators in a glass cabinet. She scratched the chin of the reptiles.
Also Read: Terrifying! Hungry crocodile attacks cheetah, drags it into water [WATCH]
The reptiles were also seen enjoying the company of the zookeeper.
The woman can be heard saying in the video, "They are my pet gators. They love their chin scratches."
However, she quickly took her hands back when one of the gators moved as if to nip her finger.
Click here to watch the video:
Without any doubt, such a dare can only be performed by the experts. So, don't try this if you ever come across an alligator.
Meanwhile, the video has garnered over 3.5 lakh views and netizens have gone crazy after seeing such a daring woman. The comment section has been filled with various amazing reactions.
Also Read: Jaguar dives into water to catch crocodile; know what happens next in this viral video