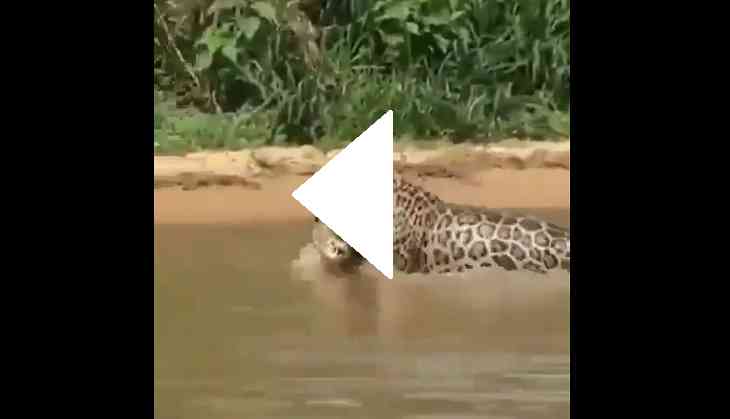 Jaguar attacks crocodile (Screenshot from Twitter)
A video of a jaguar attacking a crocodile has surfaced on the Internet. In the video, one of the biggest cats who are the most frequent croc killers, dived into the water to catch its prey.
The video was shared by a Twitter user and Indian Forest Officer Praveen Angusamy on March 12, 2021. However, the spine-tingling video is still winning the Internet.
In the viral clip, the jaguar can be seen in the water and slowly moving towards the crocodile who was unaware of its presence. Within a second, the big cat jumped on the crocodile and clasped the reptile between its jaws.
Also Read: Lioness tries to attack buffalo in this viral video; what happens next will surprise you
Praveen captioned the video, "Hunting skills at its best…Wild is as beautiful as it dangerous."
See Video:
Hunting skills at its best 🤩 Wild is as beautiful as it dangerous. pic.twitter.com/g7c1oqSLwq

— Praveen Angusamy, IFS 🐾 (@PraveenIFShere) March 12, 2021
The video has garnered over 2k views and 212 likes on Twitter.
After the video went viral on the social media platform, many users got scared and called it a very dangerous video.
Check out comments:
🙄🙄🤒🤒.. very dangerous..!!

— கொங்குப்பெண்ணே🍁 (@MohanaVenkatra2) March 12, 2021
Wow. Terrific video. Do love big cats ❤️Can't save those sadly

— Bailey @Iambailey2 (@BaileyIambaile2) March 13, 2021
Omg dangerous..😲

— Mamta Singh (@MamtaSi62758511) March 12, 2021
Jaguar da jawab nahi

— Prashant Mathur (@prashant4021) March 12, 2021
What do you think about this viral video?
Also Read: Terrifying! Hungry crocodile attacks cheetah, drags it into water [WATCH]