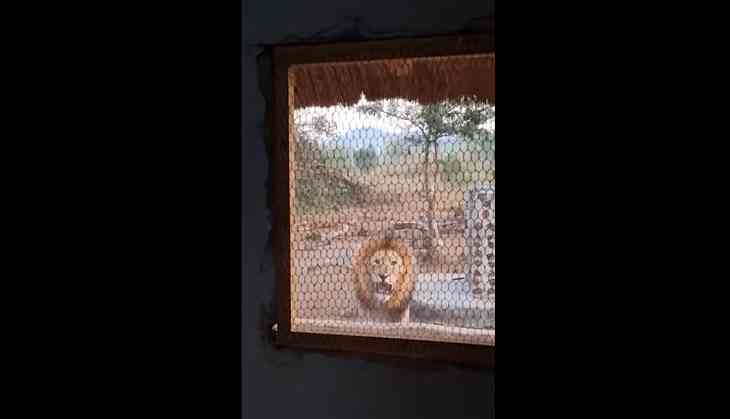 Screenshot from YouTube video (Credit/ ViralHog YouTube Channel)
In shocking footage, a man encountered a lion roaring at him when he was making his morning cup of coffee in his kitchen.
However, the video was recorded on June 25, 2021, but has gone viral now. The incident took place at a Game Reserve in South Africa.
In the video, the man named Dylan Panos can be seen inside an open kitchen at a camp while a lion can be seen roaring at him whenever it sees the man through the window.
Also Read: Horrifying fight between two tigers; video will give you goosebumps!
However, the man captured the whole incident through his kitchen at the camp which is located on the Somkhanda Game Reserve in northern KwaZulu Natal, South Africa.
Another shocking thing is also spotted in the video is a lioness who is lying right next to the kitchen wall.
The horrifying footage was shared by a YouTube channel called ViralHog.
"Woke up to a strong big male Lion right outside the house. The lion is angry growling and charging the house," the video caption reads.
See video:

Interestingly, the open kitchen's window has only mesh wire to keep animals away and the room has only a small gate. While the rest of the camp is without doors.
Also Read: Scary! 6 lions fight for deer's carcass; watch viral video
However, Dylan remains calm and composed when the lion was growling. Rather Dylan tries to play with the lion and also laughing at it saying, "Very funny lion you are."
Reportedly, when this video was shot, Dylan and the students at the Game Reserve spotted eight lions walking through the camp. However, the lion didn't hurt anyone until the man interrupts the lion's pursuit.
Also Read: Man tries to tie rakhi on snakes; what happens next will terrify you!