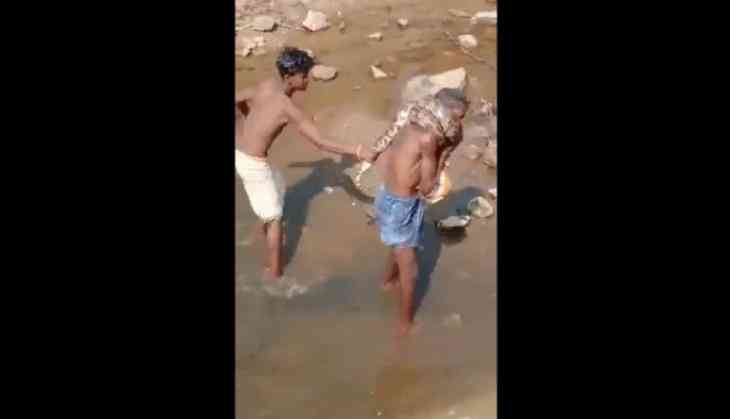 Drunk man gets bitten by python.
In a shocking incident that has come to light from the state of Jharkhand, a drunk man was bitten and clamped around by a python.
According to reports, the intoxicated fisherman was bitten by the python which had encircled the man around his head and body when he had gone for fishing.
In the 29-second video clip, the man can be seen trying to escape from the clutches of the python which had encircled around his head and body.
Here's the viral video:
झारखंड के गढ़वा जिले में एक शख्स ने जहां शराब के नशे में मछली पकड़ने के दौरान अजगर को पकड़ लिया. इसके बाद अजगर ने शख्स की गर्दन को इतनी बुरी तरह से जकड़ा कि शख्स की हालत ही खराब हो गई.#TrendingNow #Trending #TrendingNews pic.twitter.com/lJWEQGlaKd

— Narendra Singh (@NarendraNeer007) November 10, 2022
As the video progresses, a man can be seen coming to the drunkard's rescue, however, he fails. In the end the reptile bites the man.
In a similar incident from Tamil Nadu's Tenkasi district, three people were seriously hurt after a wild bear attacked them in the forest area on Saturday. The incident took place when Vaigundamani from Karuthilingapuram was on his way from Sivasailam to Pethanpillai carrying masala packets on a two-wheeler
While he was crossing a stretch of the jungle, a bear all of a sudden jumped out of the forest and attacked him. The wild animal pushed Vaigundamani to the ground and began biting him brutally.
Commuters, who were travelling along the same stretch alerted the locals who threw stones at the bear to chase it away, but the animal did not nudge. As a large crowd gathered, the bear ran towards the mob, attacked and injured two more - Nagendran and Sailendra.
Forest department officials arrived at the spot and took the three to a hospital for treatment. Later, they tracked the bear to a nearby area, tranquillised and captured it.
Also Read: Sloth bear attack in Tamil Nadu leaves 3 Injured; watch chilling video