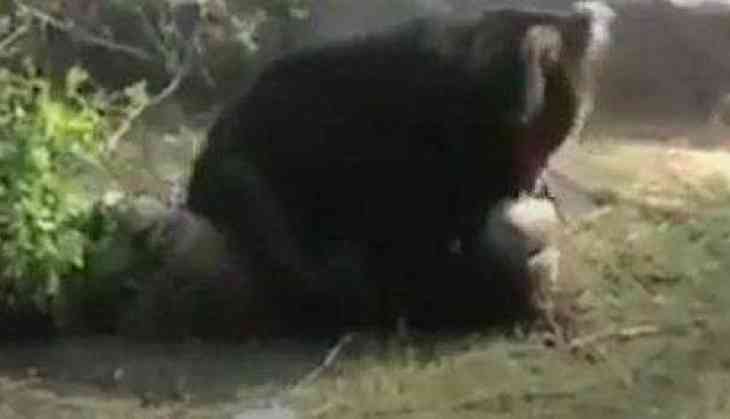 In a spine-chilling incident reported from Tamil Nadu's Tenkasi district, three people were seriously hurt after a wild bear attacked them in the forest area on Saturday. The incident took place when Vaigundamani from Karuthilingapuram was on his way from Sivasailam to Pethanpillai carrying masala packets on a two-wheeler.
While he was crossing a stretch of the forest, a sloth bear jumped out from the forest and attacked him. The wild animal pushed Vaigundamani to the ground and began biting him brutally.
Checkout the video below:
तमिलनाडु के तेनकासी में भालू ने तीन लोगों पर घातक हमला किया है. इसमें दो गंभीर रूप से घायल बताएं जा रहे हैं.#TamilNadu #Tenkasi #bearattack #Viralvideo pic.twitter.com/Et0oRemBN7

— Narendra Singh (@NarendraNeer007) November 7, 2022
Commuters, who were travelling along the same stretch notified the locals in the area who threw stones at the bear to chase it away, but the animal did not nudge. As a large crowd gathered, the bear ran towards the mob, attacked and injured two more - Nagendran and Sailendra.
Officials of the forest department arrived at the scene and took the three to a hospital for treatment. Later, they tracked the bear to a nearby area, tranquillised and captured it.
Also Read: Indonesian 'Playboy King' set to marry for 88th time, new bride is ex-wife