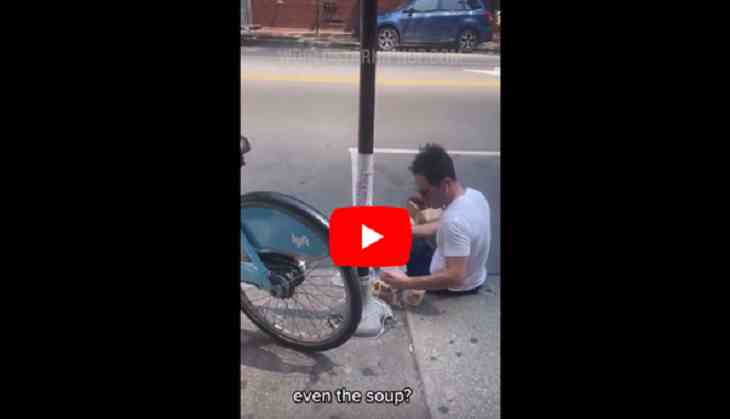 Uber Eats driver caught on cam stealing food
Online food ordering has become a routine for many since the pandemic era has begun across the world. Just a few clicks on your device and you will get the food of your choice at your doorstep. Thanks to the food delivering applications who make our life so simple. However, some drawbacks do come with online food delivery services. In recent times, we have seen several cases where a food delivery guy ate some food from the order. One similar video of a delivery man stealing a customer's food has gone viral on social media.
The bizarre clip was shared on YouTube by Garden State Mix wherein a delivery boy can be seen stealing the food from a customer's order by using his bare hands.
Also Read: Man continues to eat his chicken wing during robbery at restaurant; hilarious incident goes viral
The video was shared with a caption, "Uber Eats driver caught on camera stealing food from a customer"
Have a look at the video:
The delivery driver can be seen sitting on the side curb of the road. While his bike is parked on his side. He opens up the food packages one by one and takes the generous portion from them. He put the food into his own tiffin box and then packed the customer's food as nobody has opened it.
The delivery guy took some fried snacks, some quantity of soup, and noodles. Later he resealed the bag with the help of a stapler after making his lunch from the ordered food of Uber Eats' customer.
What's your reaction after watching the video? Drop your comments.
Also Read: Woman eats five-day-old sushi from service station; what happens next will shock you!