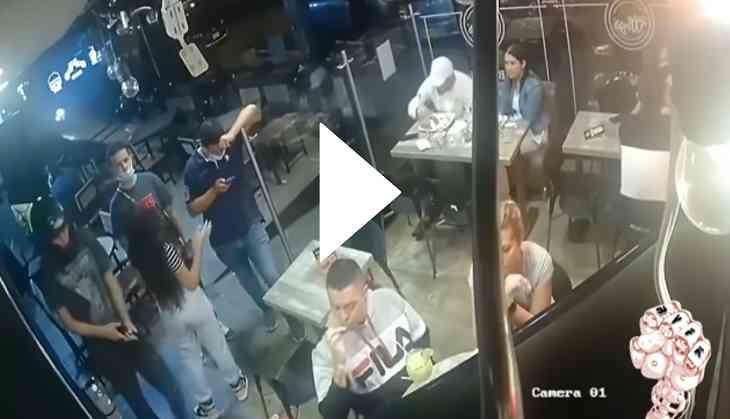 Viral video of man eating chicken wings during robbery
A hilarious video of robbery has surfaced on the Internet which shows a man eating his chicken wings at a restaurant when a robbery was underway.
In the video, a person seen wearing a t-shirt and a motorcycle helmet walked into the restaurant and started demanding money and other expensive items from people inside the restaurant. While holding a gun, the robbery was taking every person's phone or wallet.
Also Read: Caught on Camera: 3 failed robbery incidents that will tickle your funny bones!
However, some people fled from the spot after seeing the armed robber. But the scene that grabbed attention was the 'calm man' who is seen wearing a FILA sweatshirt and continued eating his meal even after he noticed an armed robber.
Check out the video:
Despite the robber waved his gun around the face of the man, he was enjoying his wings.
At the end of the video, the robber is seen leaving the restaurant but the 'cool guy' continues eating his meal as if nothing happened.
Also Read: 22-year-old girl beats woman, snatches her mobile phone; incident caught on camera
The video was shared on the YouTube page and garnered 247,126 views. Netizens left stunned after watching the video.
"The guy eating the chicken wings is a mobster boss! The thief is probably "sleeping with the fishes," a user wrote.
Another commented, "This could be my last chicken wing" could've crossed his mind."
One of the users wrote, "Within a week, our "FILA guy" will be eating that robber's arm just like he's eating the chicken wing in this video."
Also Read: Caught on Cam: Man steals sanitiser from ATM; netizens call him 'Kleptomaniac'