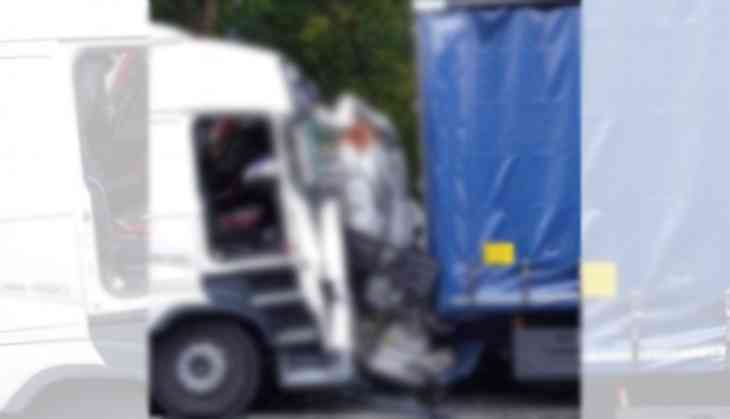 A visual of a horrifying accident has surfaced the Internet in which a vehicle can be seen crushed between two lorries. However, the driver of the van had a narrow escape and somehow he got safe with only 'very slight injuries'.
According to the Leicester Police in the UK told Ladbible told that they were alerted about the accident on Friday, October 2.
The picture of the scene has been widely circulated on social media which shows the van flattened almost completely between the two heavy good vehicles.
According to the Leicestershire Live, the crash of vehicles led to all four lanes of the motorway being closed for hours.
Fortunately, the driver of the van was saved from the collision without any major injuries.
"The driver of the van in the middle (yes that's a van) was told to get a lottery ticket. Very happy to report only very slight injuries," Leicestershire Police Specials tweeted while sharing the pic.
The image was also reshared by the Idiot UK Drivers Exposed Facebook page.
The picture has been shared over 3,000 times on Facebook and garnered huge comments on social media.
One of the users wrote, "I was caught in the aftermath of this closure!! Horrible sight to see and money would've been placed on a fatality for sure. Fortunately, the van driver was out of the vehicle at the time and attending to recovery so was able to flee quickly!"
"Don't think he should do the lottery as he has used all his luck surviving that," another said.
Also Read: Caught on Cam: Man attacks 60-year-old man, snatches his Rolex watch worth Rs 5 lakh