Caught on Cam: 15-year-old girl fights back with phone snatchers; netizens call her 'real hunk'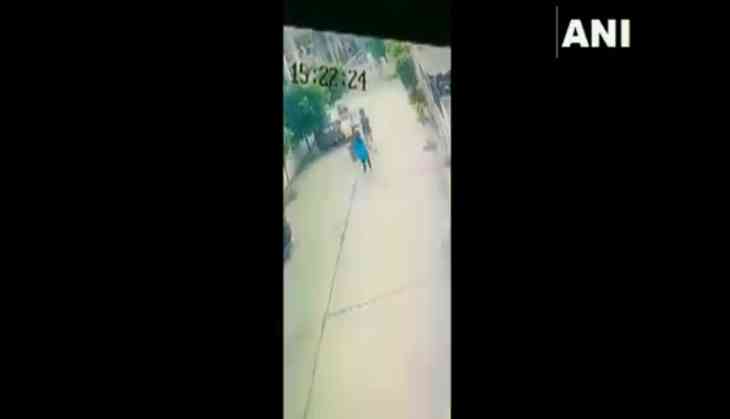 A video of a brave girl from Punjab's Jalandhar has shown her courage in front of the two robbers who tried to snatch her phone. The courageous act of the 15-year-old girl was captured on a CCTV camera installed in the area.
Meanwhile, the teenage girl is winning the Internet for showing her valour in front of the criminals.
The 15-year-old girl identified as Kusum, who was walking on the road when two men allegedly attacked her to snatched her mobile phone. The two men were on the two-wheeler while the girl was alone on the street of a residential area.
In the CCTV footage, the girl can be seen chasing the two accused who attacked her for her mobile phone. However, the accused tried to flee but the girl didn't allow them to let go.
According to the news agency, ANI, the accused also attacked the girl with a sharp weapon and dragged her with the vehicle.
See video:
#WATCH पंजाब, जालंधर : (30.08) दो बाइक सवारों ने एक लड़की कुसुम (15 साल) का फोन छीनकर भागने के दौरान उस पर किसी तेज हथियार से हमला किया। घटना CCTV में कैद।

(31.08.2020) SHO ने कहा, "एक अपराधी गिरफ्तार और दूसरे की तलाश जारी है। लड़की के हाथ का इलाज अस्पताल में किया जा रहा है" pic.twitter.com/yr2FdmmEXi

— ANI_HindiNews (@AHindinews) September 1, 2020

In the above video, the girl caught pillion theif after a brief struggle. While his associate managed to flee from the spot after locals gathered at the spot to help the girl.
Meanwhile, netizens can't stop hailing the girl for her bravery.
Check out some reactions:
The girl is real hunk for miscreants.

— Ranjit singh (@rsingh11774357) September 1, 2020
salute the courage of the girl

— vishal kumar (@vishalraj308) September 1, 2020
इस लड़की की बहादुरी तहे दिल से सलूट जो संघर्ष 1 पकड़कर कर रखा लड़की के help करने वाले को भी तहे दिल से धन्यवाद🙏🙏🙏

— Ashok Kumar Deora (@Ashokku29063201) September 1, 2020
Courages girl.. timely response from the neighborhood. But really bad thing that these things happen in punjab, previously suresh raina's family incident and now this.. state government should really act strict.

— OJAS BALSOTRA (@BalsotraOjas) September 1, 2020
Well done brave girl

— दीपक सिंह लिंगवाल 'गढ़वाली' 🇮🇳 (@EDeepaklingwal) September 1, 2020
Reportedly, one of the accused was later handed over to the police. While the girl was taken to a hospital as she had sustained an injury on her hand.
Also Read: Caught on Cam: Man attacks 60-year-old man, snatches his Rolex watch worth Rs 5 lakh