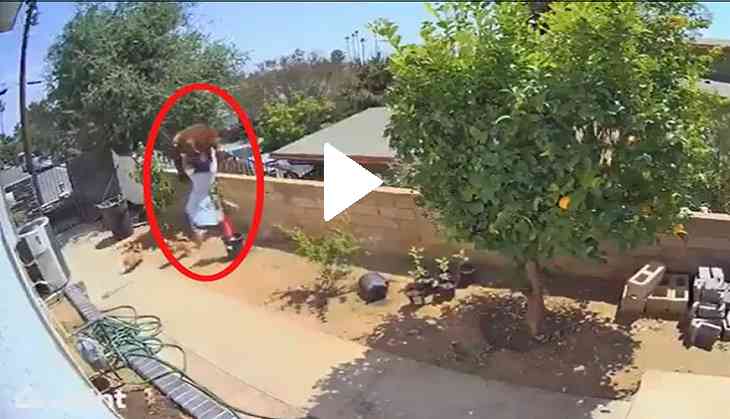 A video of a 17-year girl pushing a bear off the wall of her backyard is going viral on social media. The incident took place in the San Gabriel Valley in California, US last week.
The whole scene was captured on the house surveillance camera. The girl named Haily Morinico fought with a brown bear to save her dogs who were barking at the cubs of the bear.
In the video, a bear and two cubs walked along a brick wall in Hailey's backyard. After seeing the bear, three of her dogs started barking at the bear family.
Also Read: Horror! Alien like creature walking on road at night; video goes viral
At the time of the incident, Hailey's family was gardening at the other end of the yard. The CCTV footage shows the bear swat at the dog a few times after which Hailey came to save her pet animals from the brown bear.
She pushed off the bear off the wall and picked up her dog from the scene.
Also Read: Old viral video of man giving CPR to dying bird will make you emotional!
Check out the video:
This is the unedited video. pic.twitter.com/uIfwk5u7jO

— St. Rawlings (((אהבה))) (@Sir_mtor) June 1, 2021
The video was initially shared on TikTok, has gone viral on other social media platforms. Meanwhile, it has garnered over 8.4 million views on Twitter.
Social media users left stunned after seeing the courage of the lady.
In this incident, Hailey suffered a sprained finger and sprained her knee.
Also Read: Bravo! Man saves his dog from an alligator; video goes viral