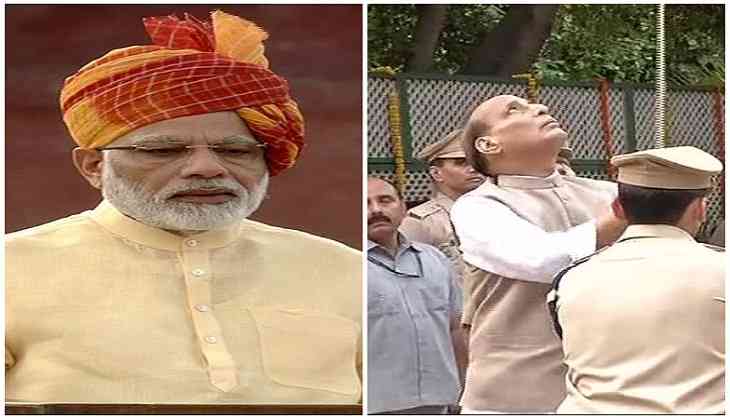 Union Home Minister Rajnath Singh on Tuesday Home hoisted the national flag at his residence on the occasion of India's 71th Independence Day.
"I would greet the entire nation a very happy Independence Day. And on this occasion, I would like to request all to take a pledge of "new India" and to move in a direction of attaining that pledge," Singh told ANI.
Meanwhile, Prime Minister Narendra Modi also took to Twitter to greet the nation on the occasion of 71st Independence Day.
"#?????????????? ?? ??? ???? ?? ??? ?????????? ?? ????-???? ????? ?? ?????! (Independence Day greetings to my fellow Indians. Jai Hind)," Prime Minister Modi Tweeted.
#स्वतंत्रतादिवस के शुभ अवसर पर सभी देशवासियों को बहुत-बहुत बधाई। जय हिन्द! Independence Day greetings to my fellow Indians. Jai Hind.

— Narendra Modi (@narendramodi) August 15, 2017
Meanwhile, security has been beefed up across the capital in wake of the celebrations at the Red Fort from where Prime Minister Modi will be addressing the nation.
A seven-layer security cover has been arranged with thousands of security personnel, including over 5,000 men from the Delhi Police, have been deployed.
On the eve of Independence Day, President Ram Nath Kovind addressed the nation for the first time. The President emphasised the New India dream, saying, "In the year 2022, our country will complete 75 years of Independence".
-ANI