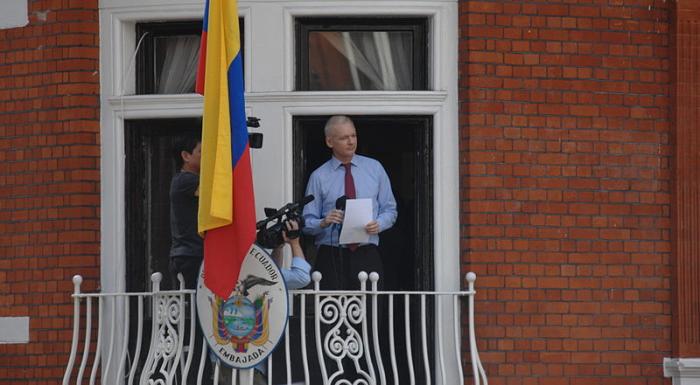 Britain has rejected the UN panel's considerations regarding the detention of Julian Assange.
"We completely reject any claim that Julian Assange is a victim of arbitrary detention," a government spokesperson stated. "The UK has already made clear to the UN that we will formally contest the working group's opinion," he added.
The comments come a day after United Nations Working Group on Arbitrary Detention (WGAD) ruled that the Wikileaks founder had been arbitrarily detained by the UK and Sweden.
The WGAD had submitted its initial opinions to both governments on 22 January.
Assange, who has been accused of sexual misconduct, was under isolated detention in Wandsworth Prison in UK for 10 days in 2010, after which he was moved into house arrest for 550 days. Assange sought asylum with Ecuador and has since been confined within the property of Embassy of Ecuador in London.
"Since August 2012, Mr. Assange has not been able to leave the Ecuadorian Embassy and is subject to extensive surveillance by the British police," the WGAD noted, in their official press release on Friday.
"Having concluded that there was a continuous deprivation of liberty, the Working Group also found that the detention was arbitrary because he was held in isolation during the first stage of detention and because of the lack of diligence by the Swedish Prosecutor in its investigations, which resulted in the lengthy detention of Mr. Assange," WGAD stated, urging both governments to bring the detention to an end and that allowing Assange the right to compensation.
However, the government's spokesperson, contested this statement, saying, "He is, in fact, voluntarily avoiding lawful arrest by choosing to remain in the Ecuadorean embassy."
"An allegation of rape is still outstanding and a European Arrest Warrant in place, so the UK continues to have a legal obligation to extradite him to Sweden. As the UK is not a party to the Caracas Convention, we do not recognise 'diplomatic asylum'," he added.
Interestingly, Assange has yet to be formally charged for the alleged crime.
It must also be noted that the opinions of the WGAD are legally-binding to the extent that they are based on binding international human rights law. "The binding nature of its opinions derives from the collaboration by States in the procedure, the adversarial nature of is findings and also by the authority given to the WGAD by the UN Human Rights Council," explained a note to the editors on the press release.
"The opinions of the WGAD are also considered as authoritative by prominent international and regional judicial institutions, including the European Court of Human Rights," it added, indicating possibility of an international trial in the case of non-compliance.