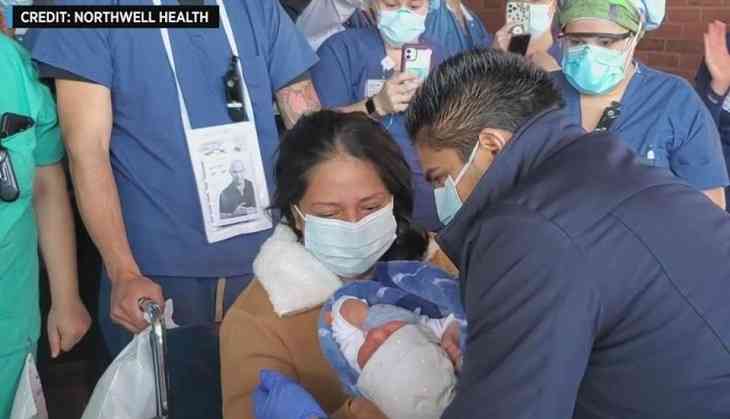 Woman reunites with her newborn baby
Amid coronavirus havoc, the positive news has come to light from New York where a hospital staff on Wednesday cheered as a mother met her neonate after she recovered from COVID-19.
As per the reports of CNN, since giving birth to the child, the lady was in a medically-induced coma as she was contracted the deadly virus.
The video of mother reuniting with her child also shared by CNN on Wednesday, which showed dozens of medical staff cheering while witnessing the joyful moment. The heartwarming incident took place at Northwell Health's Southside Hospital in Suffolk Country where a 36-year-old mother, Yanira Soriano sitting on wheelchair met with her baby, whom she reportedly named Walter.
See video:
A mother in New York was cheered on by hospital staff as she met her newborn baby after recovering from coronavirus. She spent 11 days on a ventilator. @jaketapper reports. pic.twitter.com/cHY0x38Th0

— CNN (@CNN) April 15, 2020
According to the spokesperson for Southside Hospital said that Soriano arrived at the facility with COVID-19 symptoms on April 2 and she was put on a ventilator, Newsday reported.
Hospital staff also revealed when Soriano admitted to hospital, she was 34 weeks pregnant and doctors performed an emergency C-section the next day. Doctors also placed her into a medically-induced coma for the operation.
After spending 11 days on a ventilator, the 36-year-old mother met her 12-day baby boy outside the hospital on Wednesday and got discharged.
"It was nice to see such a positive outcome, to see her reunited with her son," a hospital spokesperson said. "For the staff, it was really encouraging to see something like this."
Also Read: COVID-19: Doctor writes emotional post for her babies, says 'want them to know I tried hard'