Asad Ali
| Updated on: 10 February 2017, 1:49 IST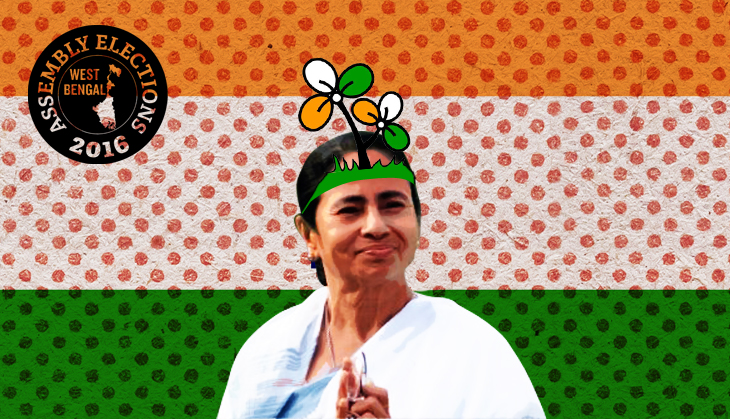 The Trinamool Congress has returned to power with a thumping majority in West Bengal. The party has already won 177 seats and is leading on 34, leaving the Left-Congress trailing far behind - the alliance has won 49 seats so far and is leading on 27.
But were TMC leaders to look beyond the euphoria of these numbers, they might think it prudent to do some introspection. Results show that at many places, TMC got the vote simply because TINA (There Is No Alternative).
In 2011, a good number of the party's votes were eventually established to have been anti-Left rather than pro-TMC. The trend continues this election. The only difference this time is that the TINA factors played out in urban centres instead of rural belts, where the TMC has managed to get massive support through various schemes and doles.
Read- Didi undefeated: Mamata reigns supreme for second straight term
These six constituencies best illustrate how the TINA factor - in some cases, the absence of it - has played on the minds of the voters.
Jorasanko
Here, an under-construction flyover collapsed in March and killed at least 21 people and injured over 60. The construction firm was IVRCL - the project was commissioned under the CPM regime - but the sub-contract was given to Sandhya Enterprise, a company owned by local Trinamool leader Sanjay Bakshi's nephew Rajat Bakshi. Sanjay is also the husband of Smita Bakshi, the legislator from Jorasanko. One would imagine some resentment against the sitting MLA due to this incident but Smita won with 44,766 votes. BJP's Rahul Sinha managed 38,476.
When this correspondent visited the constituency ahead of the election, most businessmen didn't seem to mind the TMC. TR Gupta, a veteran exporter, summed up the TINA mood when he said, "Most people here are aware of that [Bakshi family's involvement]. But what can we do? Even if I vote for the BJP, it will be wasted as my friends may not want to vote for them. It was upsetting but I suppose mistakes are bound to happen."
Behala Paschim
TMC's Partha Chatterjee has represented this constituency since 2006, and he won it again with 1,02,114 votes. Emphatic victory, yes. But what's to be noted is that he was up against CPM's Kaustav Chatterjee, who was contesting only his second election after losing a bypoll in 2009. For a much relatively lightweight candidate to have given a veteran like Partha a fair fight - Kaustav got 93,218 votes - is telling.
Also read: How Left lost ground & Congress stole a march over it in Bengal
Behala Purba
Here, the mayor of Kolkata Sovan Chatterjee was up against an independent candidate, Ambikesh Mahapatra. The professor first came to prominence when his cartoon riled Mamata enough to have him arrested. At the last count, he had got 69,794 votes to the mayor's 86,452. But it was again a tough fight considering Mahapatra is a first-timer.
Asansol Uttar
This important industrial town had TMC's Moloy Ghatak in clear lead with 84,715 votes versus BJP's Nirmal Karmakar's 60,818. Asansol is one of only two constituencies won by the BJP in the 2014 Lok Sabha election.
Read more- Bengal: Left's debacle is merely a symptom of the deeper rot
But most people here were either disappointed with the BJP candidate or averse to helping the party expand for ideological reasons. The Railpaar colony of Muslims was wooed well by Mamata; at her rally there she had claimed, among other things, that she set aside most of her important work for Fridays. Targeted campaigning by the TMC, aided by lack of a strong opposition candidate, swung it in TMC's favour.
Siliguri
That the people might have given the TMC a miss if they had a strong opposition candidate to vote for is best shown by this constituency. Veteran Marxist Ashok Bhattacharya won the seat with 78,054 votes, defeating TMC's star candidate Bhaichung Bhutia, who managed 63,982 votes. Here, a strong alternative to the TMC was available and the people went with him.
Durgapur Paschim
Bishwanath Parial of the Congress won impressively with 1,08,533 votes. TMC's Apurba Mukherjee ended up with just 63,709 votes despite being a strong candidate. Parial was earlier with the TMC. He joined the Congress recently, yet managed to wing it. Parial is quite popular and presented as a strong alternative, the people, including TMC supporters, voted for him.
Clearly, the TMC would do well to realise that when a decent alternative is made available to the voters, they may well cold shoulder the ruling party.
More in Catch:
Trump may not love China, but the Chinese internet sure loves him
The bare truth: mass nude photographer set to expose Trump's politics
India's shame: Bundelkhand woman eats mud for 12 years to survive
Fake lawyers: crooks in black coats face Supreme Court crackdown