Somi Das
| Updated on: 14 February 2017, 6:06 IST
The loyalty
Narayangarh constituency in West Bengal\'s West Medinipur district has been electing the same man since 1991
This man is CPI(M)\'s Surjya Kanta Mishra, the Leader of the Opposition in the outgoing Assembly
The loyalist
Binondo Bhokto lives in Phulgerya village, and is a CPI(M) loyalist
He blames CM Mamata Banerjee for the Saradha scam, in which his fellow villagers lost their savings
More in the story
Why Bhokta and his Lodha community are so loyal to Mishra and the CPM
The villager\'s problems and demands - and why he\'s scared of addressing them to Mishra
Elections are not just about politicians. They are about people and issues. And what really drives their vote.
Catch is, therefore, starting a 'Meet the Voter' series to capture what different impact groups in the poll-bound states are feeling. This is true insight into the upcoming assembly elections: up-close and hyper-personal.
------
The Narayangarh constituency in West Bengal has been electing the same candidate since 1991 - CPI(M) state secretary and present Leader of the Opposition, Surjya Kanta Mishra. The constituency, which lies in the West Medinipur district, survived the Trinamool onslaught of 2011 and still remains a CPM stronghold.
Also read - Sentiments should not decide our votes, says Kharagpur's Ram Laxmi
However, Mamata Banerjee's party has been able to make inroads, winning a majority of Gram Panchayats here in the 2013 local elections. All indications point to a tough fight between Mishra and TMC's Pradyut Ghosh, with BJP's Krishna Prasad Rai also in the fray in the constituency, which goes to the polls in the second phase on 11 April.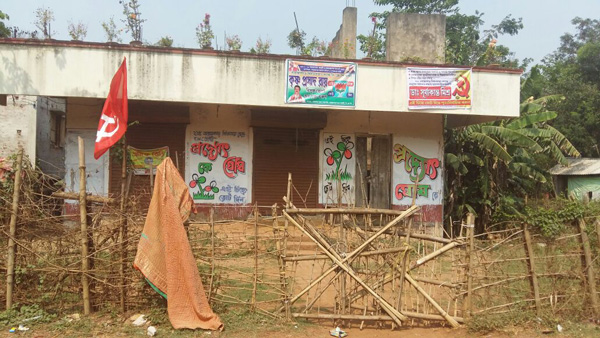 Mishra, who has previously served as rural development and health minister of the state, commands unflinching loyalty among members of the Lodha community.
In the villages of West Bengal, a clear sign of an area being the stronghold of a party is the number of party flags lining the streets and the rooftops of houses. As we move towards villages like Phulerya, Mettal and Lodha, where there is a substantial presence of this community, we spot only CPI(M) flags.
The Lodhas are an extremely backward tribe. None of the members of community we met owned any land. They work as labourers on other people's fields, and live on land leased by the government. The younger lot also earn their livelihood by performing at political and cultural functions. They are kathi dance artistes. Some of them work for the CPI(M) in Narayangarh without taking any money, just out of love and respect for Mishra.
Catch spoke to septuagenarian Binondo Bhokta of Phulgerya village, in order to understand if 25 years of allegiance to one person and party had changed the lives of the Lodhas in any way, and what was the reason that made them elect Mishra over and over again. Excerpts:
How many people does your family consist of?
I have three sons, but they don't live with us any more. My wife and I live here together.
Also read - West Bengal polls: Kharagpur loved Modi, but will it vote for BJP?
What do you do?
I have two goats and manage a meagre harvest from my paddy fields. Sometimes, I also work as a night guard at the fields of the zamindars (landlords).
Do you own land?
No, we got khaas land (on lease) from the government. I have 10 katha (about half bigha) of land.
How much do you earn in a month?
I earn something around Rs 500 per month.
Do your sons support you?
They are also barely surviving. They own some goats and aid their income selling forest products in the market.
Did your sons go to school?
Yes, they did. They studied till the fifth standard. My grandson studied till the ninth standard, then dropped out. To be very honest, they really never got the environment to study in. They used to work in the houses of our employers, mostly landowners, from a very young age. I want the children of this village to study. But their school is far away. It's quite a task to walk from Phulgerya to Jamuna.
Do you have electricity in your home?
Yes, we do. This village gets electricity, but we don't have any electrical appliances.
Do you always vote for the CPI(M)?
Yes.
Will you vote for Surjya Kanta Mishra again this year?
Yes, I will.
But why do you keep electing Mishra as your representative?
We can't leave him. He is our father. And he will always remain our father. Even if we die of hunger, we will not leave our father.
Don't you have any demands from the party that you so unselfishly keep supporting?
Yes, we have demands. My wife suffered a paralytic attack last year, and is no longer able to move. We don't get any medical care. Earlier, I used to get Rs 500 as old age pension. But ever since TMC has come to power, that too has stopped. Also, water is a huge problem. We have to walk miles to fetch water.
Has Mamata ever come here? Have you ever watched her speeches on television?
No, we do not have television. But my son has a television. It was given to him by one of our landlords. But what we have seen is that Mamata took our hard-earned money through chit fund.
Did you invest in Saradha?
Many people from our village had invested.
Has Mamata's Rs 2/kg rice scheme benefitted you?
Yes, we are getting that, but there is a lot of leakage. We never get a full kilogram. It's either 500 gm or 700 gm.
Have you ever met Mishra?
Yes, he came here for a meeting.
Did you talk to him about your problems or tried bringing to his notice the conditions you are living in?
No, never. How can we talk to such a big personality directly?
Your vote helps him win every time. Don't you think you should have the courage to talk about your problems to your representative?
(Bhokta wasn't able to answer this question, so his relative, who was standing right beside him, stepped in to answer on his behalf).
Relative: The Left Front has given us the power to speak. For the people of our generation, that's enough reason to vote for Mishra all our life. CPI(M)'s biggest achievement has been to give us a voice. Today, we are standing in front of an educated person from Delhi and talking - this is all because of the CPI(M). But now, the younger generation from our community doesn't share that strong a bond with the party. Some of Bhokta's sons are TMC supporters.
Bhokta: I have learnt to speak now. CPI(M) has given me a voice.
Also read: Kolkata flyover collapse is now an election issue. Will it hurt Mamata much?
Also read: Mamata walks 5.5 km non-stop in Medinipur. Will Congress-Left ever catch up?