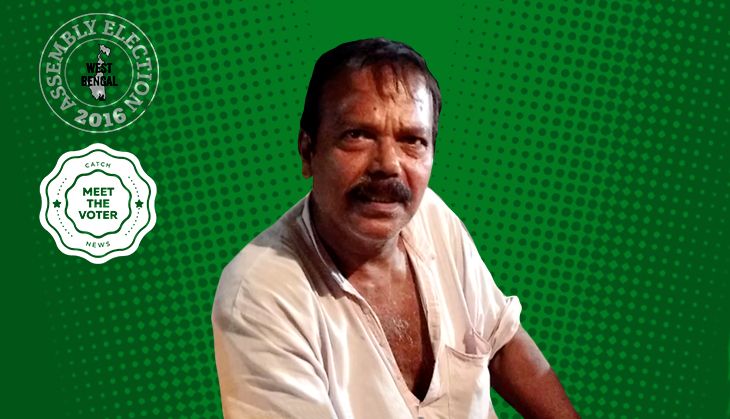 Elections are not just about politicians. They are about people and issues. And what really drives their vote.
Catch is, therefore, starting a 'Meet the Voter' series to capture what different impact groups in the poll-bound states are feeling. This is true insight into the upcoming assembly elections: up-close and hyper-personal.
***
Shanti Haldar sells pulses, wheat and rice at a makeshift shop on the roadside near Alipore, Kolkata. He buys the items at a wholesale market and sells them at a small local market in Alipore. He lives in a nearby slum, where his family of five shares a two-room house.
It isn't the easiest of lives to lead. Haldar has three children: his eldest daughter studies in a municipal college, while another daughter and a son are still in school.
"My children's education is my highest priority," Haldar says.
My vote for Mamata
There is no doubt in Haldar's mind that he'll cast his vote for Mamata Banerjee and her Trinamool Congress in the ongoing West Bengal Assembly elections.
"Mamata Banerjee has done a lot for the people in the state, especially the poor. She listens to the problems of the common man, something that no other leader or party does or has done before," he says.
Read: Trinamool attacks free speech: Narayangarh shopkeeper Ram Pada
According to Haldar, no other government has done what Mamata has done in Bengal.
"She has done much more in Bengal in the past five years than what the CPI(M) did in its 34 years in power. There has been development in the state. Government hospitals and schools are in a better condition. The roads are better. There are better facilities for the poor."
He feels if that TMC remains in power, Mamata will do much more for the people of Bengal. "She deserves another chance," he says.
There have been charges of corruption and violence against the TMC, but Haldar isn't bothered. "This happens everywhere. It has been done by the previous government as well. CPI(M) has indulged in much more corruption, but it hasn't been highlighted by the media," he says.