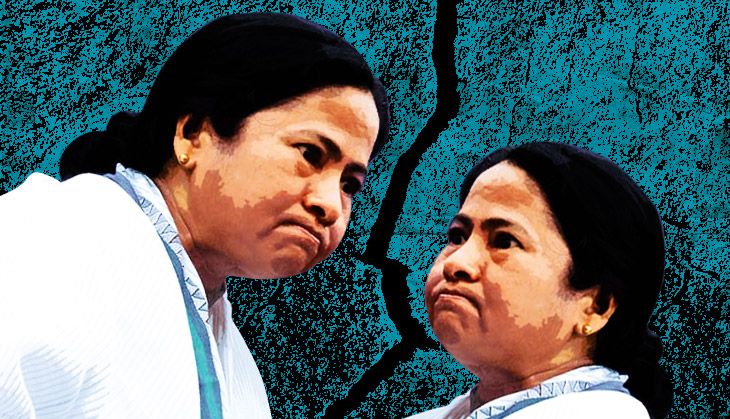 The battleground
South 24 Parganas is a TMC bastion. The only problem for it is infighting
People are generally satisfied with the development work done in the area
The chit fund scam, crime and instances of communal violence are the pinpricks
More in the story
Will TMC maintain its dominance?
Can it contain the infighting within its ranks?
This Saturday will be the fifth phase of polling in the West Bengal Assembly election. It will cover 53 seats across the districts of South 24 Parganas, Hooghly and parts of West and South Kolkata.
Of all these seats, TMC had won 47 seats in 2011. As per the 2014 general elections, the TMC's tally came down to 43, and about 3 seats would see a close contest, if CPI(M)-Congress votes are polled together.
Significantly, BJP votes are a major factor in this phase, on which they would go. BJP was even ahead in Bhawanipur, Mamata Banerjee's seat.
Read- Retail manager Sujoy: "Bengal not communal, want it to stay that way"
The biggest chunk are the 30 seats in South 24 parganas. Catch visited this area and found that the major themes are 'development' and infighting within ruling party.
This is also the region where chit funds have took a severe toll.
Infighting within TMC
Shyamal Mondal is the TMC candidate from Canning West. He had earlier won in 2011 and was made the Minister of State for Sunderban Affairs and the Minister of State for Irrigation and Waterways. Eventually he was dropped from the ministry, allegedly after accusations of corruption surfaced against him.
Surprisingly, he is contesting again. Local TMC workers, however, clearly say that Paresh Das, a strongman in the region, should have been given the ticket.
"Paresh Da has been with us since a long time. He has dedicated followers in the region, and has strong organisational capability. Even Abhishek Banerjee (Mamata Banerjee's nephew) had given the green signal for his ticket," says Farookh Mondal, a TMC worker since the party's genesis.
Also read- Bengal bureaucracy changes stance: Does it sense Mamata's downfall?
However, he has no answer why Shyamal Mondal has been fielded again. He ascribes this decision to Saibal Lahiri, block president of the TMC and known to be close to Sovon Chatterjee, mayor of Kolkata and who looks after the party in the district.
"We cannot even raise an objection. If I do, who knows they may even raid my home at night," says Mondal.
In the past, infighting between Saibal Lahiri and other camps has led to murders and defeat in Panchayat polls, according to media reports.
However, Farookh says with a sense of frustration, that there is 'unity' this time.
"TMC needs Paresh Das' muscle power in the election. Arnab Roy, the Congress candidate also has manpower. He has been a Panchayat pradhan for a long time and used to take on the might of the Left during their heydays," admits Dinesh Mondal, a resident of the area.
But Paresh, according to many, is more of a criminal than a politician. Locals allege that he extorts money from Canning market. Even a few days back, a video surfaced where he ordered his cadres to take pictures of opposition booth agents on polling day, so that actions can be taken after the elections are over.
Development
On your way from Garia to Canning, a marked change can be observed. There are flyovers, and pukka roads even inside villages. People seem to be unanimous in expressing their pleasure at the work that has been done.
"There is even a blood bank now in Canning. Earlier we used to travel all the way to Maniktala Blood Bank in North Kolkata, to get blood. Sometimes the time taken proved to be lethal," says Pradip Moul, a local who works as lab assistant.
Read more- Rare moment of camaraderie: Rahul and Buddhadeb share stage in Kolkata
There is a stadium in Canning now, which looks well maintained and only the gallery remains to be completed.
CPI(M) workers tell us how the credit for this should go to the Left and that the foundation stone was laid just before 2011 polls. Inevitably, they were too late to start any work in the area, TMC came to power and completed the project, with all kudos going to them.
Pradip disagrees with the Left workers. He says how the stadium was completed by TMC.
This is not an uncommon story in the state. During their final days, the Left suddenly realised that something needs to be done and they inaugurated many projects. TMC completed them after coming to power.
Chit fund schemes
Unemployment though has emerged as an important issue in the area. There are hundreds of youths in the district who have gone to South India, especially in Kerala in search of livelihood. They mostly work in restaurants.
Many of them are graduates and had become agents during the chit fund revolution in Bengal. Numerous ponzi schemes - Saradha, Rahul, Pailan Group, Rose valley - had sprouted in the state in the past few years. All went bust soon after.
"I was an agent for Pailan Group. After it closed down, half of the earnings went in paying back investors. I even took a bank loan to pay them back. The TMC government did not help and I hope the future government takes some steps," says Pradip.
His friends tell me that agents are responsible for paying back, as investors had put in money after agents gave assurances they will take care if anything untoward happens.
Being chit fund agents was seen as a form of employment. But these days the only option seems to be to migrate. Migration is so high that there is major cultural exchange. Some restaurant owners in Kerala are learning to speak in Bengali to communicate better with waiters and cooks, while many people in the Sunderban region have started wearing mundus.
Political violence is also rampant in the area, whether within TMC or against the opposition. Allegedly, many opposition workers were driven out from their homes and returned only a few days back. They are uncertain of their future if TMC wins with a clear majority.
Mamata's polarisation politics has also created a sense of uncertainty among people. There were major acts of arson in Herobhanga in 2013, after the killing of an imam, allegedly after he was robbed.
Thousands gathered and burnt more than a hundred homes belonging to Hindus.
"We went to the area with local youths to check if we can offer some resistance. But it was a huge mob, well armed and causing mayhem. We requested the police to take some action but they said they have no orders. Finally, we ran with our family deep inside the Golabari Eitkhola region and hid for hours", says a schoolmaster.
Communal sentiments have become more common. One often hears people in the region use say things like "there are more law and order problems in Muslim dominated areas" or "let us not eat here, it is a Muslim hotel". But the BJP has not been able to reap any benefits as yet.
Edited by Aditya Menon
More in Catch:
India gets its own GPS: here's all you need to know about the IRNSS
Red scare: two more Chinese dissents say India revoked their visas
More trouble for Karti Chidambaram: ED questions 'aide' Balaraj
Retail manager Sujoy: "Bengal not communal, want it to stay that way"