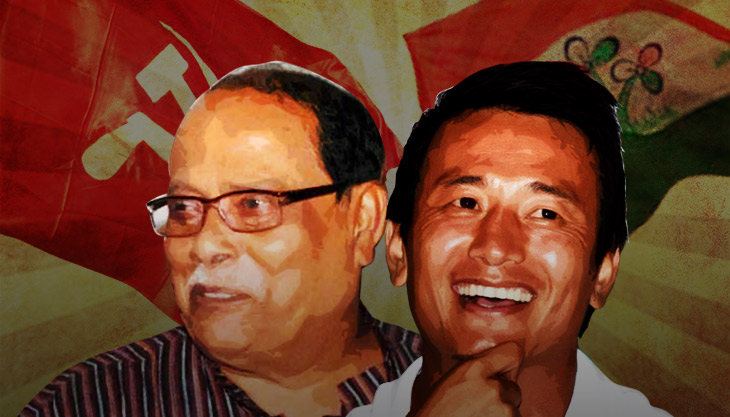 The contest
TMC has fielded football star Bhaichung Bhutia against CPI(M) veteran Ashok Bhattacharya
It\'s a tough battle for Bhutia as Bhattacharya, also the mayor of Siliguri, is a popular leader
The induction
Bhutia was always interested in politics and readily agreed when Mamata Banerjee invited him to the TMC
However, he differs with Mamata on Gorkhaland
More in the story
What are Bhutia\'s chances?
What\'s working in his favour?
Did Mamata give him a tough seat to fight?
Former Indian football captain Bhaichung Bhutia is fighting on a Trinamool Congress ticket in the on-going West Bengal Assembly elections from Siliguri. The football icon is taking on veteran CPI(M) leader Ashok Bhattarcharya who is four-time MLA from the same constituency and is currently the mayor of Siliguri.
The Sikkimese player is a popular candidate who is contesting from West Bengal for the second time, the first time being from Darjeeling in the 2014 Lok Sabha elections where he lost to BJP's SS Ahluwalia by 196,795 votes.
His immense popularity in Bengal may not be enough to earn him an assembly seat from the constituency. The party's decision to field him from Siliguri was a surprise for many including Bhaichung himself.
In a conversation with Catch in Siliguri Bhaichung said, "When I have decided to join the TMC, I have to listen to the head of the party. It's the leader that decides who should contest and from where. In football too the coach decides where I play, when I play and whether I am fit enough to play. I may or may not be happy about the decision but I have to listen to the leader. Didi wanted me to fight from Siliguri. But it's not like I was dying to contest from here."
Many feel Mamata Banerjee's decision is almost a free pass for the CPI(M) in the area. Political commentator Partha Pratim Biswas feels this was a bad decision on Mamata's part. "We love Bhaichung Bhutia, the footballer, but we don't think that he is experienced enough as a politician, especially in front of Ashok Bhattarcharya who has won from Siliguri multiple times. He should have contested from an area where this opponent wasn't as experienced or well liked."
CPI(M) heavyweight Ashok Bhattarcharya is very confident about his chances of winning. Speaking to Catch News in Siliguri he said, "Bhaichung was a very good footballer but he is not a very good politician. He doesn't know Siliguri or its people and they do not know him either. If it were a clash between two footballers, he would have won. But it's a political battle and I don't think he has enough experience to win."
However, Ashok Bhattarcharya was defeated in the previous assembly elections by TMC's Rudra Nath Bhattacharya. "There was a TMC wave in 2011, people wanted a change. So I was defeated. But after seeing Mamata's fascist rule in the state and the various corruption charges against TMC, they will see the Left as a better bet".
What works in Bhaichung's favour
However, Bhaichung's potential as a youth leader cannot be written off.
Shyam Roy, an engineering student in North Bengal University feels that Bhaichung Bhutia is exactly what Siliguri needs. "Siliguri has immense potential to be one of the biggest commercial cities in the state as well as the country. It can be a sports city as well given the sportsmen and sports enthusiasts in the region. Siliguri requires a leader with fresh and modern ideas. Bhaichung he can bring that to Siliguri, something other leaders cannot offer. He deserves a chance."
Bhaichung's decision to contest from West Bengal despite being a Sikkimese stems from his long association with the state. "I have lived in Kolkata for 25 years. I have played for Kolkata based clubs all my life. I left Sikkim when I was 15. I feel like I am from Bengal and people have accepted me as their own. This is why when I got an offer from Mamata Banerjee to contest from Darjeeling in 2014 Lok Sabha elections and now again, I accepted the opportunity."
His association with TMC, he says, happened by chance. "I was always interested in politics even during my football days. I always thought I would join politics eventually but the timing was something I wasn't too sure about. When Mamata Banerjee approached me, I was surprised but I took it up the challenge. Had I been approached by a party in Delhi or Sikkim or even Manipur I may have joined if I felt it was right".
Gorkhaland question
As Siliguri comes under the Darjeeling district, the Gorkhaland issue is crucial here. The Gorkhali population in Siliguri is about 40%.
Bhutia is very categorical that he would be very happy if Gorkhaland is formed. This, in spite of the fact that Mamata Banerjee has clearly stated that she will not allow the division of the state.
"It is not as if the TMC candidates in the hills are against Gorkhaland. They have sacrificed their entire lives for the people of the hills and for Gorkhaland. But they have realised that development in the hills is more important than separation," Bhutia said.
He further accused the BJP of double standards.
"People have realised that the party at the Centre is not on board; the BJP MP from Darjeeling hasn't raised the issue of Gorkhaland in Parliament despite winning the seat on an appeal for Gorkhaland. It is not just Mamata or the state government that is against the movement, the Centre is as well," Bhutia added.
Mamata Banerjee's move to bring ex-GJM leader and sitting MLA Harkha Bahadur Chettri into the TMC fold has pushed the GJM and the Left parties closer. Ashok Bhattarcharya announced last month that the Left would not field candidates in Darjeeling, Kalimpong and Kurseong.
While speaking to Catch News, Ashok Bhattarcharya said, "We are not supporting the Gorkha Janmukti Morcha (GJM) nor are we seeking support from them. But both the Left and the GJM are fighting against TMC. We are weak in the hills, and we don't want division of anti-TMC votes. We will welcome anyone who defeats the TMC".
Left leaders have encouraged their supporters and workers in the hills to vote for the GJM without lending official support to the party. This means that the Left and the BJP, which is an ally of the GJM, are on the same side in the hills.
The Left Front however has openly opposed the GJM's appeal for Gorkhaland.
Tough competition for Bhaichung
Despite being a celebrity candidate, Bhaichung has a difficult road ahead of him. "You think I achieved everything I did in football, easily? Nothing in life comes easy. Yes Ashok Bhattarcharya has won the seat 4 times and he has been a state minister too. It will be a tough fight but I think I am better prepared, certainly more than I was last time around. We are more organised. My chances seem good."