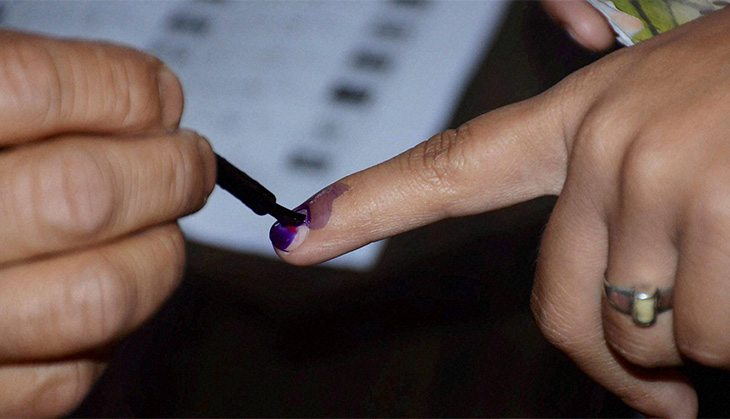 A massive 5.8 crore eligible voters across Tamil Nadu will be going to the polls in a single phase on 16 May. The results of 39 parliamentary constituencies and 234 assembly constituencies will be counted on 19 May. Unlike previous years, Tamil Nadu is set to see a multi-pronged fight this time.With the final date of nominations over, here is everything you need to know.The issues that matter to the citizens
1. Chennai Floods
Chief Minister Jayalalithaa, popularly called Amma, had the undisputed upper hand until five months ago. However, the Chennai floods last December exposed the inefficiency of her government in handling the disaster and the relief efforts that followed.
People remained homeless weeks after their homes were destroyed and the mishandling of Chembarambakkam reservoir left a larger number of people stranded. Observers believe that Jayalalithaa exploited the relief work and direct money transfers to flood victims, enabled by the Centre, to campaign for herself.
2. Social welfare
The key issues this election still revolve around social welfare policies, poverty alleviation, employment, education and economic welfare opportunities provided to women and backward castes. Despite the criticism people may have about the sycophancy or the high handedness of Amma and her party members, her Government still scores high on that count.
A snapshot of the parties and leaders
1. All India Anna Dravida Munnetra Kazhagam (AIADMK)
Amma is the overarching face of the party. She has won thrice and lost thrice since she served her first term as Chief Minister of Tamil Nadu in 1991. Hugely popular with the masses, Amma's third term has been full of populist social welfare measures. She has stayed clear of any charges of corruption against her, unlike during her first two terms.
Her socialist measures have drawn much acclaim from across the country with Amma canteens, Amma Grievance Helpline, Amma's nursing booths at public spaces, Amma water, Amma salt, Amma pharmacies and a dozen other initiatives.
However, her ill health has meant she isn't making much of a public appearance anymore.
A much touted BJP alliance seems unlikely after Prakash Javdekar hit out at the AIADMK last month about taking credit for the Chennai floods when 2,000 crore of relief money was actually pumped in by the Centre.
2. Dravida Munnetra Kazhagam (DMK)
The DMK, led by 92 year old M Karunanidhi and his son M K Stalin, have been unable to capitalise on the anti-incumbency wave across the state. The party also lacks a clear election strategy.
Congress recently formed an alliance with the DMK. The DMK had walked out of the United Progressive Alliance (UPA) in 2013 after being a key ally for nine years citing the Sri Lankan Tamils issue. The party is facing a make or break elections at the Tamil Nadu Assembly this year. But it is unlikely to make an impact until other local parties join forces. DMK President M Karunanidhi had expressed confidence that the Vijayakanth-led DMDK will join their coalition. Ultimately, the DMDK went with the PWF and the Tamil Maanila Congress.
3. Desiya Murpokku Dravida Kazhagam (DMDK)
Actor Vijayakant's DMDK is the most sought after part to be an ally to all other regional parties in the state. But despite the DMDK's announcement of going solo this elections, CPM, DMK and the BJP have said that they are expecting DMDK to join their front. But for Vijayakanth, the decision to form a coalition seems to be hinged on only one thing - a share in power. Last minute negotiations can throw up surprises.
4. Pattali Makkal Katchi (PMK)
The PMK, with its leader Anbumuni Ramadoss as the Chief Ministerial candidate, is going solo this election and not, as many had foreseen as an ally of the DMK. The PMK has a notorious past of anti-Dalit riots that will make them sure to lose unconsolidated Dalit votes across the state.
5. People's Welfare Alliance (PWA)
The third front floated by CPI(M), continues to fumble without a vibrant leadership or a concrete vision statement for its existence.
"The PWA will not ally with the Congress and BJP who have been responsible for implementing wrong economic policies; PMK, which has been pursuing casteist politics; the DMK and the AIADMK. But those who have similar views can join the PWA," MDMK general secretary Vaiko told media persons having everyone wonder who's left.
What the latest polls say
Latest opinion polls (www.elections.in) reveals a mixed bag for the AIADMK and the DMK in Tamil Nadu with none getting the majority theys seek. India TV-C Voter projects 130 seats and Elections.in says 125 for AIADMK. News Nation predicts a close fight with 105 to AIADMK and 109 to DMK+. News7 and Dinamalar paints a wholly different picture with 141 for the DMK alliance and only 87 for the AIADMK. DMK is the big benefitter here as they will increase their share massively from 31. Depending on who you trust, BJP may or may not be able to open its account. Others are projected to get anywhere between 1 and 19.
Edited by Sahil Bhalla