New Sunrise in IPL: Hyderabad exposes RCB Achilles' Heel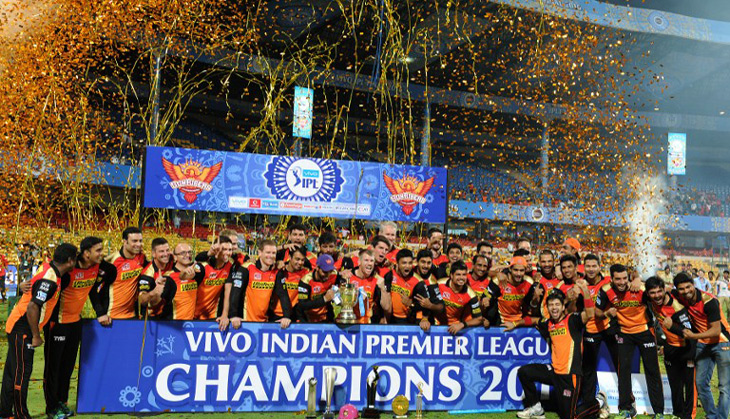 David Warner's roar was so loud it drowned the deafening hush descending on the M Chinnaswamy Stadium in Bangalore. It was an entertaining battle between two teams focused on their own skill sets right from the player auction this year to the final night of the Vivo Indian Premier League 2016 on Sunday.
For the umpteenth time in IPL 2016, Warner clenched his fists and screamed "C'mon!" as Sunrisers Hyderabad secured a hard-fought eight-run victory over Royal Challengers Bangalore. It was a contest in which fortunes oscillated in the matter of minutes in both halves.
When Warner roared the final time, it was after securing a win against the best batting line-up in the competition.
An Australian all-rounder answering to the name of Ben Cutting featured prominently in forcing the shifts in both innings. Cutting gave the Sunrisers a score to defend, with a memorable 23-run assault on Shane Watson in the final over - including what must be one of the biggest sixes this year - but also by dismissing a well-settled Gayle and the talented KL Rahul.
Read: Sunrisers Hyderabad stun Royal Challengers Bangalore to win IPL 2016 title
There were other bowling heroes for the Hyderabad squad.
Bhuvneshwar Kumar conjured two wonderful spells at either end of the Royal Challengers Bangalore chase. Bangladeshi left-arm seamer Mustafizur Rahman rallied from Virat Kohli's show of aggression in his second over to claim Shane Watson's wicket. Barinder Sran may be no Ashish Nehra but his dismissal of Kohli infused more life in Sunrisers Hyderabad.
Why, the little-known Bipul Sharma took the prized wicket of AB de Villiers, showing a large heart in giving the ball some flight and enticing the strokeplayer to attempt a big hit. This was not too long after he sprinted hard to get under the ball that floated to third man off the edge of Chris Gayle's bat.
Sunrisers Hyderabad missed not only Nehra's guile with the new ball but also a quality off-spinner to bowl to Gayle and yet the team held its collective chin up when the Jamaican unfurled his biggest innings of the season. Gayle played three innings of note in this edition of IPL and chose the biggest night to cut loose.
Striking eight sixes in his 76 that dominated his 114-run stand with Virat Kohli, Gayle made the 208 that Sunrisers Hyderabad posted seem inadequate. Yet, if Sunrisers Hyderabad was able to weather that storm, it was only because it backed its quicker bowlers to deliver the goods even on the flat deck in Royal Challengers Bangalore's backyard, the smallish stadium.
Hyderabad now has reasons to celebrate an IPL crown for the second time in nine years, Deccan Chargers having won the tournament staged in South Africa in 2009. Like Adam Gilchrist back then, an Australian has led Sunriser Hyderabad to the title, achieving a distinction that has eluded an astute skipper like Mahela Jayawardena.
Talking of captains, it would be hard for thousands of hearts not to reach out to Kohli. Yet, the man whose batting dominated the whole tournament - 973 runs at a strike rate of 152.03, having made at least a half-century in 11 of his 16 innings this season - will be the first to admit that Sunrisers Hyderabad had exposed and exploited the Achilles' Heel of his own team.
Though Yuzvendra Chahal and Shane Watson shared 40 wickets in the run up to the final, Royal Challengers' bowling was always its weak link, provided the opposition was ready to risk showing that up. Warner (69 off 38 balls) and Shikhar Dhawan (28, 25 balls) as well Yuvraj Singh (38, 23 balls) had made key contributions while Cutting knocked the wind out the home team's sails.
Also read- IPL 2016: Sunrisers Hyderabad beat Knight Riders by 22 runs; keep title hopes alive
It was a worthy final between two teams that were perhaps the hungriest in the league stage and have backed their beliefs and strengths with single-minded purpose. If Sunrisers Hyderabad rarely, if ever, took recourse to spin, it was because its think-tank had clearly envisioned the impact that the quicker bowlers were going to have on the team's performance.
Similarly, though its star bowler Mitchell Starc was a no-show in the tournament, Royal Challengers Bangalore rode on its awesome batting duo of Kohli and AB de Villiers to get to the final. It did not need to change either its approach or game-plan over much as its batsmen found ways to impose themselves on rival teams, giving their own bowlers insurance cover.
For all that, there should be no doubt in any one's mind that IPL2016 has been perhaps the most competitive - what with six teams remaining in the running for the four play-off berths till the final week-end. And yet, there is reason for the IPL mandarins to take a hard look at how the crowds have not flocked to the tournament like before.
Royal Challengers Bangalore fans will perhaps have to console themselves with thoughts that even they had not expected their team to feature on the final night while Hyderabadis will celebrate the conquest through Sunday night and beyond. In showing that he understood the complexities of franchise cricket in India, Warner's whoops of delight may have been heard in Sydney too.
Edited by Joyjeet Das
More in Catch:
EXCLUSIVE: India's food regulator caught napping
Down but not out: what stops Indian sportswomen from talking period
Modi & Amit Shah prepare for major reshuffle in govt & party. Heads may roll
'What is dead may never die': the secrets of resurrection in the Bible and Game of Thrones