Modi & Amit Shah prepare for major reshuffle in govt & party. Heads may roll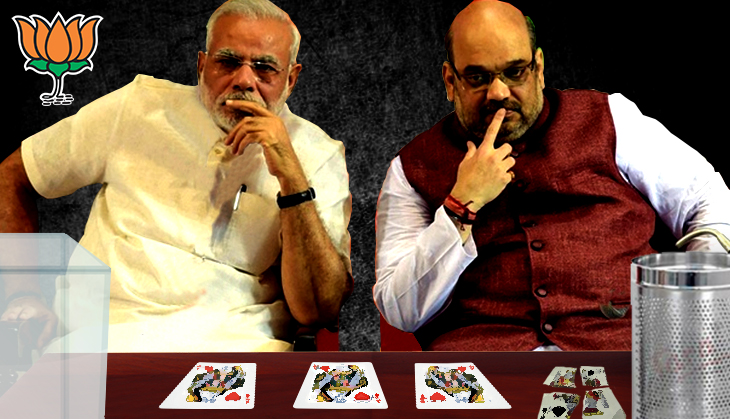 The reshuffle
Modi & Amit Shah are likely to overhaul party & govt
Ram Madhav being considered for MoS in MEA. JP Nadda may go to HP as CM nominee
Many ministers may face the axe, including those from allied parties
More in the story
Who is tipped to get what?
The performing ministers who might be rewarded
How 2017 Assembly polls are a key factor
After leading BJP to substantial gains in recently concluded Assembly polls, Prime Minister Narendra Modi and party president Amit Shah are now gearing for a major overhaul of government as well as the party.
Addressing a press conference at the party headquarters in Delhi, Shah hinted that such a move is on the cards.
"Prime Minister Modi had, after the BJP's victory in the Assam elections last week, begun consultations with top party leaders for multi-layered changes in his council of ministers, BJP office-bearers, the party's Rajya Sabha members and even Governors," NDTV's websitequoted him as saying.
Also read - Modi@2: Assam multiplied the happiness, says BJP chief Amit Shah
The matter reportedly came up for discussion during a late night meeting held recently between Shah, Modi and Finance Minister Arun Jaitley. Both Modi and Shah have purportedly deliberated on the issue several times during the past few days.
According to sources, some of the 'non-performing' union ministers are bound to face the axe. The Cabinet reshuffle, as well as revamping of Amit Shah's team, is aimed states that go to the polls next year - Uttar Pradesh, Punjab, Uttarakhand, Gujarat, Himachal Pradesh and Goa.
Currently, Modi's Council of Ministers comprises of 65 ministers - 27 Cabinet ministers, 25 ministers of state (MoS) and 13 MoS with independent charge.
The Cabinet berth lying vacant after Sarbananda Sonowal's appointment as Assam Chief Minister will be filled in the reshuffle. Speculations are rife about the induction of Ram Madhav. He was the BJP's in charge for the Assam polls and looks after the management of Prime Minister's foreign trips. There is a possibility that Madhav might take oath as the new MoS for External Affairs, replacing VK Singh.
In addition, West Bengal MP Babul Supriyo and party leader from Tamil Nadu P Radhakrishnan might be on their way out from the Cabinet.
Upcoming polls
The poll-bound state of UP has the largest share of ministers in the current Cabinet. Several of these ministers could be replaced by other leaders from the state. No Lok Sabha member from Himachal Pradesh and Uttarakhand is part of the council of ministers as of now. The Union health minister JP Nadda hails from Himachal Pradesh, but he is a Rajya Sabha member. Both states will go to the polls next year. Himachal Pradesh sends four MPs to the Lok Sabha whereas Uttarakhand has five Lok Sabha seats.
The BJP is apparently considering sending Nadda back to his native state as the party's CM candidate. Goa is represented in the cabinet by defence minister Manohar Parrikar and Shripad Yesso Naik, Minister for Culture and Tourism (Independent Charge). Party sources claim that RSS wants Parrikar to return to Goa.
Likewise, Vijay Sampla, minister of state for social justice and empowerment, may also be dropped as he is now party's state president in Punjab.
Gujarat has three ministers of state in the Union Cabinet. There is a general feeling within the party that the state is over-represented at the centre as Prime Minister as well as party president comes from Gujarat. Therefore, there are few chances that any new leader from the state will find a place in the Cabinet.
Several leaders from Bihar were included into the Cabinet in the wake of Bihar Assembly elections. Now Ram Kripal Yadav and Giriraj Singh seem all set to lose their ministerial posts. Sadhvi Niranjan Jyoti and Ram Shankar Katheria, both coming from UP, are also likely to meet the same fate.
Representation of allies
The effect of soured relations of BJP with Shiv Sena and Telugu Desam might also be reflected in the Cabinet reshuffle. Sources claim that all the ministers of these parties will be ousted from the Cabinet. Shiv Sena's Anant Geete and TDP's YS Chaudhary are currently the ministers in the Modi cabinet. Upendra Kushwaha, the minister from BJP's another coalition partner Rashtriya Lok Samata Party, is also likely to be given a farewell from the council of ministers.
Reshuffling portfolios
The minister for minority affairs Najma Heptulla and Women & Child Development Minister Maneka Gandhi might be assigned different ministries. Performing ministers like Nirmala Sitharaman and Piyush Goyal could be promoted to Cabinet rank. PDP, BJP's ally in Jammu and Kashmir, could also find a place in the Cabinet.
There is speculation that some of the nine Congress rebel MLAs in Uttarakhand could be inducted into the Cabinet. BJP would like to reward former CM and Congress leader Vijay Bahuguna for revolting against his party.
Also read - Modi@2: why he has failed to deliver Achhe Din for the BJP
Overhauling the party organisation
The Prime Minister is also said to be worried about the state of affairs in the party. Some of the central ministers could be reassigned with the party to strengthen the organisation.
The BJP leadership is reportedly considering removing Saroj Pandey from the post of party General Secretary. Vinay Sahasrabuddhe, who is presently the in charge of party's National Vice President and in charge of the MP state unit could be promoted as General Secretary. Former Karnataka CM BS Yeddyurappa was recently made the president of the Karnataka unit and might be removed as vice-president.
Apart from Nirmala Sitharaman and Piyush Goyal, MoS for Information and Broadcasting (I&B) Ministry Rajyavardhan Singh Rathore could also be promoted to cabinet rank. There are whispers that Rathore might take Sonowal's place as minister for sports & youth affairs. Although, Arun Jaitley is believed to be against his transfer from the current ministry.
Besides Rathore, Nihal Chand and Sanwarlal Jat are the other two ministers from Rajasthan. While Nihal Chand is almost certain to be removed, another face from the state could find a place in the Cabinet.
More in Catch - Disgruntled bhakt advises Modi@2: Stick to Hindutva, keep selling dreams
Modi's mission against "obsolete" laws is just a house-keeping exercise
Modi's 2-year report card's done to death. Check out how the Opposition did