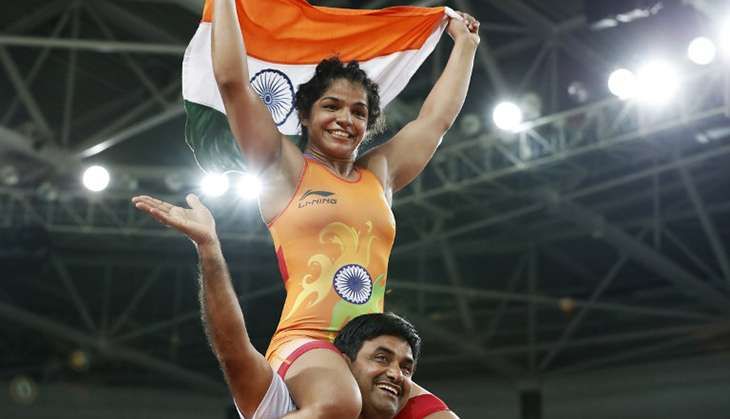 About 11 years ago, a young girl walked in to an akhara, eager to learn wrestling. Many locals did not like this. After all, how can a girl take up a sport meant for men? Despite protests, coach Ishwar Dahiya made this little girl his protégé.
The villagers would scorn and point fingers at her, laugh when she wore shorts and wrestled boys. Little did those locals know that this girl would become an iconic figure among Indian women athletes in the future.
Humble Beginnings
Sakshi's father Sukhbir Malik works as a conductor with Delhi Transport Corporation (DTC) while mother Sudesh Malik is a anganwadi supervisor (source). According to news reports, Sakshi's mother did not want her to take up wrestling. She believed, those who wrestle lack intelligence. But Sakshi wanted to follow the footsteps of her grandfather, former a wrestler.
Locals would berate Sakshi and her parents while growing up. 'She'll develop puffed-out cauliflower ears (common among wrestlers)', 'She'll be undesirable to potential husbands', they would say. "It hurt a little and I wondered why people said such mean things, especially when I was so young, and it made me doubt myself," she said.
But she didn't let the negativity affect her. Eventually, her family became her biggest strength, fighting all odds to support her wrestling career. She practiced for six to seven hours a day, following a strict diet to maintain her weight. Despite all the pressure, she performed well in academics.
Late Thursday night, on 17 August, Sakshi's parents had no words to express their feelings.
"Negativity didn't creep into my mind as I was confident of overturning the match in the last 10 seconds," Sakshi told the world.
Right now, despite the glorious victory, all Sakshi can think of are aloo parathas. "I want to go home and eat aloo parathas. I had to maintain a strict diet and they would never serve those in the Olympics," she lamented.
Win over sexism
Sakshi's medal is a victory over Haryana's deep rooted sexism - a state with the lowest sex ratio in the country. Her birth village Mokhra, near Rohtak in Haryana, has a child sex ratio of 800, way lower than Haryana's average of 834.
"She has given a befitting reply to people who say that women cannot be wrestlers," said her triumphant mother.
Sakshi Malik creates history! Congratulations to her for the Bronze. The entire nation is rejoicing.

— Narendra Modi (@narendramodi) August 18, 2016
What great news to wake up to! #SakshiMalik, your resilience at #Rio2016 has made whole of India proud. Many Congratulations!!!

— sachin tendulkar (@sachin_rt) August 18, 2016
Hearty Congratulations to #SakshiMalik for winning a medal in women's wrestling in #Rio2016 and doing India proud #PresidentMukherjee

— President of India (@RashtrapatiBhvn) August 18, 2016
Edited by Aishwarya Yerra