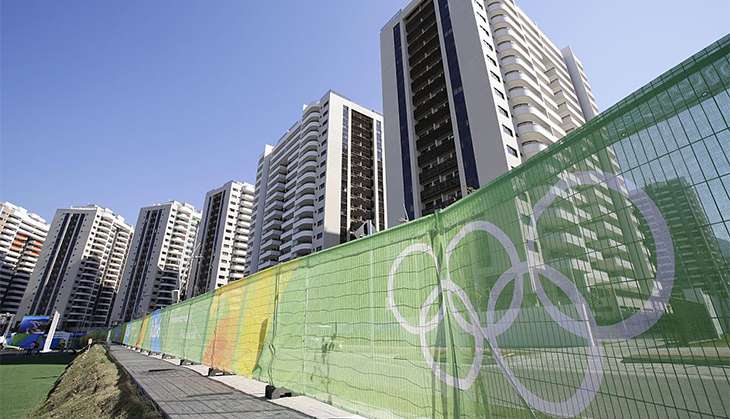 TheRio Olympics is just a couple of days away and the influx of athletes into Rio de Janeiro has already begun. Naturally, the first place they'd check in to is the Athletes Village. But, in what has emerged as a serious cause for concern, the organising committee has acknowledged that 19 out of 31 buildings in the Rio village have yet to pass safety tests.
If that wasn't already worrying enough, in the last few days, there have been gas and water leaks, power outages and even a small fire caused by a short circuit. Besides this, there have been complaints of broken elevators, holes in the ceiling, flooded floors and more.
At the moment, looking at how things are in Rio, things are on par with the low standards set by the Athletes Village in Delhi ahead of the 2010 Commonwealth Games. But the real question to be asked is this: is it as bad as the problems that plagued the athletes village during the 2014 Winter Olympics in Sochi?
Complex ran one of the most eye-catching headlines, "Australians Refuse to Move Into Athletes' Village at Rio Olympics Because It Looks Like Literal Crap".
Australia's Olympic team refuses to move into athletes' village because it looks like crap: https://t.co/jJv0109VcM pic.twitter.com/G3Y0pvnlUd

— Complex (@Complex) July 26, 2016
The Australian Olympic team wanted to move in, but, after seeing the 'inhabitable' conditions, they refused to
last Thursday
. Instead, they checked in to a nearby hotel. This, even as the Argentinian contingent also moved into a hotel.
The Mayor of Rio though, was unfazed, saying, "the athletes' village is much nicer than the one in Sydney, sixteen years ago" and that he would put a Kangaroo there to make them Australians feel at home.
The Athletes' Village has cost Brazil $1.5 billion, has 31-buildings and will accommodate 18,000 athletes and officials during the games. Besides this, it also has tennis courts, seven swimming pools and football pitches.
On Wednesday, 26 July, the Australian athletes said they would move in after 'fantastic progress' from the officials in Rio in addressing their concerns.
Australia not the only one
Maurits Hendriks, the Dutch chef de mission, told The Guardian that even though technical staff and local contractors are working round the clock to fix the problems, it will be a challenge to get it ready in time. He hinted that there may be financial consequences.
"It is the responsibility of the organizing committee to deliver a safe and well-functioning village ... Let it be clear that we will evaluate this situation with IOC and Rio 2016 after the Games. This applies for example to financial consequences as a result of the measures we are taking and have been taken," Hendriks told The Guardian.
Other than the Dutch, New Zealand, Belgium and the UK are also in touch about the situation. The US team is monitoring the situation and looking into addressing minor issues before Team USA arrives. Italy's Carlo Mornati has told the media that his team has hired labourers, electricians, plumbers and bricklayers to bring the apartments up to speed.
The Belarus contingent has branded the village as unsanitary. No hot water, sometimes cold water, sometimes no water. Sewage system is a failure.
Defiant officials
The officials at Rio have vowed to have the Village in an 'impeccable state' following the complaints from numerous athletes.
"Most of the problems was perceived only when water and electricity connections were made, that is when the athletes arrived," Mario Andrada, the games' Communications Director, told reporters.
Rio officials, for their part, have deployed 630 workers to make sure everything is checked and rechecked and stress tests conducted to ensure top most safety and accommodation. As if they weren't already under enough pressure, when 5 August rolls around, 10,000 people athletes are expected to be housed in the Athletes Village. The most ever at any Olympics.
Rio Problems
But, what's disaster in real life is social media gold. Someone has snatched up the Twitter handle @RioOlympics and is positing articles and links and pictures of everything wrong with Rio and the Olympics:
From April:
At this rate gold medals will be handed out just for surviving the olympics #rioproblems pic.twitter.com/oHyPsdzPLo

— Rio Problems (@RioProblems) April 22, 2016
From June. Problems with police:
arriving in brazil had me like... https://t.co/HkxpvHB1IK pic.twitter.com/gYwMtlIUyk

— Rio Problems (@RioProblems) June 27, 2016
Nothing beats Sochi
The Winter Olympic Games in Sochi back in 2014 were an ultimate low for a Games Village. Not to go into any detail, just read this one tweet for the gist:
For those of you asking, when there's no lobby in your hotel, you go to the owner's bedroom to check in. #Sochi2014

— Mark MacKinnon (@markmackinnon) February 4, 2014
In the end, the Games will take off, the Athletes will forget about the problems and celebrate the medals. For now though, Rio officials have a big task on their hands. If it gets any worse, there could be major consequences.