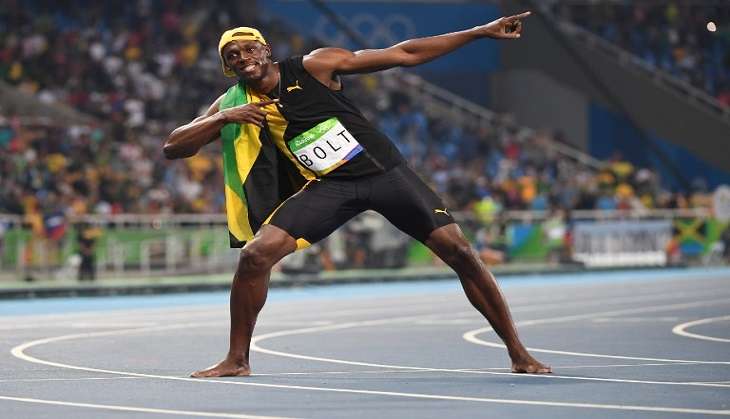 From Beijing to London and now to Rio, Jamaican Usain Bolt is undoubtedly the 'fastest man in the world'. On Saturday, 14 August, Bolt stamped his authority on that title once again at the Rio Olympics. The Jamaican athlete became the first to win three Olympic 100m titles.
During the introductions, Bolt held up his index finger, signaling that he was indeed no. 1. Then he won the race in a blistering 9.81 seconds to become the only athletes, male or female, to win the 100m sprint three times and at consecutive Olympics.
His main rival, United States' Justin Gatlin and the 2004 Olympic champion took home the silver in 9.89 seconds. Canada's Andre de Grasse won the bronze in 9.91 seconds.
As the race came to an end, Bolt was seen pounding his chest and then blowing kisses to the crowd. With the flag on his back and a toy Olympic mascot, that he eventually gave away, Bolt struck his signature pose known as To Di World.
Here's what he tweeted after the race:
Jamaica Stand Up!!!
This for you my people

— Usain St. Leo Bolt (@usainbolt) August 15, 2016
Bolt wasn't the fastest out of the blocks but with 25m to go, he passed rival Gatlin to coast to victory. Bolt's added his seventh gold to his name. He's also competing in the 200m, where he is also going for a third successive gold medal and the 4x100m relay.
Usain Bolt knows that at the age of 29 (he turns 30 next Sunday), Olympic titles are hard to come by, let alone world records. His timing of 9.81 may have fallen short of his record 9.58 set seven years ago, but that didn't matter. What matters was that he won and he won it in style. He has said many a times that this will be his final Games.
This was Bolt's slowest championship winning time. Over the years, he has gradually, ever so minutely, slowed his pace and it is showing as he is on his way to retirement next year. Athletics will surely lose a little bit of its sparkle when Usain Bolt retires.
His focus is on the 200m and getting that world record time down to sub-19 seconds.
Here's how social media reacted to the famous win:
Nothing u can do vs that cheetah! #Bolt

— LeBron James (@KingJames) August 15, 2016
#UsainBolt gotta say....

Class. Act.
https://t.co/rb8TMy2WZn

— Leah the Boss (@LeahRBoss) August 15, 2016
THE LIVING LEGEND @usainbolt #TVJRio #Rio2016 pic.twitter.com/0NTGl1wFCZ

— Television Jamaica (@televisionjam) August 15, 2016
Benjamin Franklin had said the two certainties in life are death and taxes. He could have added one more - an Usain Bolt #Gold #Olympics

— Mohandas Menon (@mohanstatsman) August 15, 2016
Who's jealous? Selfie time with @usainbolt #Athletics #Rio2016 #Olympics pic.twitter.com/mhpU6vSnQy

— IAAF (@iaaforg) August 15, 2016
The Usain Bolt magic is supreme! His expression - "I run this thing!"
#UsainBolt pic.twitter.com/ro9uEwtA9H

— Anjana Om Kashyap (@anjanaomkashyap) August 15, 2016
I mean #UsainBolt is literally a superhero name.

— Jesse Lee Soffer (@jesseleesoffer) August 15, 2016
Humans aren't supposed to be that fast. Smh. He makes it look too easy. #UsainBolt

— Micah Hyde (@micah_hyde) August 15, 2016