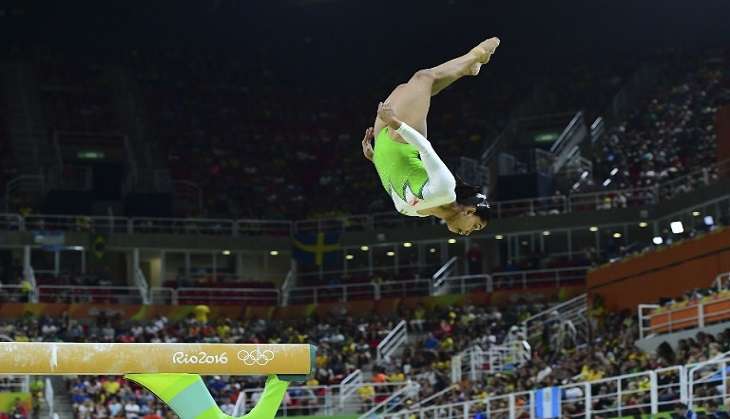 UPDATE: Simone Biles just scored a 16.050 to push Dipa Karmakar into 7th position.
12 gymnasts. 5 subdivisions. 60 total participants. The whole nation of India had their eyes on 22-year-old Dipa Karmakar, the only gymnast competing at the Rio Olympics to have successfully landed the Produnova vault. She took part in subdivision 3 qualification. She came out roaring, with her first vault being the famous Produnova. The Produnova vault has a 7.0 difficulty. She landed with a 8.1 execution. She did not manage to stick the Produnova. Had she executed the 'Death Vault' the way she had in practice, she would have had a much higher score.
The second vault was the Tsukahara stretched double twist. That had a 6.0 difficulty and she landed with a 8.6 execution. Her average score of 14.85 was good enough for sixth place after 3 subdivisions.
Some time after 'Women's Qualification - Subdivision 3' was over, may Indian news channels said that Dipa Karmakar had qualified for the Vault finals.
Dipa Karmakar has not yet qualified @dna! Two more subdivisions to go. She's sixth currently. Only 8 qualify. https://t.co/2qs98voONk

— Sahil Bhalla (@IMSahilBhalla) August 7, 2016
This was incorrect as two more subdivisions were still to come at 2 AM IST and 5 AM IST on 8 August. If any three participants in those subdivisions does better than Dipa Karmakar at the Vault, then she will be out. Only 8 contestants qualify for the final, so for Dipa Karmakar, it will be a tense wait.
It seems that a lot of people are quick to jump the gun without actually knowing what the overall situation is.
One of the experts the other day had remarked that if Dipa Karmakar performed the Produnova Vault, then she will definitely have a chance of getting home a medal. Unfortunately, at this point, that isn't to be the case.
Dipa performed all four routines and finished with a score 14.850 in the Vault, 11.666 in the uneven bars, 12.866 in the beam and 12.033 in the floor exercise. Overall, she is 27th with a score of 51.665, which means she is already out of contention in the Individual All-Round Finals. Only 24 gymnasts qualify for the final in that event. Looking at her scores in the other three events, it is safe to say that she is out of contention for a place in the finals in any of them.
Can Dipa Karmakar qualify for the Vault finals?
If no more than two vaulters beat Dipa's score of 14.850, the she will qualify for the Vault finals. 14.85 is a decently high score to beat. Looking at the scores from the 2012 Olympics in London, only three vaulters had a higher score than 14.85.
Looking at the gymnasts left, a lot of them are Americans and Japanese and they are known to be the heavyweight favourites. The odds are stacked against Dipa at the moment but the final results will only be known around 6 AM IST. Till then, just take a deep breath, and wait patiently.