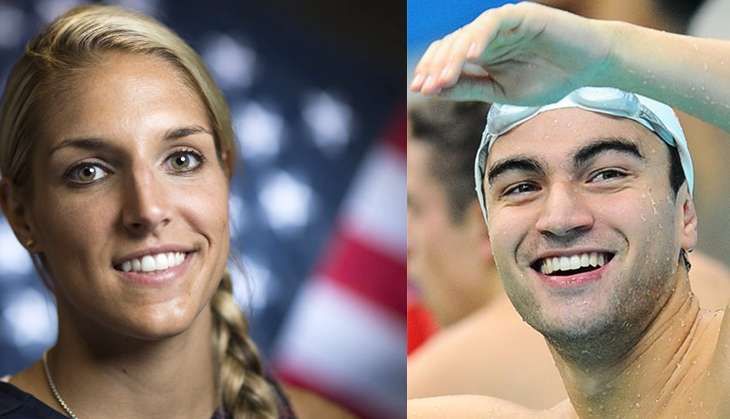 Plural sexualities and sporting events usually repel each other. And that doesn't make such events any richer.
So when news of Rio Olympics making a welcome departure from this trend came, the rainbow population (and other sane people in the world) found reason to celebrate. With over 40 LGBTQI (Lesbian, Gay, Bisexual, Trans, Queer, Intersex) athletes participating in this year's Olympics, almost double the number from 2012 London games, things definitely seem to be looking up for inclusiveness.
Also read -Rio Olympics brings samba style to Opening Ceremony despite budget cuts
Rainbow pride at Rio
These athletes come from 13 different countries, the highest being from Great Britain. The British LGBT representation is so vast that it spans across various sporting events - there's boxer Nicola Adams, Tom Bosworth in Race Walk, diver Tom Dale, equestrians Carl Hester and Spencer Wilton and field hockey player Susan Townsend.
The British contingent also includes the first LGBT couple in the history of Olympics to participate in the games, that too in the same sport. Field hockey players Helen and Kate Richardson-Walsh made their Olympic debut together in 2000 Sydney and got married in 2013.
Also read - These 10 Olympians can double India's tally at Rio 2016
India too has her gender-neutral representative in track and field runner Dutee Chand who fought all odds to be there. Chand was dropped from Commonwealth Games due to 'hyperandrogenism', a biological phenomenon that has nothing to do with drugs, and thereby shouldn't have been held against her in the first place.
Coming out in sport
Flag bearers from Tonga always make news, it seems. While Rio had the well oiled taekwondo fighter Pita Taufatofua hold up the flag, back in 2012 gay and out swimmer Amini Fonua carried the national flag.
Also read - Rio Olympics 2016: 'Greasy' Tongan Pita Taufatofua takes world by storm with shirtless appearance
In a heartfelt note published by Outsports, Fonua who is competing this year, wrote, "I've never felt any reason to hide. When you're self-conscious about anything -- your appearance, your age, your sexuality -- it tends to be the first thing people notice. Everybody is a little self-conscious; It's what makes us human. If you accept who you are and achieve the level of comfort to own it and embrace it, people will allow you to be you. I've never hidden behind a façade, and because of that people have celebrated me for being the great swimmer that I was."
Fonua has been sporting his gay pride on his junk this season - a gift from the Los Angeles Gay & Lesbian Center.
"I have worn that [swim] suit to every single practice leading up to Rio, because there's not a lot of diversity in swimming," he said, adding, "It's a gentle reminder to everybody and myself that I'm different, and to take pride in that difference."
Photo: Outsports
American basketball player Elena Delle Donne came out as queer in the run up to Rio. In an upcoming interview to Vogue, Donne will reveal her engagement and wedding plans with her live-in partner Amanda Clifton.
"It's not a coming out article or anything. I've been with her for a very long time now, and people who are close to me know that, and that's that," she said, adding, "I decided I'm not at all going to hide anything," she added.
But is Rio safe?
The Rio opening ceremony waved the rainbow flag as high as those from the diverse nations participating. The kiss cam at Maracana Stadium caught a gay couple celebrating the start of the Olympics with a kiss.
Soon after during the Parade of Athletes, we saw five transgender volunteers proudly carrying placards of different countries.
Outside the stadium though, the story is completely different. As noted in an earlier Catch article, a transperson is killed in Brazil every day. Twenty one hours to be exact.
And the numbers aren't very different for the rest of the queer population. According to human rights group Grupo Gay da Bahia, about 1,600 LGBT people have been murdered since 2011.
Also read -Brazil's LGBT murder epidemic: One person killed every day
The situation begs a simple question: Had the Olympic contenders this year not been given the security they enjoy; had they not been cushioned from the brutal reality of homophobia and trans-hate that lurks on the streets of Rio, would their enthusiasm to flaunt their sexualities differ? Perhaps they would've hidden from the violence the average person experiences, and not been 'out' as they are today.
The fact remains that the Olympics, as in every other aspect, manages to hide the problems Brazil is actually reeling from. Problems that a 'Pride House' for the duration of the Olympics most certainly cannot fix.