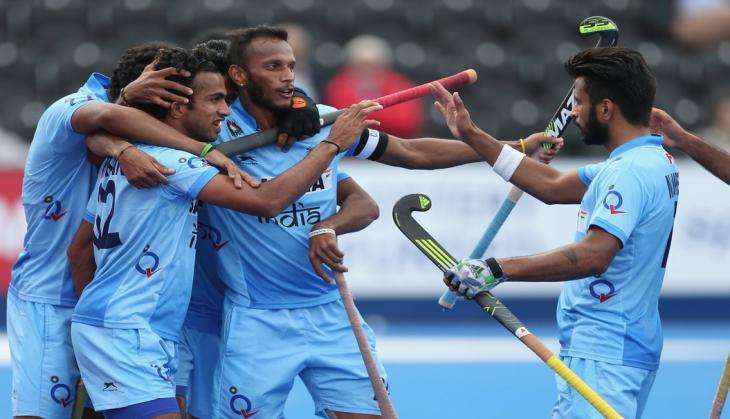 Buoyed by some strong performances in the run-up to the Rio Olympics, Indian men's team will look to break their 36-year-long medal jinx when the hockey competition begins here tomorrow. Eight-time champions, India won their last Olympic gold at the 1980 Moscow Games. What followed were years of missed opportunities and then came the ignominy of failing to qualify for Beijing Games.
Four years ago, they qualified but finished last and the PR Sreejesh captained side, who won a historic silver in the Champions Trophy, will eye redemption for London debacle when they begin their campaign against Ireland in a potentially tricky encounter at the Olympic Hockey Stadium in Deodoro.
The women's team would also hope to continue their fairytale run which helped them to earn a berth at Rio Olympics after a gap of 36 years. Making their first Olympic appearance since Moscow 1980, the women's team will be on a high to open their campaign against Japan, a team whom they had beaten in the World Hockey League to qualify after 36 years.
Clubbed in a group comprising defending champions Germany, runners-up Netherlands and Pan-Am top two Argentina and Canada, the men's team will have to get into the rhythm as quickly as possible as any slip-up will threaten to derail their quarterfinal hopes.
India to its advantage have a world class goalkeeper in Sreejesh while their midfield is compact and the onus will be on the defence to rise to the ocassion and not concede late goals. A quarterfinal should be a realistic possibility, while a draw and win against the top three teams of Germany, Britain and the Netherlands should be a bonus to avoid the heavyweights Australia in a possible last eight match-up. As part of the new format, four teams from both the groups will make the quarterfinals.
Ireland are first-timers at the Olympics as they made the cut finishing third ahead of Britain and Belgium in the European Championship, and in the World League they beat teams like Pakistan and Malaysia and Roeland Oltmans' boys will have to score an early goal. In that case, the most-capped Sardar Singh -- stripped off his captaincy -- will look to make a bold statement while vice-captain S V Sunil will play the role of a feeder from the right flank.
Sardar has been a shadow of his past but his rich experience and ultra fitness level put him among the top and he would look to overcome his personal woes and contribute to the team with sharper and accurate passing. The team to Rio wore a settled look for last two years in which they won the Asian Games gold in Incheon and Commonwealth Games silver in Glasgow in 2014.
'Captain cool' goalkeeper Sreejesh will look to form a wall under the bar while the likes of VR Raghnath, Kothajit Singh, and Rupinder Pal Singh will form the core of the defence. India has the most number of gold medals in Olympic history but coach Oltmans has insisted to live in the present.
"We will be hoping to improve on their 12th place showing at the 2012 London Games. We know about the fantastic past of Indian hockey, but we live in the present. We are aiming for the best possible result. I can try to influence these guys. Sometimes, I succeed. Sometimes, they don't listen," said Roelant Oltmans, who is in his sixth Olympics.
'When expectations are only on my shoulders, I don't care. I can cope with that pressure. That people are talking like that about the team again, is because we had a good year. But it should not influence the performance of the players. It is my job to make sure that they do not get carried away and listen to the coaching staff."
Meanwhile, the 13th ranked women's team are upbeat to be in Games after a gap of 36 years and they also had a similar build up when Sushila Chanu was made the skipper replacing Rita Rani as a disciplinary measure. "Coach (Neil Hagwood) has told us to score early goals and not allow easy goals during the last quarter," defender Deep Grace Ekka said.