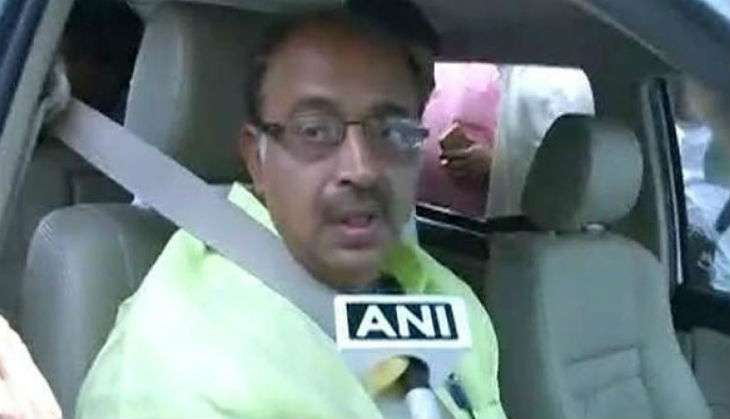 It seems Sports Minister Vijay Goel really wants to prove that 'we are Indians, we travel in packs'.
Miffed with the Indian Sports Minister's entourage, Rio Olympic organisers threatened to cancel his accreditation if unaccredited people accompanying him do not end their "aggressive and rude" behaviour.
Goel, who is currently in Rio De Janeiro to cheer for the Indian contingent, apparently entered accredited areas at the venues with people who were not authorised to enter those particular venues. Plus, Continental Manager for Rio 2016 Organising Committee revealed that the people accompanying the Minister also got violent when they were denied entry.
In no time, Sports Minister Vijay Goel started trending on Twitter. While some slammed him for embarrassing India on a global platform, some said India finally got its gold medal.
And the gold for Selfies goes to Sports Minister Vijay Goel but Rio panel isn't amused #Shame https://t.co/rQkjwOi6KS

— Avinash Bagwe (@Avinash_Bagwe) August 12, 2016
Sports Minister Vijay Goel embarrassed the country with his behavior, busy in taking selfies than to understand the areas of improvement

— Cifar (@cifarshayar) August 12, 2016
Aam Aadmi Party leader Ashish Khetan wasted no time in attacking the BJP leader.
While Indian athletes have been chasing medals at Rio, Sports Min Vijay Goel has been chasing them for photos. https://t.co/VgVCZcywHn

— Ashish Khetan (@AashishKhetan) August 12, 2016
Sports Minister Vijay Goel is following in Modi's footsteps of making India a laughing stock of the world.

— anilkumar (@c_k_anil) August 12, 2016
Sports minister Vijay Goel being "aggressive and rude" with Rio staff. Hardly surprising, that's how our politicians generally behave.

— Comfortably Dumb (@mooninanfield) August 12, 2016
Sports Minister Vijay Goel working tireless in #Rio2016 to make Kalmadi look like a saint.

— Milan (@TheBlueEyedSon) August 12, 2016
Denied entry by Olympic officials, Sports minister Vijay Goel forced to improvise for performing daily ablutions pic.twitter.com/359NB1o9RX

— Siditious Devious (@Calvinator_18) August 12, 2016