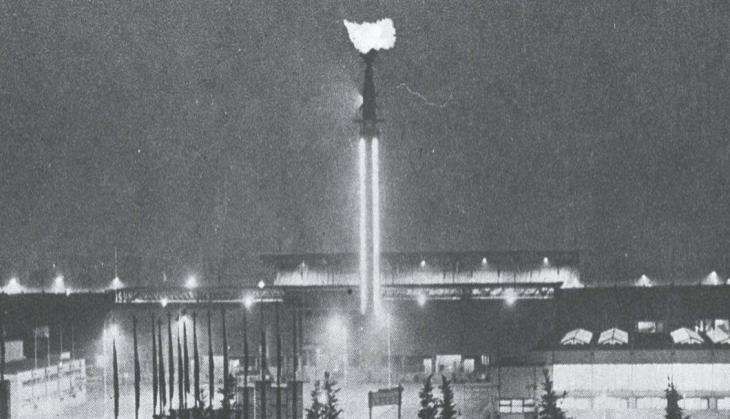 The Olympic Torch is a symbol of the Olympic Games. The fire is kept burning throughout the games, commemorating the theft of fire from the Greek god Zeus by Prometheus. The Torch has literally been around the globe - earth, water, air. In the last 80 years, thousands of individuals have carried the Olympic Torch.
The Olympic flame made its debut in Amsterdam 1928, where it was lit atop a tower overlooking the Olympic Stadium, the venue for the athletics events. It also presided over the scene at Los Angeles's Olympic Stadium four years later, this time at the top of the gateway to the arena, which resembled the Arc de Triomphe.
The Olympisch Stadion in 1928 Photo: olympic.org
For the first time, the flame went airborne on the Helsinki 1952 Torch Relay, flying to the Danish city of Aalborg. After making its way across Denmark and into Sweden, it passed through Gothenburg and Stockholm and then crossed the Finnish border at Tornio.
Photo: Olympic.org
The Torch Relay of Sydney 2000 was unique in its own way because it took place mostly at sea, with the torch voyaging from one Pacific island or nation to the next en route to Australia: from Guam to New Zealand, from Papua New Guinea to the Cook Islands, from Micronesia to Tonga, and from Vanuatu to Samoa.
The 1928 Olympics were the first to be organised under the IOC presidency of Henri de Baillet-Latour.
Olympic.org
The Games were officially opened by Prince Hendrik. Athletic events were held on a 400-metre track, later becoming the standard for athletics tracks. The Tarzan hero - Johnny Weissmuller - won two gold medals in swimming. India took its first ever gold in the sport of field hockey, beginning a streak of six consecutive gold medals in the sport.
Official Poster of 1928 Olympic Photo: Olympic.org
Official Logo of 1928 Olympic Games Photo: Olympic.org