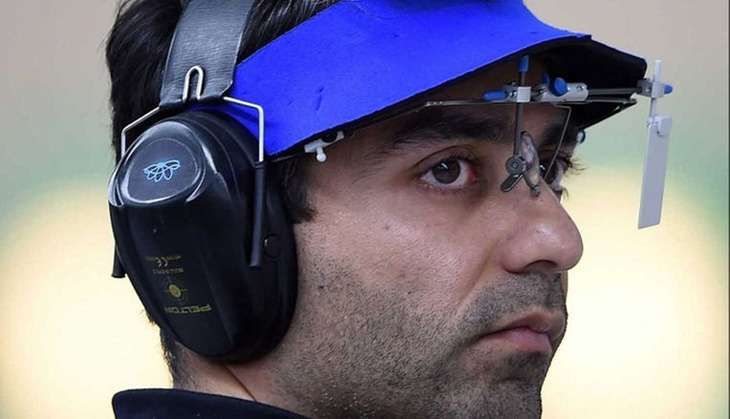 A shrug of the shoulder. A wry smile. And the curtain dropped.
No shenanigans. Just passing the safety band through his beloved Walther air rifle, and calling time on India's most iconic individual Olympic career.
Abhinav Bindra deserved so much more. He deserved a hero's farewell - a ride into the sunset with another Olympic medal wrapped around his neck. But it wasn't to be.
Fate can be heartless, and in the sport of shooting, that too in the most precise of all shooting events, the 10m air rifle, it is more heartless than usual. A shoot-off for third place, a disappointing final shot, and that was that.
The size of the challenge
It is difficult for most of us to imagine just how small the margins of error are in air rifle shooting. The bulls-eye, the 10, is smaller than one's fingernail. The perfect shot, the 10.9, is hardly bigger than the point made by a ballpoint pen.
And yet, Abhinav Bindra made a career out of trying to attain microscopic perfection. As he wrote in his autobiography, A Shot at History, he became the monk with a gun who punched holes in a card for a living.
A shrug of the shoulder. A wry smile. And the monk was gone, his shot at history now recorded in the annals of history as a fourth position in his final Olympics appearance, at Rio di Janeiro on 8 August 2016.
The golden moment
Flashback to 11 August 2008. It was in a diametrically opposite part of the globe - Beijing, China. By the time Indians reached their workplaces in the morning, Abhinav had won the country its first individual Olympic gold medal. He had held his nerve and shot one of the best finals in the history of the sport, to add the Olympic crown to his 2006 World Championship crown.
He had lifted the worth of a nation, by punching holes in a card with his rifle.
Years later, upon winning the Commonwealth Games gold medal at Glasgow 2014, he had announced that that would be his final CWG. A few months later, the Incheon Asian Games would be his last Asiad. And Rio would be his farewell to the Olympics.
The fire was burning again, after a disappointment at London 2012. He wanted to show the world that his success in Beijing was not a flash in the pan. Correction: he wanted to show himself that he could still attain perfection. His battles had always been with himself, with his own mind.
As he had once said: "I am a naturally driven person. But I've stopped being outcome-driven; for me, now, it's all about the battle within. I'm competing against myself, to be the best I can be. It's not easy, it gets more difficult as you go along. But medals don't give me the biggest high, rather, it's the feeling of winning that battle with myself."
A shrug of the shoulder. A wry smile. Did he win that final battle with his own mind? His face, as usual, did not tell a story.
How the love affair began
Apjeet Bindra, Abhinav's father, is a rich man. So rich, in fact, that there were those who said he had bought his son Olympic success.
Apjeet took his then 14-year-old son to the Atlanta Olympics in 1996, little knowing that he was changing the course of Indian Olympic history in the process.
Young Abhinav fell in love with, of all things, rifle shooting - among the least exciting visual and aural spectacles that the Olympics can provide. And over time, that passion would consume him - so much so that he shunned the company of human beings to spend quality time with his rifle at the shooting range his father built for him at their home in Zirakpur, Punjab.
Four years later, at Sydney 2000, 18-year-old Abhinav finished 11th. He was gutted.
Four years later, at Athens 2004, 22-year-old Abhinav reached the final, but finished seventh. He was gutted.
But the fire in his belly still burned. The deteriorating condition of his lower back forced him to give up all other events and concentrate on just air rifle. And it delivered him the aforementioned Zagreb World Championship gold in 2006, and the Beijing Olympics gold in 2008.
He tried to repeat his performance in London, and finished 16th.
He came back for one final bite at the cherry. He lost in a shoot-off, after dropping from second place to a tie for third.
A shrug of the shoulder. A wry smile. One Olympic medal in five attempts. But one gold medal.
Learning to talk, and making India dream
When Abhinav wasn't immersed in his air rifle and his paper (or electronic) targets, he was very much an introvert.
One of the stories most famous about him came from Beijing. Asked by the swarm of excited Indian mediapersons what was foremost on his mind after his gold medal-winning exploits, he is known to have said: "What should I say? You guys write what you think I'm thinking."
Over the years, he thankfully got a bit more verbose, giving the rest of us mere mortals an insight into this great sporting mind. After his Commonwealth Games gold, in an interview to this reporter, Abhinav said that to inspire Commonwealth Games women's 10m air rifle gold medallist Apurvi Chandela to pick up the gun was a greater achievement than his Beijing gold. Chandela had said that seeing Abhinav shoot the gold was what made her pick up the rifle.
Abhinav had said: "I read her comment and was elated. It made my journey feel worth it. The joy of winning the gold in Beijing was not as great as the joy I felt when I read that I had inspired one person to take up my sport."
India's first shooting medal at the Olympics, a silver, was won by Rajyavardhan Singh Rathore at Athens 2004, in double trap. That turned the tide. Bindra took it a step further in Beijing. And that led to an unparallelled broad-basing of the sport in India, which has led to exponential growth in the number of participants (of a high quality) at the national championships too.
Abhinav Bindra's legacy will probably not be the Beijing gold medal. It will remain historic, but there will come a day when India could become a sporting superpower, and a glut of medals would render his medal less lustrous.
But he made Indians see shooting sport as a viable option. It inspired a generation of shooters to become Olympians and strive for glory in their own right. That will be the monk's lasting legacy.
A shrug of the shoulder. A wry smile. A walk into the sunset.
Farewell, champion, you will be missed. And thanks for the memories.
More in Catch
India's flagbearer Abhinav Bindra announces retirement after Rio Olympics
Rio Olympics 2016: Abhinav Bindra leads India as Summer games begin
Rio 2016: Jitu Rai finishes 8th in 10m Air Pistol; Chandela and Paul crash out in qualifiers