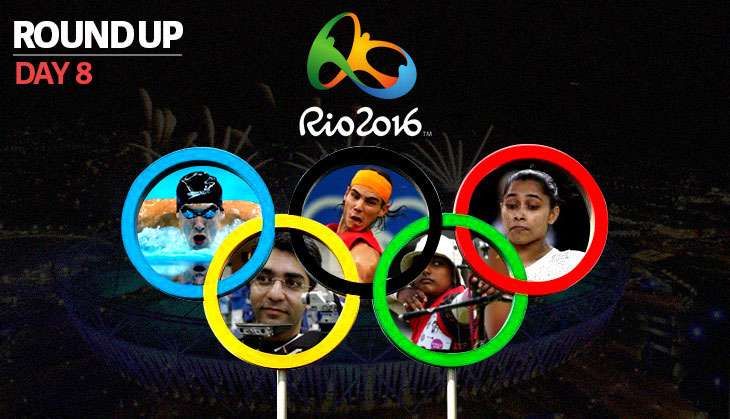 It\'s been a case of so near, yet so far for Indians at the ongoing Rio Olympics. On the night of Saturday, 13 August, mixed doubles tennis pair Sania Mirza and Rohan Bopanna was one set away from a guaranteed medal, only to go on and lose the semi-final match in the third set tiebreaker to USA\'s Venus Williams and Rajeev Ram.
Day 8 at Rio was another day of disappointments for India. It\'s probably best not to get your hopes up going forward.
Apart from the Indians, it was a day of upsets and world records at the Games. From Puerto Rico\'s historic first gold medal, to Mo Farah tripping and getting up to win the 10,000m race, it was a fabulous day.
Here\'s a roundup of everything you need to know from Day 8 of the Rio Olympics:
01
Dattu Bhokanal (rowing)
Dattu Bhokanal may not have been among the medals, but his first place finish in the C Final with a best timing of 6:54.96, brought smiles to the faces of many an Indian. He finished 13th overall in what is his first ever Olympics.
02
Indian women's hockey team
The Indian women's hockey team lost 0-5 to Argentina in its last Pool B match. This was India's fourth successive defeat at the Olympic hockey centre, finising with one draw and four losses from five matches in their six-team Pool B campaign.
03
Jwala Gutta, Ashwini Ponnappa, Manu Attri and Sumeeth Reddy (badminton)
Playing in their last group stage matches, with both teams already out of contention for a place in the knockouts, Attri and Reddy provided some smiles as they defeated eighth-ranked Japanese pair of Kenichi Hayakawa and Hiroyuki Endo in straight sets. They finished with two losses and a win.
Jwala and Ashwini Ponnappa suffered their third consecutive defeat in their final Group A match against Thailand's Supajirakul Puttita and Taerattanachai Sapsiree. They lost 17-21, 15-21.
04
Anirban Lahiri and SSP Chawrasia (golf)
SSP Chawrasia had a much better third round, finding his feet to close out with a two-under 69. He three-day score of two-under 211 is good for tied 22nd at the moment. Two bogeys on the final two holes of the day cost him a much higher finish.
For Anirban Lahiri, things couldn't get worse. He had an error-ridden third round and posted a four-over 75. Lahiri's three-day total of nine-over 222 has put him in joint 57th position out of 60 competitors.
Here's hoping Chawrasia can improve to finish in the top-15. Even a top-10 spot isn't too far off.
05
Gurpreet Singh and Mairaj Ahmad Khan (shooting)
Gurpreet Singh, competing in the men's 25m rapid fire pistol event, failed to qualify for the final round by just two points. He finished with a tally of 581 points, that was good enough for a seventh place finish at the Olympic Shooting Centre, just outside the top six who qualified for the final.
Mairaj Ahmad Khan, competing in the men's skeet event, was knocked out in a shoot-off and failed to qualify for the semi-finals. Another case of so near yet so far for India's shooting contingent. Khan was tied with a score of 121 and a shoot-off followed with four other shooters.
Not much was expected from Nirmala Sheoran in the 400m race on Saturday, 13 August. A timing of 53.03s was only good enough for a sixth place finish in her heat. Overall, she finished 44th among 57 athletes. Her run was much slower than her personal best of 51.48s, which she had set on the way to qualifying for the Games. If she had matched her personal best, she would have qualified for the semi-finals.
07
Lalita Babar and Sudha Singh (3,000m steeplechase)
Lalita Babar brought smiles to Indians and breathed life and hope into an otherwise bleak track and field show at the Rio Games. She clocked a national record timing of 9:19.76 to finish fourth in the heats of the 3,000m steeplechase. She qualified for the finals as the fastest non-automatic qualifier, and in the process, became the first Indian woman to qualify for the finals of a track event at the Olympics since PT Usha at the 1984 Olympics in Los Angeles. She will be competing in the finals on India's Independence Day, 15 August.
Lalita took nearly seven seconds off the previous national record of 9:26.53, set by Sudha Singh at the IAAF Diamond League meet in Shanghai in May this year. Sudha, the other Indian competing in the event, couldn't match up to her personal best and finished with a disappointing timing of 9:43.29 to finish 30th out of 52 qualifiers. She failed to make the finals.
Lalita Babar, from the worst drought affected areas of Maharashtra, is in the final of 3000m steeplechase. A truly inspiring story #Rio2016

— Cricketwallah (@cricketwallah) August 13, 2016
08
Sania Mirza and Rohan Bopanna (tennis)
What can be said that hasn't already? Mirza and Bopanna were up against USA's Venus Williams and Rajeev Ram in the semi-finals of the mixed doubles event. The Indian duo won the first set with relative ease, but from there on, it looked uncomfortable and under pressure throughout the rest of the match, losing seven straight points in the third-set tiebreaker to hand the match to the Americans.
Mirza and Bopanna will have one more shot at a medal, when they take on Lucie Hradecká and Radek Štěpánek of the Czech Republic in the bronze medal play-off on Sunday.
Venus Williams🇺🇸 makes history: into mixed final with Ram🇺🇸 (d. Mirza/Bopanna🇮🇳), she's first in modern era to medal in all tennis events.

— Ben Rothenberg (@BenRothenberg) August 13, 2016
Here's what else happened at the Olympics on Day 8:
09
Monica Puig and Puerto Rico's first gold medal
Yes, Puerto Rico have a gold medal. Tennis player Monica Puig defeated Germany's Angelique Kerber in a three-setter to become the first woman from Puerto Rico to win a medal of any colour. She's the first male or female athlete from Puerto Rico to win a gold since 1948, when they started sending athletes to the Games. What's even more amazing is that Puig became the first unseeded woman to win the singles title since tennis returned to the Games in 1988.
10
Michael Phelps and gold number 23
Michael Phelps signed off on his legendary career by adding another gold medal to his kitty. He was a part of USA's relay team that took home the gold in the 4x100m medley relay,
The US set a new Olympic Record with a timing of 3:27.95. The US have never lost the men's medley relay in Olympic history.
Ryan Murphy was first off the blocks for the Americans, setting a new world record in the backstroke and the Americans never looked back from there. Michael Phelps garnered his 23rd gold medal and finishes with 28 medals overall in Olympic history.
What a career for @MichaelPhelps! 🇺🇸 pic.twitter.com/CRweCNWVET

— U.S. Olympic Team (@TeamUSA) August 14, 2016
An upset! It was a race fought till the end but eventually Elaine Thompson of Jamaica surged ahead to win the women's 100m with a timing of 10.71s. She beat out countrywoman Shelly-Ann Fraser-Pryce, who was going for a third straight Olympic title. Fraser-Pryce had to settle for bronze with a season-best timing of 10.83s.
"When I crossed the line and glanced across to see I was clear (I) didn't quite know how to celebrate," Thompson said afterwards. "There is a big screen back home in my community in Jamaica. I can't imagine what is happening there right now."
12
Mo Farah and the men's 10,000m
Mo Farah tripped, fell down, got up, worked his way to the front, lost the lead in the final lap, and then re-emerged in the finishing stretch to take home the 10,000m title. He successfully defended his gold medal that he won at the 2012 London Olympics. Farah became the first British athlete to win three gold medals on the track and only the fourth man to defend an Olympic 10,000m title.
"When I went down, I thought, 'Oh my God, that's it.' I just got up and wanted to stick with the guys and stay strong. It's never easy but everyone knows what I can do," Farah said. "I thought about all my hard work and that it could all be gone in a minute. I wasn't going to let it go. I got up quickly. I thought about my family. It made me emotional."
Earlier tonight @Mo_Farah #GBR won #Gold in the Men's 10,000m final at the #OlympicStadium pic.twitter.com/isZGqdM1zY

— Rio 2016 (@Rio2016_en) August 14, 2016
13
Juan Martin del Potro tops Rafael Nadal (tennis)
Argentine Juan Martin del Potro outlasted Spaniard Rafael Nadal in a third-set tiebreaker to advance to the men's tennis final.
No matter what stage the match is at, one thing is certain - Nadal will battle and give it his 110% till the very end.
Del Potro pushed Nadal to the brink. Nadal pushed him back. In a see-saw battle, the Argentine came out on top 5-7, 6-4, 7-6 (7-5). Remember, Del Potro had stunned world No.1 Novak Djokovic earlier in the tournament.
After a Nadal forehand had sailed wide, del Potro fell on his back, mostly in exhaustion and the crowd roared. Del Potro will now take on Great Britain's Andy Murray in the gold medal match.
Nafissatou Thiam of Belgium upset the field and beat defending champion Jessica Ennis-Hill of Great Britain to win the gold medal in the heptathlon event. The event came down to mere seconds. In the final event of the heptathlon, the 800m, Ennis-Hill ran a season's best to win. But she needed to beat Thiam by 10 seconds to take the gold. Thiam, though found a second wind, and came up with her fifth personal best of the event, finishing just over seven seconds behind, enough to take the gold medal.
Congratulations, Nafissatou Thiam (#BEL) on winning women's heptathlon! #Athletics #Olympics pic.twitter.com/HfaLtZCsWF

— Olympics (@Olympics) August 14, 2016
15
Men's 1,500m freestyle (swimming)
We have a new first-time Olympic medallist. Gregorio Paltrinieri of Italy won the men's 1,500m freestyle swimming event to earn the gold. Paltrinieri is a second-time Olympian. He had finished fifth in London four years ago. His timing of 14 minutes 34.57 seconds was good enough for the victory within just four seconds of the world record.
Bolt took part in the heats for the men's 100m sprint. A large roar filled the crowd when he entered the stadium for his event. Bolt coasted to victory in his heat, not breaking a sweat. He won with a timing of 10.07s. He's into the semifinals that will take place on Sunday. The finals take place shortly after, and there seems to be no doubt that he will qualify for them.
Usain Bolt won his first heat jogging smh 😂 #100m #Rio2016

— Derek Brunson (@DerekBrunson) August 14, 2016
Edited by Shreyas Sharma
More in Catch
Day 7 at Rio: Phelps misses gold, Indians edging closer to medals
Day 6 at Rio: Indian athletes do their job but sports minister Vijay Goel embarrasses
Day 5 at Rio: 14 talking points as world gets first 'independent' champion