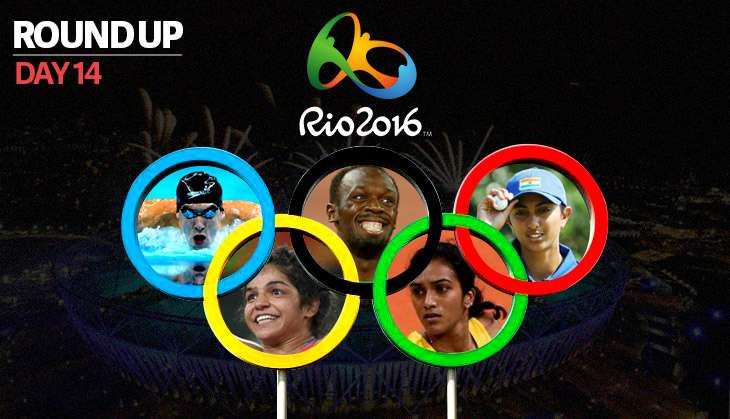 For Indian fans, Day 14 of the Rio Olympics began and ended with Pusarla Venkata Sindhu.
But there was also the small matter of Usain Bolt completing his \'triple-triple\' at the Rio Olympics before sprinting into the sunset.
Saina Nehwal, who had earlier lost in the group stages of the women\'s singles badminton event, has undergone surgery.
Great Britain took home a medal in the women\'s 4x100m relay, their first since 1984. USA, after dropping the baton in qualification, raced home in 41.01 seconds to clinch the 4x100m relay gold.
Ryan Lochte apologised for his incident of vandalism. Iran won another medal. Vivian Cheruiyot caused an upset in the women\'s 5,000m race.
And Lee Chong Wei finally broke his jinx over long-time rival and good friend Lin Dan of China.
With just two more days before the Olympics come to an end, here\'s all that happened on Day 14:
The newest superstar of Indian badminton will return home with a silver medal. Sindhu became the first woman individual silver medallist for India, and also the youngest individual medallist for the country.
She went into the gold medal match with nothing to lose, a silver medal already assured. She wanted one better, though. It looked like she would get it after a brilliant comeback effort to throw Marin off her game and win the first game 21-19.
But Marin is world No.1 for a reason. The Spaniard's smashes got to Sindhu in the second as she started to run out of steam. Down, but not out, Sindhu fought tooth and nail for every point. She had upset many heavyweight opponents along her way to the final, but she couldn't go all the way.
02
Saina Nehwal (badminton)
Let's not forget that other Indian woman badminton player at the Rio Olympics. Saina Nehwal came into the Olympics with an injury and exited in the group stages. Unfortunately, she needed surgery on her knee and got that done on Saturday morning. It's a shame she had to bow out so early.
The world No.5 would now be hoping for a speedy recovery, as would the rest of the country, given the interest Sindhu has generated in badminton.
There was a glimmer of hope that the youngest competitor in the fray, Aditi Ashok from India, would bring home a medal. The 18-year-old golfer had carded a two-round score of six-under par to be placed in the top 10. But her third round took a turn for the worse. She shot an eight-over par 79 and subsequently dropped 23 places down the leaderboard. She's tied 31st now.
Aditi played a poor back-nine in the third round, where she hit five bogeys. Her three-day total of two-over 215 is 13 shots off the leader, Inbee Park of South Korea. If Ashok posts a good score in the fourth and final round, she can move back into the top 15.
04
Sandeep Tomar (wrestling)
While all of us were waiting for PV Sindhu's match to start, another Indian started and ended his campaign. Sandeep Tomar took part in the men's freestyle 57-kg Round of 16. He never looked like he would be in any position to win the match. Victor Lebedev of Russia came out victorious with a 3-7 scoreline. Lebedev advanced and Tomar was eliminated.
05
Khushbir Kaur, Sapna Punia (women's 20km walk)
Indians taking part in track and field events continued to disappoint. Khushbir Kaur took one hour, 40 minutes and 33 seconds to complete the race, which was only good for 54th place. She was way off her national record mark of one hour, 33 minutes and 37 seconds. The other Indian in the fray, Sapna Punia, failed to complete the race. She bowed out just after the 8 kilometre mark.
06
Sandeep Kumar (men's 50km walk)
Sandeep Kumar finished in 35th place. He took four hours, seven minutes and 55 seconds to complete the distance. At the finish line, the 30-year-old was 26 minutes and 57 seconds behind the winner.
The women's team - comprising Nirmala Sheoran, Tintu Luka, MR Poovamma and Anilda Thomas - finished seventh in Heat 2 and 13th overall out of 16 teams in the 4x400m relay. The women never looked ready to compete. They clocked a time of 3 minutes 29.53 seconds.
The men's team - comprising Muhammed Kunju, Muhammed Anas, Ayyasamy Dharun and Rajiv Arokia - were disqualified. They finished with a timing of 3 minutes 02.24 seconds, but it didn't matter. There was an incorrect handover of the baton during the anchor leg between Dharun and Arokia.
India surely will be celebrating Sindhu's brilliance in the badminton event and hoping for a speedy recover for Nehwal but other athletes should also take stock of their performances. None were even close to their personal bests and that's why they never looked in the fray to be competing for positions in the finals.
With the Olympics winding down, here's what else happened on Day 14:
08
Usain Bolt (4x100m relay)
GOAT. Greatest of All Time. Usain Bolt has done it. He's completed the historic 'triple-triple' - gold medals in the 100m, 200m and 4x100m relays in three consecutive Olympics, dating back to the Beijing Olympics in 2008.
"There you go, I'm the greatest," said Bolt, after anchoring the Jamaican team to victory. "I never knew this would happen when I started out. My team came through for me tonight. As long as we got the baton round, it was never in doubt.
"It's a brilliant feeling. It's been a long road. I'm happy, but I'm relieved. It's great to be in the history books as one of the greatest. I'm proud of myself."
There is no doubting the popularity of Bolt, and now, with this win, he is truly invincible. Nine gold medals from three Olympics. Take a bow.
Bolt turns 30 on Sunday and this is truly the best gift he could have given himself. He's never lost a race at the Olympics.
Great Britain won their first Olympic medal in the 4x100m women's relay since 1984. The British quartet hadn't qualified for the finals at the Olympics at London 2012, but they claimed bronze in Rio.
Asha Philip, Desiree Henry, Dina Asher-Smith and Daryll Neita ran a British record timing of 41.77 seconds inside Rio's Olympic Stadium. Jamaica came in second with a timing of 41.36 seconds.
The United States were outstanding in their defence of the title. Allyson Felix won a fifth Olympic gold medal, becoming the most successful female track and field athlete of all time, as the USA raced away to the 4x100m relay gold.
#USA has dominated the women's 4x100 relay for TWO straight Olympics! https://t.co/E8pfmO0C74 pic.twitter.com/yCzrOH9TwN

— U.S. Olympic Team (@TeamUSA) August 20, 2016
Japan claimed a superb silver medal with a new national record in the men's relay, behind Jamaica, with Canada coming in third and Andre De Grasse winning his third medal of the Games.
The final went down to the wire, and it ended in a huge upset. Great Britain won their first ever women's hockey gold medal in a shootout. They upset defending champions Argentina in a thrilling match. Memorable scenes followed with the British celebrating an unexpected victory. The British had comeback twice in the match to level things at 3-3.
In a match that went to a shootout, #GBR claimed a historic #Hockey Olympic title against defending champions #NED 👏 pic.twitter.com/3Fuzebz4PZ

— Rio 2016 (@Rio2016_en) August 19, 2016
11
Lee Chong Wei and Lin Dan (badminton)
Take a minute to just admire the rivalry between these two legends of the game. Lee Chong Wei finally broke his jinx against his Chinese opponent and nemesis Lin Dan. Wei defeated two-time Olympic champion Dan in an absolutely stunning semifinal. Wei won 15-21 21-11 22-20 in what was a classic 79-minute encounter.
If Lee wins the final on Saturday, he'll be Malaysia's first Olympic gold medallist. This is also Wei's last-ever Olympics.
12
Chloe Esposito (pentathlon)
Australia got their first-ever pentathlon gold and they have Chloe Esposito to thank. "I knew this day was going to come when everything came together," Esposito said.
She captured gold with an Olympic record of 1,372 points. After the first three events, she was in fourth, but with her best event being the running-shooting combination, she knew she could win gold. That she did!
#ModernPentathlon-Fencing, Swimming, Horseriding, Shooting & Running all on the same day#Gold- Chloe Esposito #AUS pic.twitter.com/H9LoDscIWy

— Rio 2016 (@Rio2016_en) August 20, 2016
13
Germany overcome giant-killers Sweden (football)
Germany's women's team overcame a spirited performance from the Swedish football team as it claimed gold with a 2-1 victory. This is Germany's first ever Olympic football title.
The Swedes had knocked out USA and Brazil to reach the final but Germany proved a little too much. A strike from Dzsenifer Marozsan and Linda Sembrant's own goal was enough to do damage.
14
Canada overcome hosts Brazil
Meanwhile, in the bronze medal match in women's football, in front of an overwhelmingly larger number of Brazilians, the Canadians did what they thought wasn't possible. They beat Brazil 2-1 to claim the bronze medal.
15
USA dominant in water polo
USA extended their dominance in the pool as they crushed Italy 12-5 to win the gold in women's water polo. The Americans stretched their Olympic Games winning streak to 22 games. They became the only two-time winners since the women's tournament was added to the Olympic Games in 2000.
16
USA to win their third straight gold in basketball?
It looks set to be USA bagging the triple crown. They defeated Spain 82-76 to reach the final, where they will take on Serbia in their third straight Olympic gold medal game. The final will take place on Sunday.
17
Vivian Cheruiyot (5000m)
Vivian Cheruiyot became the first Kenyan woman ever to win Olympic gold in the 5K. She hunted down the world record holder in the 10,000m, Almaz Ayana, to claim victory in the 5,000m race. She finished with a timing of 14 minutes and 26 seconds. On her way to victory, she shattered the Olympic record. Ayana won the bronze medal.
Beautiful win by @VivianCheruiyot in the 5000m #Rio2016 pic.twitter.com/jzefFFHloy

— Elana Meyer (@elanameyer) August 20, 2016
18
Estelle Mossely (boxing)
Estelle Mossely celebrated her 24th birthday in style. She became the first woman from France to win an Olympic boxing gold.
#Rio2016 #OlympicGames FINAL
Women's 60kg - Junhua YIN #CHN vs @EstelleMossely #FRA WP 1:2#Boxing #AIBA pic.twitter.com/R7B7y9sTue

— AIBA (@AIBA_Boxing) August 19, 2016
Yes, after the fiasco behind the 'robbery' and 'altercation' at the gas station, USA swimmer Ryan Lochte has made an apology. A disciplinary inquiry into Lochte and three other swimmers is set to be opened over allegations of vandalising a petrol station.
https://t.co/n82dZH2gfl pic.twitter.com/rGp1nmA94G

— Ryan Lochte (@RyanLochte) August 19, 2016
20
Australian athletes detained
Nine Olympic athletes from Australia were detained in Rio. They were taken to a police station after tampering with their official accreditation on Friday. They had altered their accreditation to gain entry into the men's basketball semifinal between Australia and Serbia at Carioca Arena 1 in the Olympic Park. Australia ended up losing that match.