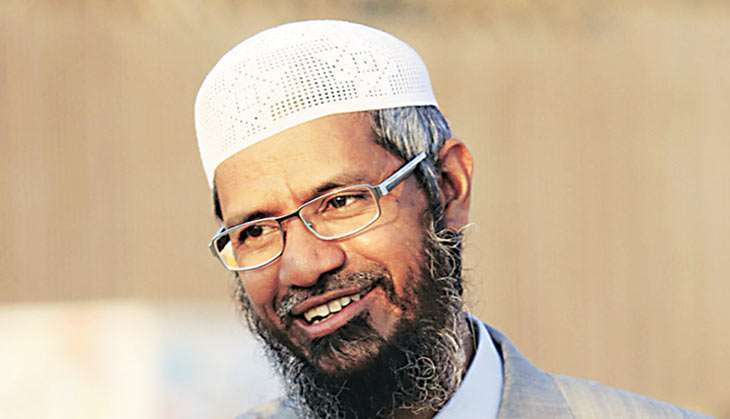 His paeans for Prime Minister Narendra Modi failed to stall the investigations against him. So, now, controversial Salafi preacher Zakir Naik has written an open letter, claiming that an attack on him is akin to an attack on all the Muslims of India.
He added: "...if IRF (Islamic Research Foundation) and I are banned, it will be the biggest jolt to the country's democracy in recent times. I do not say this just for me, but because this ban will set a precedence of unspeakable injustices against the 20 crore Muslims of India. This action will embolden and encourage every fringe element in the country to do as they please."
Naik's bizarre letter has expectedly evoked sharp criticism. "Is Zakir Naik the boss of all Indian Muslims? What nonsense he is talking. He has to answer the criticism about himself. What is that Muslims have got to do with him," the Information and Broadcasting Minister Venkaiah Naidu asked.
Naik, interestingly, despite his burgeoning global support base, belongs to the fringe, and preaches against the moderate Sufi version of Islam, which has prospered in India.
The letter comes a day after the Ministry of Home Affairs, ordered that IRF, Naik's NGO, be put on the prior permission list, which basically means that the organisation will have to inform the ministry before seeking any foreign donation. This was long overdue for an organisation which has pushed its own dangerous brand of Islam in the name of 'peace'.
A favourite of the oil Sheikhdoms
When the controversy broke, Naik was comfortably sitting in Saudi Arabia, an authoritarian monarchy whose human rights record is no secret, which is constantly bombing civilians in Yemen even at the time of writing this report. Naik, interestingly, has not come back to the country since the investigations began.
In the open letter, he says: "I'm alarmed at the murder of democracy and strangulation of fundamental rights and the precedence it is setting for times to come."
It is an open secret that Naik has been a darling of the dictatorial Sheikhs in the oil monarchies of the Gulf, for he has been pushing their idea of Wahhabi Islam. It did not come as a surprise when Saudi Arabia awarded him the King Faisal International Prize for his 'services to Islam'.
Naik has been mischevously divisive in his sermons. He often speaks out against those who choose to go to shrines (like Sufis); against Shias, famously taking the side of Yazid, the most hated figure in the last 1,400 years of Islamic history; and against other religions, under the garb of inter-faith dialogue.
Yet, in the open letter, he claims: "Let's not be gullible enough to assume that there isn't a deeper agenda behind this vicious campaign. This is not just an attack on me, it's an attack against Indian Muslims. And it's an attack against peace, democracy and justice."
One wonders how an investigation into the workings of his multi-billion dollar empire, which includes a bunch of TV channels, an NGO, and educational institutions, became an attack on the whole Muslim community. After all, several Muslim organisations, including the Deoband seminary, have spoken out against his preachings in the past.
Not the first time he's being opposed
Naik, in the open letter, falsely claims that this is the first time he is being opposed, or investigations are being demanded against him. "I've been preaching for 25 years. Not just in India but across the world. What exactly did I do now to earn the tags of 'terror preacher', 'Dr Terror' and 'hate monger'? Of the 150 countries where I'm respected and my talks are welcomed, I'm being called a terrorist influencer in my own country. What an irony. Why now, when I've been doing the same thing for over 25 years?"
However, this is not the first time his sermons or views have been contested or held dangerous. UK Prime Minister Theresa May, in 2010, when she was the Home Secretary, banned Naik from entering the country, and said: "Coming to the UK is a privilege, not a right, and I am not wiling to allow those who might not be conducive to the public good to enter the UK."
In April 2016, Naik was prevented from giving a talk at Universiti Teknikal Malaysia, "after police said it threatened Malaysia's multi-religious society", according to a Malaysian daily.
Peace TV, the network of channels that he runs, was never allowed to telecast in India, and has been recently banned in Bangladesh after the Dhaka attack.
Demands from Muslim organisations
Muslim organisations have often demanded that Naik be investigated and brought to book.
Much before the Dhaka attack, in January 2015, several organisations of Sufi and Shia Muslims had protested in front of the India Islamic and Cultural Centre in the Capital, where Naik was invited to speak. They had also lodged a complaint at the Tughlaq Road Police Station that the controversial preacher had been supporting terrorism, and that he be investigated under the stringent Unlawful Activities (Prevention) Act.
That complaint was never converted into an FIR, perhaps for fear that action against Naik may send a wrong message among the Muslims of the country, something which the controversial preacher is exploiting in the open letter.
The Indian government should take a cue from the UK, where radical preacher Anjem Chaudhary was not just tried in a court of law, but was sentenced to five-and-a-half years in prison for supporting Jihadism.
It cannot be a mere coincidence that several people said to be involved in acts of terror, including a Dhaka attacker, were found to be Naik's followers.
Edited by Shreyas Sharma
More in Catch
First Yazid, now Modi: Dr Zakir Naik, stop giving clean chits to tyrants
Who is Zakir Naik and why Muslims should be wary of him
Why is Islam's poster boy Zakir Naik taking moderate Muslims back in time?