Who is Zakir Naik and why Muslims should be wary of him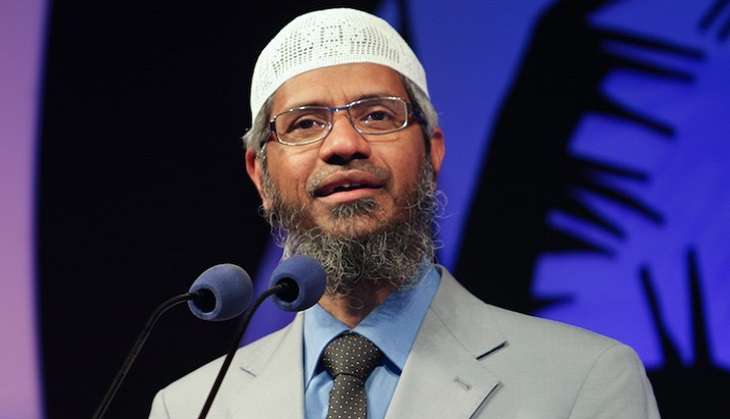 The preacher
At least 2 of the Dhaka attackers were followers of Zakir Naik
Naik is an influential tele-evangelist. His channels viewership is supposedly over 100 million
The message
Though he doesn\'t preach terror, he promotes antipathy towards other religions and sects
He refused to condemn Osama bin Laden and Al Qaeda
More in the story
Why is Naik banned in many countries?
How his preaching can radicalise people
Reports that at least two of the Dhaka attackers were following Wahabi tele-evangelist Zakir Naik wasn't a bolt from the blue. That his quasi scientific sermons, laced with a heavy dose of Quranic verses, followed by his understanding of them, is leading to people taking up violence does not come as a surprise either. Years ago he was banned from visiting the United Kingdom and subsequently from Canada. Even in Malaysian states, his talks have been cancelled for fearthat they could instigate inter-racial tensions.
While Naik cannot be blamed for openly inciting terror, his preachings are a heady mix of ingredients which could abet radicalisation of the extreme kinds.
Rohan Imtiaz, the 22-year-old student from North South University, who before disappearing in January this year, had quoted Naik in a Facebook post where he "urged all Muslims to be terrorists". He later went on to attack Holey Artisan Bakery in Gulshan 2 with five others.
Also read:Alarm call: why the Dhaka attack is Bangladesh's moment of reckoning
There have been instances in the past where several men who were later found to be involved in acts of terrorism drew their inspiration from the radical 'preacher'.
An Indian Express report on young Bangladeshis travelling to the Middle East to join the Islamic State quotes local police sources as claiming that Samiun Rehman, a British national of Bangladeshi origin and two others who managed to recruit seven members for the Jamat-e-Mujahideen Bangladesh, had first met them on Naik's fan page.
Back in 2009, friends of Najibullah Zazi, An Afghan immigrant arrested by the New York Police Department for attempts to bomb important places including the Times Square in New York, say that he too drew his inspiration from Naik and "loved his videos".
There are others too. A petition on Change.org, which demands that Naik's Islamic Research Foundation be declared as a terrorist organisation lists other instances including how CDs of his speeches were recovered from the operatives of the Indian Mujahideen, or even how investigations in the 26/11 Mumbai attack have found IRF contacts during the David Headley's Mumbai days.
Who is Zakir Naik and what does he preach?
The 51-year-old Zakir Abdul Karim Naik is no ordinary preacher and claims to be an renowned orator on comparative religion. A doctor by education, Naik founded the Islamic Research Foundation, in 1991 when he started Dawah, or religious preaching. His rise, at least in India, coincided with the aftermath of the demolition of the Babri Masjid.
Unlike other clerics in the sub-continent who like to dress in a Kurta Pyjama, Naik is mostly seen in a three piece suit, with pants cut to fit above the ankles, a tie and a skull cap-he gives his sermons in English. And prefers Arabic as his other language.
His lectures, mostly revolve around how Islam is more rational than modern day science and how it is superior to all other faiths. While he claims to be an advocate of interfaith dialogue, his preachings suggest otherwise. They reinforce all the stereotypes which exist against Muslims. He opposes propagating any other religion and says that non-Muslims should not be allowed to have places of religious worships in an Islamic country. And says that in religious matters "We Muslims know that we are right".
To mesmerise his viewers, he speaks at a great pace, frequently quotes from other religious scriptures, the Vedas, the Bible et al, and drops complex scientific terms, but his talks are mostly about how his version of Islam is better than all other faiths. G Samuel and S Rozario, two researchers, in a paper titled 'Contesting science for Islam: the media as a source of revisionist knowledge in the lives of young Bangladeshis' detail how Young Bangladeshis like Munni, a student from Sylhet like Naik and how his popularity is growing thanks to YouTube, a dedicated TV Channel and DVD. "Because he has answers to all questions. And he does not only read Quran, he also reads Gita, Bible, and has ideas about all these and more. And he answers his questions beautifully," Munni had told them.
Also read: Dhaka attack: emerging details reveal a country at war with itself
Naik, at times even goes to the extent of deriding other faiths. And explains why wife beating is not necessarily a bad thing, how using a condom is like killing a human, and schools where the girls lose their virginity by the time they pass out should be shut down. He once even advised Sania Mirza that she should dress modestly, even when she is playing tennis. He is a follower of Sharia and can be often heard rationalising, among other things, death by stoning.
Naik also claims to be an advocate of Pan-Islamic Unity and does not identify with any sect. However, his preachings are clearly in line with the Wahabi school of thought. He believes in interpreting Quran and Hadith without intermediaries . And wants to go back to the original sources, something very peculiar to the Wahabbis. His proximity to this particular brand of Islam perhaps explains why Saudi Arabia continues to patronise him. Only last year, he was given the King Faisal International Prize for services to Islam.
He also propagates that Muslim should seek help only from Allah and no one else, not even the Prophet, a belief which has become a reason for the growing hatred towards other sects especially Sufis, Shias and Ahmadis. Islamic State has used this particular understanding to justify violence targeted against these sects.
At times there is an element of mischief, an attempt to attack others, especially Shias, in Naik's lectures.a
In a conference in 2007 in Mumbai, one of those grand affairs where thousands throng to listen to him, he referred Yazid, the villain of the battle of Karbala as Radiallah Tala Anho (Peace be Upon Him), something which is used for companions of the Prophet. The statement led to widespread protests from the Shias. Naik, then came up with a strange explanation. "The Prophet has said, 'If you praise someone who does not deserve praise, no matter; but if you curse someone who should not be cursed, the curse comes back to you'...Thus I preferred not to curse anyone, not even Yazid."
Naik is a smart preacher. And he knows among other things, bashing the West is an easy way to develop a following. Conspiracy theories, laced with anti-West rhetoric, add to your CV, if you want to appeal to disgruntled Muslim youth, who anyway harbour a feeling of victimhood. Naik knows how to exploit it even as he claims to be against extremism. It was visible in the way, he refused to condemn Osama bin Laden and claimed that 9/11 was an inside job. He went on to say the US President George W Bush is the biggest terrorist, and that if Bin Laden was terrorising America, everyone should be a terrorist.
In his more than two decade old career as an orator, Naik has delivered more than 2000 such talks across the globe. In a bid to expand his reach, he started a network of channels, christened, ironically, as 'Peace TV'. While the English one was launched in 2006, he launched an Urdu version in 2009 and a Bangla version in 2011. The channels claims to have a hundred million strong viewership. Little is known how he manages to fund this TV network. India, home to one of the biggest populations of Muslims, certainly needs to be wary of such individuals.
Especially when even institutions like the Darul Uloom Deoband have given Fatwas urging the Muslims to not follow him.
Also read: Dhaka attack: Islamic State claims responsibility, Bangladesh blames Jamaeytul-Mujahdeen