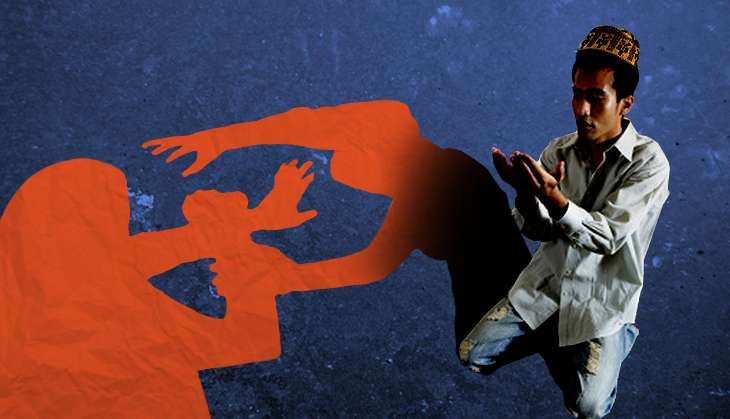 The murder
Rammkumar was arrested for murder of Infosys engineer Swathi. Right-wingers had blamed Muslims
There is deliberate effort by Hindu right wingers to blame Muslims for crimes against women
The strategy
BJP MLA from UP Suresh Rana had admitted to fabricating rape charges against Muslim boys
In the Hindu right wing, especially Savarkar, there is an obsession with the virility of Muslims
More in the story
Instances in which Muslims were wrongly portrayed as rapists
How Savarkar advocates revenge rapes against Muslim women
On Friday, the Chennai police arrested 22-year-old Rammkumar in Tirunelveli for murdering Infosys software engineer Swathi. On 24 June, Swathi was waiting at Nungambakkam railway station when Rammkumar allegedly hacked her to death from behind. This case would be remembered as much for the gory manner in which Swathi was killed as for the communal spin given to her murder.
Soon after her murder, there was a concerted attempt to portray that her murderer was a Muslim. Even worse, it was given a terror angle and presented as an ISIS style beheading. One Ramakrishnan, who is followed by none less than Prime Minister Narendra Modi on Twitter, tweeted "Daylight ISIS type beheading of a Hindu IT Professional by a Muslim in Chennai #JusticeForSwathi Why media silent?"
In his Twitter bio, Ramakrishnan claims to be a "BJP Karyakarta" and a "Chennai based Swayamsevak" clearly flaunting his BJP/RSS background. There were a series of tweets by right wing trolls spreading rumours that Swathi had been murdered by a Muslim called Bilal Malik. This happens to be the name of a terror suspect arrested by the Tamil Nadu police in 2013 for allegedly plotting an attack on LK Advani in 2011.
Ramakrishnan is not an isolated troll and this is not an isolated case. As soon as a case of rape or any other crime against women becomes public, right wingers begin spreading offline and online rumours of the perpetrators being Muslim. The motives attributed range from 'Jihadi' to 'jilted love Jihadi'.
Linking rape and terror is an integral part of this strategy. It is to show that Muslims individually defile Hindu women as rapists and collectively disrobe Bharat Mata as terrorists.
In many cases, BJP functionaries are actively involved in this propaganda. Take these three cases for instance.
Thirthahalli: 14 year old girl "murdered" and "gang-raped"
On 31 October, 2014, Nandita, a class 8 student from Thirthahalli in Karnataka's Shimoga district, died under mysterious circumstances at a private hospital in Manipal. Local RSS and BJP workers alleged that she had been abducted, sexually assaulted and poisoned by 3 Muslim men.
"14 year old Nandita Poojary became the victim of perverse lust and brutality of three Muslim goons..they pounced on her like tigers upon a helpless prey, raped her and then murdered her," is how a pro-right wing local publication described the incident.
BJP activists led by former MLA Araga Jnanendra demonstrated on the streets demanding action against the "Muslim men" guilty.
The truth, however, was completely different. The post mortem report found no evidence of sexual assault. Eventually, a suicide note was found in which the girl said that she was taking the extreme step as she was dejected with her poor academic performance. The note was sent for forensic tests and was found to be genuine. The CID in its investigation concluded that Nandita had indeed committed suicide.
But the matter didn't end there. The girl was related to a local Bajrang Dal leader Santosh Pujari, who tried to keep the issue burning. According to a civic official Satish Shetty, the girl's family knew she had been poisoned and that it was Santosh Pujari who pressurised them to file charges of sexual assault and abduction. But as soon as Shetty made this disclosure, he received threat calls from an aide of underworld don Ravi Pujari.
Till date, the local RSS and BJP workers continue to cite Nandita's case as an atrocity committed by Muslims and accuse the police of a cover-up.
Meerut: "gang-rape" and "human-trafficking" in a madrassa
In August 2014, it was reported that a Hindu girl was held captive in a madrassa in Meerut in which she was an employee. It was further said that she was gang-raped for many days and forcibly made to convert to Islam. Not just that, a flesh trade racket was being run from the madrassa and that many women were held captive there and then sold off to rich men in Gulf countries.
The allegations almost sparked another Muzaffarnagar style riot in Uttar Pradesh. Hindutva groups spared no efforts in raking up the issue particularly as it came on the eve of crucial by-elections in UP. Remember this was also the time when Yogi Adityanath's "love jihad" campaign was at its peak.
It turns out that none of these allegations were true.
Two months later, the girl filed a report denying that she was gangraped or forcibly made to convert. She claimed that she had actually eloped from home with a Muslim boy. She wrote in the statement, "I was staying with my parents, but I ran away from home because I feel a threat to my life from my parents and relatives... I went with the boy belonging to a different community out of my own will".
From forcible conversion to girls being sold in the Gulf, every aspect of this tale was straight out of a Hindutva hate-monger's wet dream.
BJP MLA's admission: "Yes, we fabricate rape"
If there was any doubt that the Muslim rapist bogey is manufactured by the BJP, RSS and their minions, they were removed by an October 2015 sting conducted by India Today. In the sting, BJP MLA Suresh Rana has admitted that he fabricated rape charges on Muslim boys to teach them a lesson for marrying Hindu girls. Here's what he said
"I will tell you the truth. We charged them with rape, but it wasn't rape, it was consensual. We slapped a rape case against them to teach them a lesson. The girl wasn't ready to give a statement against them. If you look at the case in depth, the girl was willing. They didn't take her away by force... Girls are girls...they will change according to circumstances in five minutes...when she was slapped and coerced, she wrote the FIR (that we wanted)".
Rana, MLA from Thana Bhawan in UP's Muzaffarnagar district, is presently part of a group of BJP leaders who are flagging the "mass exodus of Hindus" from Kairana. He is also one of the accused in the 2013 Muzaffarnagar riots.
Ideological obsession
Post Nirbhaya, no issue has sparked national public outrage as much as crimes against women. So if the Hindu right wing wants to create hatred against Muslims, what better way to do that than to project them as habitual rapists? But that is not the only reason behind the propaganda. 'Muslim atrocities against Hindu women' is a central ideological obsession for the Hindu right wing.
According to Hindu right wing ideologue, Koenraad Elst, "One of the most painful aspects of Muslim demographic warfare is the open attempt by Muslims to grab non-Muslim girls to use them for their own demographic ambitions, meanwhile also inflicting a good dose of humiliation on the accursed kafirs".
This theme is particularly central to the thoughts of radical Hindutva ideologue VD Savarkar. In his work Six Glorious Epochs of India, he describes in vivid detail the alleged atrocities committed by Muslims against Hindu women in medieval India.
In a section titled "The grave danger of the Muslim abduction and pollution of millions of Hindu women", he writes:
"One side issue of the Muslim religious aggression, which caused a continuous drain on the
numerical superiority of the Hindus was the diabolic Muslim faith that it was a religious duty of
every Muslim to kidnap and force into their own religion, non-Muslim women. This incited their
sensuality and lust for carnage".
There is a strong, but completely deluded, belief among many Hindu right wingers that the rape and subjugation of non-Muslim women is religiously sanctioned in Islam.
Take for instance the explanation of "Muslim behaviour" given in a right wing blog haribhakt.com:
"It is a regular practice of Muslims in India to have a Hindu girl either as a wife for few years or as a slave for lifetime for sexual enjoyment... If he successfully establishes illicit or forceful sexual relationship with non-muslim women, he will get Jannat (heaven) and 72 Virgin girls. After his death, these girls will serve him as slaves in Jannat."
Of course, the actions of deviant Islamist outfits like ISIS and Boko Haram reinforce this narrative.
But clearly the Hindu right wing seems have a rather perverse obsession with the sexuality of Muslim men. Even Narendra Modi's "hum paach hamare pachees" remark about Muslims stems from this obsession.
Perhaps this is to do with the colonial construction of the Hindu male as docile and effeminate and the Muslim being seen as more carnal and virile.
Revenge against Muslim women
The most dangerous aspect of the "Muslim rapist" narrative is that it creates the space for revenge attacks on Muslim women during communal riots.
According to historian Tanika Sarkar, "there is a dark sexual obsession about allegedly ultra-virile Muslim male bodies and overfertile Muslim female ones, that inspire and sustain the figures of paranoia and revenge".
A recent example of this is the exhortation by a Hindutva leader in the presence of Yogi Adityanath, that the bodies of Muslim women should be taken out of their graves and raped. And there have been such instances in Uttar Pradesh in which this was actually performed. Two such reported incidents are Meerut in October 2015 and Agra in January 2016.
But such revenge attacks aren't the brainwave of some petty saffron hoodlum. Even Savarkar advocated attacks by Hindu men on Muslim women.
"Suppose the Hindus had decided to pay the Muslim fair sex in the same coin (rape) or punished
them in some other ways - by conversion even with force...then they (Muslims) would have desisted from their evil designs against any Hindu lady....Without any increase in their womenfolk, the Muslim population would have dwindled into a negligible minority," he wrote.
In fact, Savarkar criticises figures like Chhatrapati Shivaji and Chimaji Appa for not "punishing Muslim women" with rape, subjugation and conversion, and thereby failing to teach the Muslim community a lesson.
The desire to carry out this revenge was evident during the 2002 Gujarat riots in which women were stripped, raped and burnt alive. In some cases, objects were inserted into their bodies. It was like the Nirbhaya case, but on a larger scale.
In her article, Tanika Sarkar quotes a petition signed by VHP's Gujarat general secretary Chinubhai Patel during the riots. The petition contained a poem:
"The volcano which was inactive, has erupted,
It has burnt the arse of miyas and made them dance nude,
We have untied the penises that were tied till now
We have widened the tight vaginas of the bibis"
Yes, there have been Muslim rapists in India, just as there have been Hindu rapists, Jat rapists and Bengali rapists. But if at all there has been ideologically driven rape in India, it has been by the Hindu right wing. They have been no different from ISIS and Boko Haram that they love to cite.
Each one of them - be it Savarkar, Suresh Rana, Ramakrishnan or the rioters in 2002 Gujarat - was driven by one aim: to teach Muslims a lesson.
The views expressed here are personal and do not necessarily reflect those of the organisation.
Also read:
Cobrapost report reveals BJP-VHP-RSS nexus against 'love jihad'
Female Infosys employee hacked to death at Chennai's Nungambakkam railway station
Rajdeep, we can't take the middle path on Savarkar