When it comes to being vague, Rajnath proves he's BS Bassi's boss
Catch Team
| Updated on: 14 February 2017, 5:47 IST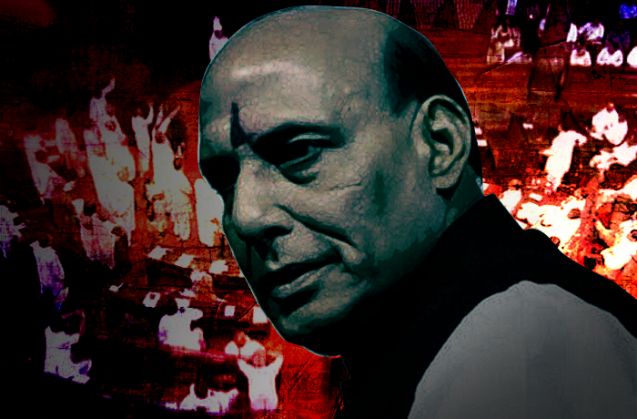 Parliament
Rajnath Singh floundered while replying to Opposition\'s questions Delhi\'s failing law and order situation
Opposition focussed on the Delhi Police\'s failure to prevent the violence outside Patiala House
Singh could only manage vague explanations
More in the story
The Opposition\'s offensive
Rajnath\'s feeble answers
When Union HRD minister Smriti Irani tore into the Opposition in the Lok Sabha on Wednesday, Rajnath Singh showered her with praise. The home minister called Irani's speech "one of the best speeches" ever delivered in the House.
However the very next day, Singh has ended up squandering the advantage the government had gained through Irani's speech.
Singh floundered in the Rajya Sabha while responding to a calling attention motion in on "complete breakdown of law and order in Delhi".
The debate focused on the recent police action at the Jawaharlal Nehru University campus and its inability to contain the violence outside the Patiala House court.
Also read: In Rajnath Singh, Congress finds a punching bag for budget session
Opposition members targetted the government for its ham-handed crackdown at JNU campus, in which JNU students' union president Kanhaiya Kumar was arrested.
The Delhi Police came in for a great deal of flak for failing to protecting Kumar when he was attacked at the Patiala House court on 17 February. Congress leader Anand Sharma called it the violation of a citizens fundamental right to a safe and fair trial.
A number of MPs also pointed out that the Delhi Police, which reports to Rajnath Singh's home ministry, remained silent even as goons thrashed JNU students, teachers and media persons. On 15 February, the mob was led by BJP MLA OP Sharma.
Confronted with an aggressive and numerically strong Opposition, Singh appeared weak and clueless.
It was pointed out that the lawyers who attacked Kumar and the press belonged to the same ideology as the RSS and BJP, a charge which Singh was unable to counter.
"It is a cause of worry that gangsters are now teaching patriotism," said NCP leader DP Tripathi.
Ram Gopal Yadav of Samajwadi Party added to it by saying that the BJP can't have 2 different standards on patriotism.
Also read: #JNUCrackdown: politics of paranoia around sedition can singe Rajnath
"What action was taken against the people who tried to install a statue of Nathuram Godse? Isn't that anti-national?" he asked.
Leader of Opposition in the Upper House Ghulam Nabi Azad said "why was Kanhaiya Kumar charged on the basis of doctored tapes but BJP MLA OP Sharma and lawyers who were caught on camera indulging in violence were let off on bail?"
Rajnath Singh's reply was feeble. Here's what he said:
Also read: With a stellar record of ineptness, does Bassi deserve a post-retirement job?
Delhi police is the world's largest metropolitan police and they are dealing with the population of 1.8 crore.
The crime rate has gone up in the city because the eFIR facility has made it easy to file an FIR. This doesn't mean that law and order situation is deteriorating.
Delhi hasn't witnessed a single instance of communal violence during the last one year.
No individual is perfect. How can an organisations be perfect then?
If there are any complaints about the police committing excesses, we will take strong action.
Whatever happened in Patiala Court was very unfortunate and we condemn it. No sensible person can appreciate what happened. .
We have taken action as per the law. Future action will also be taken as per law. People will be charged according to the relevant sections.
We've taken action as per the law. People will be charged according to relevant sections, says Rajnath
If police commits any injustice, the courts will take cognisance.
The home minister kept repeating the above statements in response to the questions raised by the Opposition leaders.
He said nothing about why the police chose to charge the students under strong offences nor did he explain what led to the massive security failure at Patiala House court.
Opposition questioned Delhi police's crackdown in JNU and its failure to tackle goons at Patiala House
More in Catch:
#PatialaHouse violence: 'Cop out' Bassi has become a liability for Delhi
Bassi's U-turn on Kanhaiya bail plea reflects his confused state of mind