Swamy wades into Tata-Mistry tussle; demands ED probe into Air Asia deal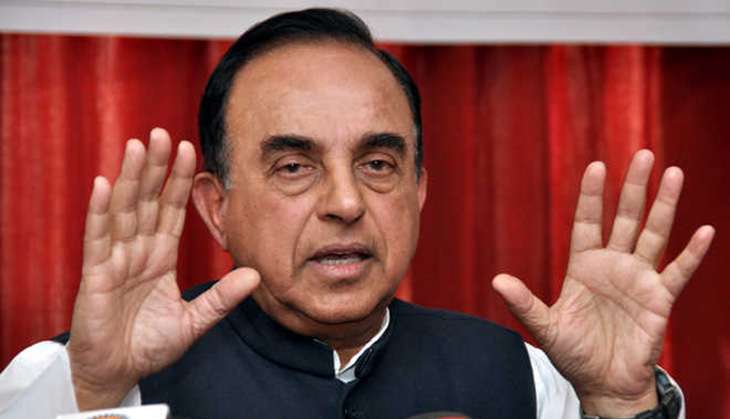 Senior BJP MP Subramanian Swamy has written to the Director of the Enforcement Directorate Karnal Singh, asking him to probe the Rs 22 crore paid by Tata to Air Asia (Bhd) Malaysia.
A repeated attack
This could spell trouble for the Tata Sons Chairman Ratan Tata, who has taken the reins of the group again temporarily. Swamy has been reportedly been alleging that Ratan Tata is the most corrupt chairman in Tata's history.
Also read - Tata DoCoMo case is proof: Modi regime is making foreign investors uneasy
The BJP leader had earlier moved court seeking suspension of Air Asia India's license in the country. The ED is also investigating the sale of stake to NTT Docomo in 2009 for a whopping $2.5 billion.
Swamy had also written to Prime Minister Narendra Modi, beseeching him to form a multi-agency SIT comprising officials from the CBI, ED and SEBI to investigate the allegations against Air Asia.
Mistry's allegations
Swamy's letter comes after Cyrus Mistry, the former Chairman of Tata Sons, wrote a scathing letter to the directors of the group alleging serious improprieties. The letter also had a mention of the Rs 22 crore payment to Air Asia. Industry watchers say that more muck from the closely guarded world of the Tata Group is likely to become public in the coming days.
Meanwhile, Mistry in the letter wrote about ethical concerns on some transactions.
"A recent forensic investigation revealed fraudulent transactions of Rs 22 crore involving non-existent parties in India and Singapore," wrote the former Chairman who was unceremoniously shunted out as the Chairman. "Executive Trustee, Mr Venkatraman (sic), who is on the board of Air Asia and also a shareholder in the company, considered these transactions as non-material and did not encourage further study. It was only at the insistence of the independent directors, one of whom immediately submitted his resignation, that the board decided to belatedly file a first information report," Mistry explained, speaking about how the group was forced to go to the cops for investigating the fraudulent transaction.
Ethical concerns
Now Swamy has requested the ED to proceed with a criminal investigation under the stringent Prevention of Money Laundering Act.
In his letter to Singh, Swamy cites Mistry's letter and says that the transaction of Rs 22 crore happened between two fictitious firms in India and Singapore. He also alleges that it was a bribe routed through hawala route "for unknown reasons in the transactions to setup the illegal Air Asia (India) aviation company."
Meanwhile, Mistry, in his letter, detailed how "a realistic assessment of the fair value of these Tata group) businesses could potentially result in a write down over time of about Rs 118,000 crore" also wrote how his "pushback was hard but futile" since Ratan Tata had already concluded negotiations with and wanted the proposal to be tabled at the next Board meeting. The former Tata Sons Chairman also detailed how, in a similar fashion, "without the benefit time and experience to evaluate, I had to accept that Tata Sons would take a 51% stake in a $100 million joint venture," between Tata and Singapore Airlines.
Tackling fraud
Meanwhile, Air Asia India, in a statement had said that it does not approve of any unethical practices "will take very stern action against the perpetrators (of fraud) at all levels of the organisation".
Air Asia India, where Tata raised its stake to 41% while Air Asia holds 49%, has not been able to take off since the $30 million deal in 2012. Swamy has challenged the operations of the airlines on his contention that it is being controlled by foreigners even though the law mandates that it be controlled by Indians. Arun Bhatia whose Telstra TradePlace, has a 10% stake, too alleged that the operations of the airline were being controlled by Air Asia Bhd.
Meanwhile, the ED is also investigating if the 2009 deal between Tata teleservices and NTT Docomo violated India's Foreign Exchange Management Act. Tata Teleservices and NTT DoComo are already embroiled in a bitter dispute where the latter has alleged Tata Teleservices of violating the contract when it wanted to exit the Indian market.
Edited by Aleesha Matharu
More in Catch - Cyrus Mistry's ouster from Tata Sons: Did he really fail to fill Ratan Tata's shoes?
Cyrus Mistry's removal was necessary for future success: Ratan Tata's new letter