Cabinet reshuffle: Smriti Irani loses HRD, but is it really a demotion?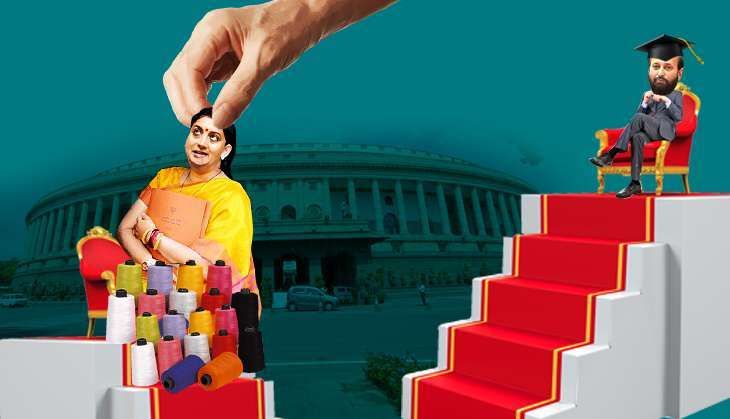 When it came to redistributing portfolios among his ministers, Prime Minister Narendra Modi performed a major shake-up. While none of the top four ministries - Home, Defence, External Affairs and Finance - were touched, beneath that upper echelon, there were numerous changes.
Among them, Smriti Irani's transfer from the key Human Resource Development ministry to the Textile portfolio is being seen as the biggest demotion.
Also read- Irani out of HRD, Naidu gets I&B: Major portfolio reshuffle of Modi ministers
However, party sources insist otherwise.
At a time when the Congress is trying to pitch Priyanka Gandhi as the star campaigner for next year's elections in Uttar Pradesh, the 'demotion' means less work for Irani in Delhi and more time for other engagements. This clearly indicates that Irani will be one of the prominent faces for BJP's UP campaign.
Irani's chequered tenure
Since she took charge of the HRD portfolio, Irani's statements and performance attracted controversies and criticism.
In recent months, the way she and her ministry mishandled issues like Dalit scholar Rohith Vemula's suicide at the Hyderabad Central University and the 'anti-national' controversy at the Jawaharlal Nehru University embarrassed the government and the party.
Though the national-anti national divide stemming out of JNU was a point gained for the BJP, the credit for the same is seen to be going to RSS and not to Irani.
The manner in which she targeted high-profile leaders, including Mayawati and Sitaram Yechury in Parliament, was seen to have united the Opposition, and was another embarrassment for the party.
"On the other hand, Prakash Javadekar, whose perfomance Modi is said to have liked a lot, is seen to be the most sincere and punctual minister. Not one pending file remains on his table. Coming from Maharashtra, he is a comfortable choice as HRD minister for the RSS as well," elaborated a party source.
Also read- Modi cabinet reshuffle: 7 reasons why Javadekar has been promoted
Soon after the new portfolios were announced, social media was abuzz with jokes and memes about Irani's 'demotion'.
Smriti Irani shunted out of HRD ministry is the single biggest reform done by Modi for the educational system of India.
#UddGayiSmriti

— manish sharma (@manusharma0145) July 5, 2016
Smriti Irani is no more an education minister. First feeling of ACHCHE din in last 2 years.

— Name cannot be blank (@justicearnab) July 5, 2016
Prakash Javdekar now was an easy job. No matter how bad he turns out to be for HRD, people will say 'Atleast he is better than Smriti Irani'

— Joy (@Joydas) July 5, 2016
However, as party sources insist, this is not a 'demotion' - the PM just has another important task for Irani.
Fate of other UP ministers
It's not just Irani who has been moved around with an eye on the UP polls. Modi has also taken some of the workload off his UP ministers.
Mahesh Sharma, a Hindutva hardliner, has been kept on as the Minister of State (Independent Charge) for Culture, but has been relieved of the Civil Aviation portfolio.
Sanjeev Balyan, the erstwhile MoS for Agriculture, is now in charge of Ganga Rejuvenation; a river which has great political, social and cultural significance in the state.
Also read- Modi Cabinet reshuffle: With 3 new faces, UP tally goes up to 14
Even in the case of Rajnath Singh's Home Ministry, an additional MoS, Hansraj Ahir, has been put in place in order to reduce the senior leader's workload. Singh is likely to be the campaign in-charge for the BJP, and it is important to reduce his engagements in Delhi.
"The Prime Minister wants the main faces of the party from UP to retain their laal batti (red beacon) cars, but at the same time, have enough time to spare for Uttar Pradesh, and use their portfolios to push the campaign further," elaborated a senior BJP leader.
Ram Shankar Katheria, the Dalit face in Modi's Cabinet, 'resigned' on Tuesday, and has been asked to focus on Dalit votes in the state. Krishna Raj, a new entrant to the Cabinet and a Dalit face from Shahjahanpur, is also part of Modi's strategy to woo Dalit votes in the state.
Incorporating Mahendra Nath Pandey and Anupriya Patel as ministers is also a very political and campaign-driven decision by Modi.
Also read- Modi Cabinet: 11 of 19 new ministers have 90%+ Parliament attendance
The same could be said for Mukhtar Abbas Naqvi as well, who was expecting a promotion in this reshuffle, but hasn't been given any extra responsibility.
Easing Jaitley and Swaraj's burdens
If one looks at it closely, the biggest loser in this, Modi's first major cabinet overhaul, is Arun Jaitley. The PM's closest aide after BJP national president Amit Shah, Jaitley has been relieved of the Information and Broadcasting portfolio. The message is clear - focus on the economy and the Finance Ministry. In an earlier cabinet expansion, Jaitley had got I&B but had had to give away the Defence Ministry to Manohar Parrikar.
MoS (Finance) Jayant Sinha has been shifted to Civil Aviation, with his earlier portfolio going to another MP from UP, Santosh Gangwar.
Similarly, in the Ministry of External Affairs, journalist and Rajya Sabha MP MJ Akbar has become the Minister of State.
The reason for this, according to sources, is that both Jaitley and MEA Sushma Swaraj are facing serious health issues, giving rise to a genuine need to reduce their workloads.
Among others who have been shifted about, sources said, "Sadananda Gowda was perceived to be a weak Law minister. So it was felt that a leader who can take on Opposition leaders like Kapil Sibal, P Chidambaram and even Ram Jethmalani, should get the ministry, which is why Ravi Shankar Prasad was an obvious choice".
The cabinet reshuffle has people seeing many different meanings, which have their roots in many obvious political reasons. However, the main focus of this reshuffle is around the UP elections.
UP2017 is being seen as a semi-final to the 2019 general elections, and Modi is in no mood to take any risks. He's trying his best to put his whole might behind the UP campaign.
Edited by Shreyas Sharma
More in Catch
This is Amit Shah's Cabinet expansion, not Modi's
Modi Cabinet: 5 districts of UP become nucleus of power at Centre
Cabinet reshuffle: has Prakash Javadekar been promoted at the cost of Piyush Goyal?
Cabinet reshuffle: Bold decisions elusive, Modi exposed as conservative