This is Amit Shah's Cabinet expansion, not Modi's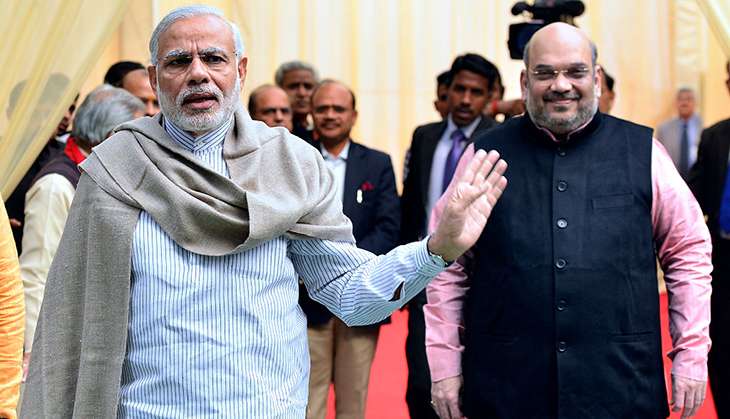 Prime Minister Narendra Modi has finally expanded his cabinet after more than two years in power, and a good number of speculative media reports.
Yet, the expansion did not quite live up to the hype and anticipation it had generated in the run-up.
Nineteen new faces were sworn in by President Pranab Mukherjee on Tuesday, and only two of them are women. There are no inductees from Bihar, while Uttar Pradesh, Gujarat and Rajasthan have three new ministers each. Madhya Pradesh and Maharashtra have two new ministers each. In addition, there is only one Muslims face in the the expansion - Jharkhand Rajya Sabha MP MJ Akbar - who is not considered a representative of Muslims anyway.
Also read: Cabinet reshuffle: Bold decisions elusive, Modi exposed as conservative
Here are some more key takeaways from this expansion.
01
This is Shah's expansion, not Modi's
More than the PM, it is BJP president Amit Shah whose fingerprints are all over this expansion. Rather than expertise or interest, the selection is based on the political calculations in the states. It's obvious that the BJP is trying to consolidate its bases in the states where it is already the dominant force.
While Modi is busy running the government, it's Shah's responsibility to manage the states and the grassroots. Thus, it was more important to send the right signals to the people.
Also read: Modi Cabinet expansion: A look at the assets of newly-inducted ministers
In UP, for example, the BJP has brought in a good mix of castes. In Gujarat, it has selected one Scheduled Tribe leader and two Patidars.
Modi has not made any changes among his upper tier of ministers. This has sent two strong messages - one, that there is no underachievement on any front and the PM is satisfied with the performance of his ministers. And two, that he had wisely selected his team.
Modi is not one who would like others to doubt any of his decisions. He tries to showcase perfection, and no changes at the top is a sign that he made no mistakes in selecting his ministers.
The bigger gain for Modi is a moral high ground. He has obliged the top ministers, who are from the same generation of BJP leaders as him. This reduces the possibility of any challenge or criticism from any of these leaders.
From Uttar Pradesh, there are three new faces - Mahendra Pandey, Anupriya Patel and Krishna Raj. A Brahmin, an OBC and a Dalit. That suits the caste equations in the state, with an eye on the upcoming state Assembly polls.
Modi has also shifted the political nucleus of the state around his constituency of Varanasi. Patel is from the neighbouring consituency, Mirzapur, while Pandey represents another nearby seat, Chandauli. And while Home Minister Rajnath Singh represents Lucknow in the Lok Sabha, he is also the tallest leader in eastern UP.
The fact that there are two women from UP will help the party find its voice on the campaign trail against the women from opposing parties - Mayawati, Sonia Gandhi, Priyanka Gandhi and Dimple Yadav.
It was often rumoured that Hindutva hardliners from UP would get elevated. However, that has not happened in this reshuffle.
Mahesh Sharma, the minister for culture and civil aviation (independent charge) has not been promoted, and neither has Sanjeev Balyan, MoS agriculture and farmers welfare. Even the BJP MP from Gorakhpur, Yogi Adityanath, has not been incorporated in the team, while Ram Shankar Katheria has been dropped.
Modi has said a definite no to the hardliners through this reshuffle.
However, the hidden politics behind it is to keep them more engaged in the state on the campaign trail, because Assembly elections are very close now. Airlifting them to Delhi from the state is not a good strategy just before these crucial elections.
The BJP was always seen as a Brahmin and Baniya-dominated party. However, this expansion suggests otherwise. Out of 19 names, five are OBCs, five are SCs, two are STs and two minorities. The other five also have two Patidars. Only two Brahmin faces have been included in this reshuffle. There are two women. And among all the ministers, UP's Patel is the youngest (35) face.
This is what the BJP and the RSS are betting on, politically. This kind of inclusiveness was not evident in previous BJP-led governments. Modi has successfully sent a strong message to the backward classes: that they should change their perception about the BJP now.
06
Less economics, more politics
A day before the expansion, Modi told a group of journalists that his focus is on the budget, and not on the politics. However, this claim has not really been backed up.
His team does not have people with a good understanding of economics. There are experts from various fields, but not on the economic side of things.
It's clear that after two yeas in office, Modi has done whatever he could to keep things on track on the political front. This will help him in states that are going to the polls, and also pave the way for a second innings in 2019.
Also read: MP Faggan Singh Kulaste, infamous for the 2008 cash-for-vote scam, joins Modi Cabinet