Cabinet reshuffle: has Prakash Javadekar been promoted at the cost of Piyush Goyal?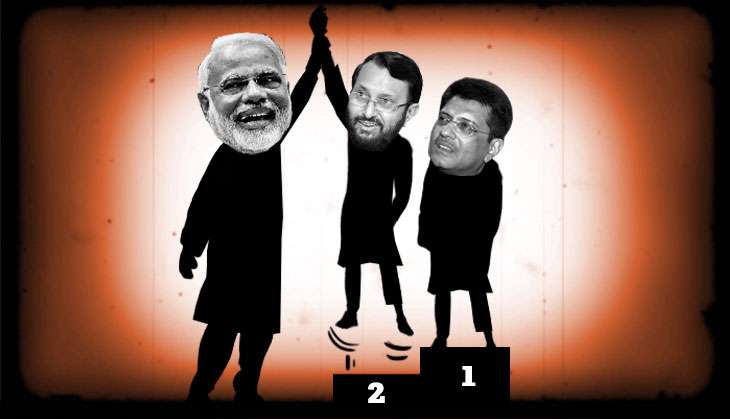 The problems with the reshuffle
There is an opinion that PM Modi has played it safe in this cabinet reshuffle
Prakash Javadekar\'s promotion is also being criticised
Why?
Most people think that Piyush Goyal deserved to be promoted over Javadekar
Goyal has been more consistent in his work than Javadekar has been
More in the story
Why Goyal deserves it more than Javadekar
And why Javadekar really does not deserve the promotion
In a workplace, quite often the most hardworking employees are made to believe that their work is a reward unto itself. They often work tirelessly carrying the burden of organisational goals without giving a thought to the prospects of promotion.
The same culture can be seen in politics as well.
If one were to choose the most hardworking and successful minister in the Narendra Modi government, without a doubt, it would be Piyush Goyal.
The Minister of State for Coal, Power and Renewable Energy has been a model minister, one that even the Opposition would want to have in its cabinet.
Also Read: Meet the 19 new ministers in PM Modi's Cabinet
Yet, it was Javadekar, the Minister of State for Environment and forest who got promoted to the cabinet-level, while Goyal remained minister of state with independent charge of his ministries.
Why Goyal deserves it more
While the difference between a state and the cabinet minister is only technical and change in designation would not really affect the way Goyal functions, his promotion would have sent a message to others that achievers are recognised and respected in a government that is facing flak from the Opposition, as well as media, for failing on a number of fronts in policy implementation.
One should remember that when Goyal was given the charge of three ministries - coal, power and renewable energy - all of those sectors were suffering from lack of clear policies and subsequent implementation.
Today, India is a power surplus nation. Something unimaginable two years ago
It was Goyal's unrelenting effort that ensured that 2/3 of India's coal-base power plants, that have suffered due to fuel shortage, have over 23 days of coal stock today.
It was his negotiating skills that convinced as many as 15 states to join the power sector reform scheme UDAY, that seeks to turn loss-making state power distribution companies profitable.
Most state discoms resort to power cuts because they cannot afford to buy power from the power generators.
Also Read: Cabinet reshuffle: Bold decisions elusive, Modi exposed as conservative
Once profitable, these discoms will be able to ensure a 24/7 power supply - one of PM Narendra Modi's electoral promises.
As far as renewable energy is concerned, it was Goyal's sharp planning of the solar power bids that brought down solar power prices to Rs 4.34 per unit - almost at par with coal-based power in the country. A few years ago, nobody could have imagined that solar power rates could drop as much as it did.
And why Javadekar does not deserve it
On the other hand, Javadekar's two-year stint has been full of flip-flops.
The lack of coherence in his ministry's policy contrasts sharply with Piyush Goyal's focused approach.
Most recently, the environment ministry released a draft of the national forest policy for comments, withdrawing it fully within a few days after a barrage of criticism. It said that the policy was "inadvertently uploaded" on its website.
Javadekar has also clashed with three other ministries that overlap with his, including water resources, tribal affairs and earth sciences.
Recently, he issued a strongly-worded statement against research produced by Pune-based Indian Institute of Tropical Meteorology (IITM).
A research paper by IITM scientists, published in an international peer-reviewed journal, said Delhi's air pollution reduces the life expectancy of the city's residents by about 4 years.
Javadekar issued a statement against the research paper, not just criticising it, but accusing it of being motivated and targeted at Modi's visit to the USA. After his position faced flak, Javadekar withdrew the statement.
More things to worry about
Javadekar's ministry has been in favour of allowing dams in the upper reaches of the Ganga, while the water resources, river development and Ganga rejuvenation ministry headed by Uma Bharti has not been in favour.
Also Read: Modi Cabinet expansion: A look at the assets of newly-inducted ministers
Javadekar has tried to dilute provisions of the Forest Rights Act, which led to a war of words between his ministry and the ministry of tribal affairs.
Working without rewards
In the end, although Javadekar and his team drove hard bargains at the Paris Climate Summit - promising to take big steps in promoting renewable energy and also not giving in to the West's push to make India do more - the hard work will essentially be done by someone who didn't get a spanking new designation - Piyush Goyal.
This is because India's flagship commitment is to have 40 % of its energy from non-fossil sources, most of which will come from solar energy. This is being implemented by Goyal's ministry.
Also Read: MP Faggan Singh Kulaste, infamous for the 2008 cash-for-vote scam, joins Modi Cabinet
Ironically, most of environment ministry's funds in the 2016-17 budget are to come from the National Clean Energy Fund, which makes its money from the coal sold - Rs 400 per tonne.
Goyal's kick-starting India's coal sector will literally be paying for Javadekar's work.
It happens with a lot of us and it has happened with Goyal. Our sympathies are with him.
With inputs from Nihar Gokhale
Edited by Jhinuk Sen
Also Read: Six dropped from PM Modi's council of ministers