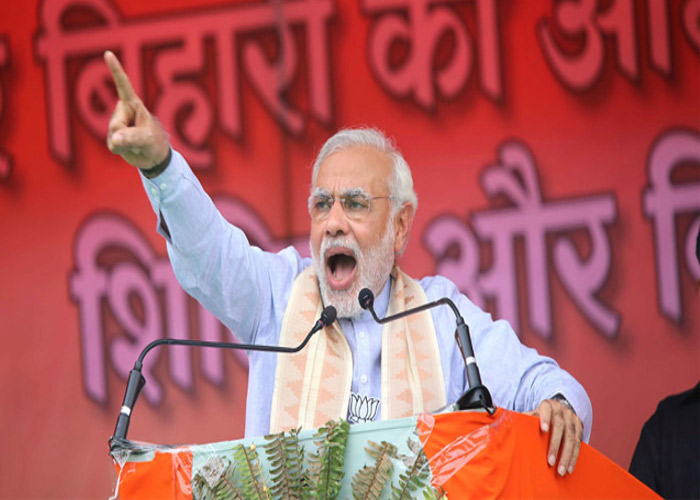 Taking potshots at Bihar Chief Minister Nitish Kumar for calling him 'bahari', BJP's star campaigner Narendra Modi on Friday said the jibe was baseless as he was the Prime Minister of India and not of Bangladesh, Pakistan or Sri Lanka.
Prime Minister Modi, who was addressing a rally here, asked whether 'bahari' also applied to Congress president Sonia Gandhi who stays in Delhi.
"Nitish Babu says that Modi is 'bahari' (outsider). When Bihar has voted for me to become the Prime Minister then how can I be an outsider. Am I the Prime Minister of Pakistan, Bangladesh or Sri Lanka? If not then how am I a 'bahari'," said Prime Minister Modi.
"Sonia ji stays in Delhi, do you (Nitish) call her 'bahari'," he added.
The Prime Minister said he was astonished that the grand alliance is getting impatient as this election is coming to an end.
"The anxiety of the grand alliance increases with every phase of polling. Their (grand alliance) insults and mudslinging increases by the day. But Nitish Babu and Lalu ji the more you spill the dirt; 'kamal' (lotus) is going to blossom even more," he added.
Continuing his tirade against Lalu Prasad Yadav, Prime Minister Modi said the Rashtriya Janata Dal (RJD) supremo was genius in fooling the people of Bihar.
"But when the truth came forward, the people of Bihar replaced Lalu ji with Nitish Kumar. Even Nitish Kumar could not give any account on what work they did for the state," he added.
"If people give you the mandate to run a government, they also deserve an account of the work you have done. Those who do not give you an account of the work that they have done for the people, who is more arrogant than that," he added.
Asserting that development is the solution to key problems in the state, Prime Minister Modi pointed out that the BJP-led NDA will form a government which is pro-poor.
"The government is for those who do not have the support of anyone. We want to build a government for the poor people," said Prime Minister Modi.
"We will give loan to the poor people so that they can use it for their development. Around three lakh people utilised the loan services in Bihar. It is happy news for me that all the services introduced by the Central government have been utilised by people of Bihar," he added.
Batting for a corrupt-free government in Bihar, Prime Minister Modi said the NDA regime at the Centre has taken apt steps to end corruption in the last 16 months.
"We fought against corruption. We have been in service for 16 months, but nobody could blame me for corruption. India is moving further with honesty. Don't we need an honest government in Bihar?" Prime Minister Modi asked.
"Aren't they fooling us? Lalu ji was accused of corruption, he is out on parole. Did Nitish Kumar take over his residence and open a school in his house as promised?" he asked.
Prime Minister Modi further said the youth in Bihar want to build the future of the state.
"The biggest problem of Bihar is the development of youth. Shouldn't the youth of Bihar get job opportunities in within the state? I have three aims for Bihar: education, job opportunities, healthcare," Prime Minister Modi said.
"Bihar needs electricity, isn't it? Bihar is the only state in India, where 4,000 villages still do not have electricity. By 2022, we are planning to make sure electricity reaches every village in Bihar. Nitish Kumar did not keep his promise about electricity," he added.
Campaigning for the fourth phase of Bihar Assembly elections will come to an end this evening. This phase of election will be held on Sunday in 55 constituencies spread over seven districts of the state. The districts are Sitamarhi, Sheohar, Muzaffarpur, Gopalganj, Siwan, East and West Champaran.