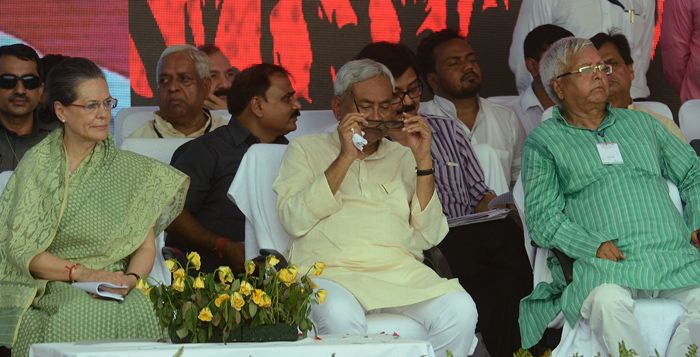 Hailing the mandate given to him for a third consecutive term, Chief Minister Nitish Kumar on Sunday thanked the people for reposing their faith in him and described the splendid win of the grand alliance to be a victory of Bihar's 'swabhimaan'.
"The mahagathbandhan has worked in unity and will continue to do so for the development of Bihar," said Nitish while addressing a joint press conference along with RJD chief Lalu Prasad Yadav and Bihar Pradesh Congress Committee president Ashok Choudhary.
"It reflects the people's aspirations and we will work to fulfil their expectations," he added.
The Janata Dal (United) leader promised the people of Bihar that the grand alliance would work together with a positive attitude for the betterment of the state.
"We don't have any grudge against anyone. Whatever had happened during the elections would not affect our functioning. We will work with a positive frame of mind," said Nitish.
"We respect our Opposition in Bihar and want to work in tandem with everyone for the development of Bihar. People across the nation definitely wish for an effective opposition, we will respect our opposition," he added.
Expressing his gratitude to the people of Bihar, Nitish said that he would try his best to match up with their expectations.
"The people of Bihar have given us a decisive mandate and we will introspect in areas where we lost seats with a small margin," he said.
The grand alliance is heading towards a clear majority. Results and trends available so far show that the alliance has bagged 13 seats and is ahead in 127. The BJP-led NDA has won two seats and is leading in 61 seats. Independent and others have bagged one seat and are leading in seven.
-ANI