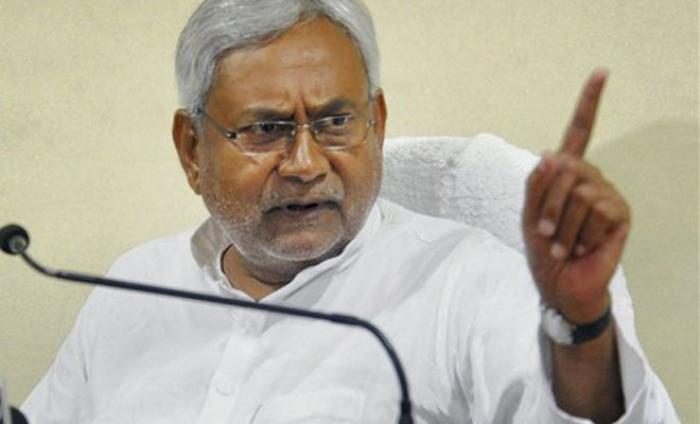 The BJP took out newspaper advertisements in Bihar on 4 November, just a day before final phase of the polling, which invoked the beef controversy. Nitish Kumar led grand alliance has approached the Election Commission and sought action against the party for violation of election code.
The BJP advertisement questioning the "silence" of Chief Minister Nitish Kumar over "repeated insult" to revered cow by his "friends" everyday appeared in vernacular newspapers in Kisanganj, Saharsa and other areas that will witness voting tomorrow in the fifth and final round of Assembly election.
The BJP ad asked CM to "stop politics of vote bank and answer if he agrees with statements of his friends on beef."
Additional Chief Electoral Officer R Lakshamanan told PTI the EC would seek report from the district magistrates where such advertisements have come up in newspapers to verify if there was any violation of election code.
The advertisement cited purported statements of RJD President Lalu Prasad, his party Vice President Raghubansh Prasad Singh and Karnataka Chief Minister Siddaramiah on beef and sought answer from Nitish Kumar.
The advertisement quotes Lalu Prasad's comment regarding "Hindu also eats beef".
It quotes Raghubansh Prasad Singh's comment that "its written in Vedas and Puranas that saints used to eat beef in ancient times."
The BJP advertisement also quotes Karnataka CM Siddaramaiah's comment that "if I want to eat beef nobody can stop me."
The advertisement says "jawab nahi vote nahi" (if there is no answer no vote).
The Kumar-led Grand Alliance took strong objection to the BJP advertisement on beef.
JD(U) General Secretary K C Tyagi told PTI that a delegation of JD(U), RJD and Congress would meet Election Commission in Delhi today on the controversial BJP advertisement.
He said leaders of the three parties would also submit a memorandum in this regard with Election Office in Patna.
Tyagi claimed the advertisement was against model code of conduct and the party which issued it should be punished.
"If Election Commission fails to initiate stern action we will knock the doors of President Pranab Mukherjee," he added.
The CPI(M) also demanded that Election Commission initiate suo-motu action against BJP and asserted that "dal and divisive politics" will seal NDA's fate in Bihar polls.
"Comrades from #Bihar say they woke up to an inflammatory and disgusting BJP ad. Sure signs of desperation in latest 'beef' push. @cpimspeak," CPI(M) general secretary Sitaram Yechury said in a series of tweets.
"It's naive to think that people will forget dal, if you harp on beef and religion. Dal and divisive politics, for sure, sealed your fate.
"Serious enough breach by BJP for EC to initiate action suo-motu. Time for EC to become proactive, for prevention is better than cure," he said.
-PTI