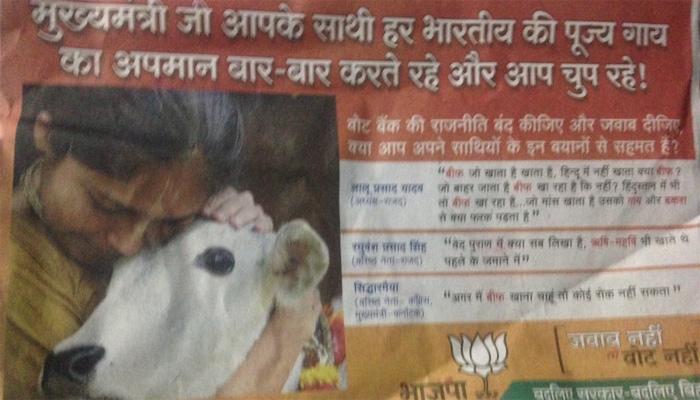 The Bhartiya Janata Party in Bihar has stirred up the beef controversy once again by publishing advertisements in the newspaper accusing opposition party leaders of "insulting the sacred cow".
Pictures of newspaper clipping have been shared by several people on social media, including in a tweet by Delhi Chief Minister Arvind Kejriwal.
Have these ads in Bihar been given by BJP's fringe elements? Or by BJP top brass? pic.twitter.com/ZRUTbCWk0F

— Arvind Kejriwal (@ArvindKejriwal) November 4, 2015
Four phases of the assembly elections in the state have concluded peacefully. Polling for the fifth and final phase is scheduled to be held on 5 November.
The advertisement, which addresses Nitish Kumar, translates to "Your allies insulted the holy cow of every Indian and you said nothing".
The advertisement highlights comments by RJD leaders Lalu Prasad Yadav, Raghuvansh Prasad Singh and Karnataka Chief Minister Siddaramaiah on beef.
"Don't Hindus eat beef too? It is the poor who are forced to eat beef. People eat beef outside the country too. What difference does it make?" Lalu Yadav had said in September after the Dadri lynching incident where a 50-year-old Muslim man was beaten to death for allegedly consuming and storing cow meat.
Another of the featured comment is one by the Karnataka CM where he says, "No one can stop me from eating beef".
The RJD, JD(U) and Congress are fighting this year's Bihar assembly election together under the banner of the Grand Alliance.
On 30 October, the Election Commission (EC) had banned two controversial advertisements by the BJP and had directed the Chief Electoral Officer in Bihar to make sure that the ads were not published in any newspaper from then on.