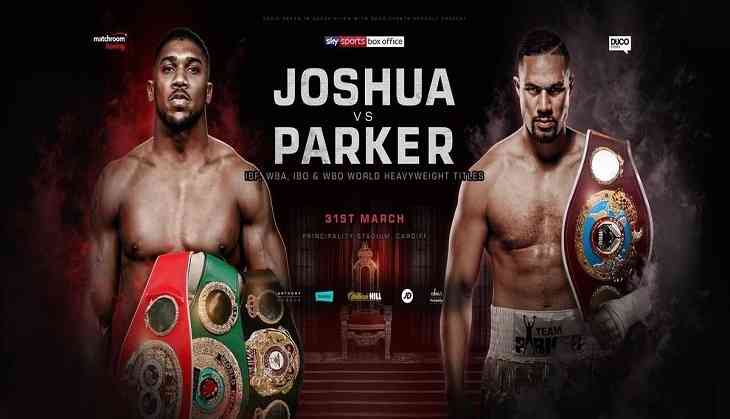 The much-anticipated fight between Anthony Joshua and Joseph Parker is just a few weeks away. And with it, the two heavyweights are ready more than ever to face each other in the ring. The unification bout will take place at the Principality Stadium in Cardiff on March 31. However, the Kiwi is having a different kind of preparation for the fight as he's playing mind games with Anthony Joshua. This is after Eddie Hear, Joshua's promoter, talked about his fighter's next possible fight at a recent press conference.
Joseph Parker was quick to react to the statements, saying that AJ's team is "looking past him." He implies that he is worthy to be feared upon and taken seriously by Joshua. In addition, the New Zealand-national accepts that he is the underdog in the fight.
He even knows that people are convinced that he'll be knocked down in the early rounds. Nonetheless, he dismisses these as an underestimation of his boxing prowess. In a recent interview, Parker says that he is a better fighter than what most people think. He even adds that the naysayers will be in for a surprise if they will continue looking past him.
Parker has been training vigorously in the past weeks, focusing on speed and agility over anything else. He believes that it is through this that he can outmatch the 6-foot-6 boxer, being bigger and taller than him.
The undefeated Kiwi is also reported to go through three different training sessions every day, together with his trainer, Kevin Barry. This shows that he is upping up his game to prove the doubters wrong when the fight day comes.
Last Thursday, Parker also uploaded a video on his social media where he can be seen sparring with Barry. In the video, it's pretty clear that his moves are a bit unorthodox, which might well be the reason for AJ's demise. He's also faster and more agile than ever if compared to his previous fights.
What's interesting about this is that this is just a sparring session. What more in the fight? Some dismiss Parker's video to be a way to deter Anthony Joshua's confidence, as he shows that he's got what it takes to bring the giant down.
Match it with his recent antics, and you've got yourself a psychological warfare brewing a few weeks before the matchup. In his own words, the Kiwi says that he's feeling sharper and stronger than ever. He also says that the training camp incorporated new techniques to strengthen him for the big day further. Parker concludes his statement by saying that he feels that his current training camp is the best so far.
Though the two fighters are undefeated, Parker is still a big underdog as he currently has +700 odds. Meanwhile, Joshua gets favorite odds of -1200 odds. The odds disparity between the two undefeated boxers is so wide; some even dismiss it as a mismatch.
Though that's not the case, the odds might be due to the higher-caliber fights that the British have. He's also two years older than the Kiwi. All his fights are also won by knockout. But then again, Parker has more fighting experience as he currently has won 24 fights.
However, of those 24 fights, 18 were only won by knockout while the remaining fights were won by unanimous decision. The odds for the fight to turn out as a draw are 28/1, which is highly unlikely. There are also other sports bookmakers that give Anthony Joshua 1/8 odds, and Joseph Parker 5/1 odds.
Though it might sound easy to pick a bet between the two, you'll still never know how their recent training and preparations will work out. That's why you need first to check out the Freebets.com Joshua v Parker betting guide for you to have a better insight as to which boxer will help you choose.
Nonetheless, there's no doubt that this fight is going to be a mega-blockbuster. Let's hope it does — and fingers crossed that no one gets seriously injured, knowing how fierce these heavyweights fight.