Lando Norris apologises for breaking Max Verstappen's Hungarian Grand Prix trophy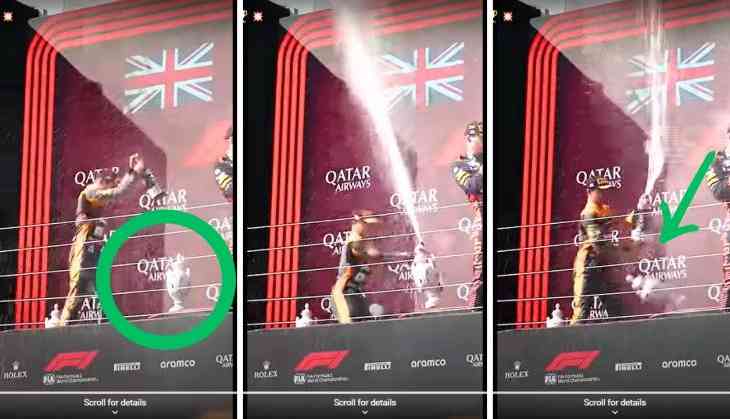 Spa [Belgium]: McLaren's Lando Norris achieved back-to-back podium finishes in his career in the last two Grands Prix, but in Hungary, his sheer, unrestrained joy at being back on the podium resulted in a catastrophe of mistakes that caused him to break race winner Max Verstappen's trophy.
Many drivers have a signature celebration, but Norris prefers to bang his bottle of Ferrari Trento on the ground to create a massive eruption of bubbles that he can use to spray his fellow competitors instead of copying his former teammate Daniel Ricciardo's shoey.
Norris smashing a bottle of the bubbly beverage in the pit lane while trying to celebrate with his former teammate Carlos Sainz has already generated some amusement, what happened in Budapest was a little more embarrassing for the McLaren driver.
Verstappen's P1 trophy fell off the top step of the rostrum and shattered into pieces as Norris slammed his bottle into the podium. When Verstappen realised what had happened, Norris shared a smile with him after giving a properly contrite gaze at the damage.
"I do want to apologise for it, it was never my intention to do such a thing. I know how much it means to the Hungarians and it is part of their culture and so forth. Of course I want to enjoy my time but it was never my intention to do such a thing," Formula 1 quoted Norris as saying when he spoke to the media ahead of the Belgian Grand Prix.
"I did apologise to Max, I did make a couple of jokes about it which maybe I shouldn't. I do feel bad, if he did it to my trophy I'd feel annoyed. I do apologise for it, to the people who put the time and effort into making it, I really didn't mean for it to happen and I'll be a lot more careful next time," he added.
McLaren driver joked that he'd "move the trophies aside" the next time, Norris said that his signature celebration is here to stay. And with those McLaren enhancements continuing to perform as intended, Norris might return to one of his favourite circuits this Sunday in an effort to continue his podium streak.
The 2023 Belgian Grand Prix will be held on Sunday at the Circuit de Spa-Francorchamps.
(ANI)