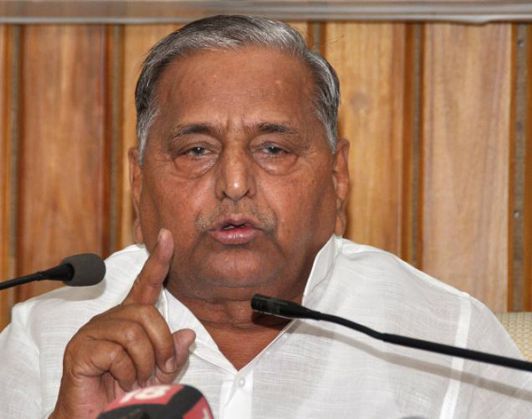 The lynching of a man in Dadri suspected of consuming and storing beef had three BJP men involved, said Mulayam Singh Yadav, leader of the Samajwadi Party (SP), reports The Indian Express. Mulayam said he would reveal the names of the men if Prime Minister Narendra Modi asked for them.
The Dadri lynching took place on 28 September, 2015, when a Hindu mob attacked a Muslim family in the UP village, alleging that the family was storing beef and consuming beef on the occasion of Eid.
The mob killed Mohammad Akhlaq and injured his son severely. Akhlaq's other son was serving with the Indian Air Force in Chennai at the time.
The SP chief made his revelation more than four months after the lynching, while addressing a youth convention of his party in Lucknow on Wednesday.
"BJP had promised to remove discrimination. What discrimination have they removed? A father was killed while his son was posted on border. I had earlier spoken of three names who were involved in the killing. Those are associated with BJP. If PM calls, I will give all names," Mulayam said.
Mulayam had claimed after the Dadri lynching that it was a conspiracy "hatched by three persons from a specific organisation" who had played a similar role in the 2013 Muzaffarnagar riots. He had refused to identify the three men or the organisation, saying his party would first conduct an inquiry.
At the youth convention, Mulayam hit out at the BJP for failing to fulfil their campaign promises. "They had promised employment. They also made promises to Muslims but did nothing for them. Borders are not safe. He (Modi) had talked of removing Chinese encroachment on Indian territory. But when Chinese premier came visiting, his army too was entering India," he said.
He also spoke of the "good work" done by the Akhilesh Yadav government in UP, and asked the young SP workers to remind voters of the achievements before the 2017 assembly elections in Uttar Pradesh. "The government has done lots of good work. If we cannot win after doing such good work, then we will never be able to form the government," he said.